Quarterback Carson Bey runs for touchdowns of 2, 52 and 11 yards and tackle Taran Tyo leads defense by blowing up three third down plays.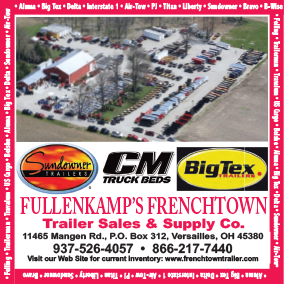 Versailles, OH – By the time kickoff arrived, two men were sitting on the roof of a home on Ward Street across from H.R. Hole Field to watch the annual renewal of the Delphos St. John's-Versailles game.
Then a third, fourth and fifth man joined them, two daring to stand on the very peak in order to get a better look-see.
About two or three houses down to the west, a solitary man sat on his roof.
No adult beverages could be spotted, so these were acts of social safety.
"That's good,'' second-year Tigers coach Ryan Jones said. "I don't want anyone to fall off, but that's great support.''
Those are the lengths that Tigers fans will go to see their beloved boys wage combat in the Mighty MAC during these dreaded times of restrictions on crowd size because of, yeah, that booby prize of a gift from China that just won't go away.
There was a lot to see as Versailles junior quarterback Carson Bey ran for touchdowns of 2, 52 and 11 yards and 11 hungry defenders limited the Blue Jays to 2-for-9 on third down other than the final desperate possession in an impressive 27-0 takedown Friday night.

Junior defensive tackle Taran Tyo blew up three third down plays by himself.
It was the third straight season the Tigers (2-0) took down St. John's (1-1) and the fifth time in seven seasons.
How efficient was the effort?
Until their final possession when things were out of hand, the Blue Jays crossed midfield once, and that was to the Versailles 49.
Next up is 2019 VII state champion Marion Local, same time, same place next Friday.
"Definitely, 2-0 is a big building block,'' Tyo said. "But like Carson said, we have Marion next week and they are one of our biggest rivals. We just have to put our heads down and work for next week.''
The Tigers could have been upset with themselves leading only 7-0 at halftime. They were moving the football in being stopped on downs at the Flyers 23-yard line on their first possession of the first quarter and when Bey was intercepted at the 4 on the next set of downs.
Deep down, they knew they were on the verge of something big.
"We had a couple of open receivers and had a chance to bust a few big runs, but you've got to hand it to their defense,'' Jones said. "They forced us to throw and loaded the box. We talked at halftime about calming down and just playing our game. Just keep pounding and eventually those (big) plays will come. We made those plays in the second half.''
The breakthrough came when junior Eli McEldowney caught a punt on the run at the St. John's 49 and returned 18 yards to the 31 in the second quarter. The coverage arrived about the same time as the ball, but he was aggressive in wanting to do more than make the catch.
It turned out to be a catapult to better things.
"I just saw an open hole,'' McEldowney said. "We needed a big play because we weren't playing well in the first quarter. I just took advantage of that big hole. It's just experience. Last year I was a little unsteady. I didn't want to go there. I was a little scared. This year, I just had it in me to go get the ball (and make yardage).''
The Flyers stiffened in forcing a fourth-and-six. But McEldowney, with defensive back Gavin Fittro all over him with excellent coverage, snagged a perfect pass on a slant from Bey that traveled 11 yards to the 16.
A drop or poor pass would have put the kabosh on another opportunity.
"Carson made a good play. He threw a good ball,'' McEldowney said. "The defender, he was right there with me. I just made the catch.''
Jones said the play was vital at that point with the score 0-0.
"That was a huge play for us in the first half,'' he said. "He had a slant and was covered well, but Carson put the ball in the vicinity. He made a heck of a grab and that led to that touchdown. That was a big touchdown going into halftime.''
Four plays later, Bey put his helmet between the numbers of center Caleb Rush for a 2-yard touchdown with 20.3 seconds left in the first quarter.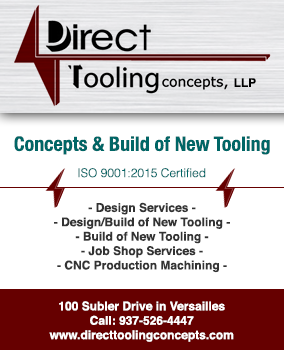 "We started off kind of flat,'' Bey said. "We'd have a setback and have to bounce back. We got that score right before half and that was big.''
Versailles made it 14-0 when Bey, on third-and-two, threw off the defensive front with a fake handoff to tailback Landon Henry and popped through a hole over left tackle for a 52-yard touchdown with 6:59 left in the third quarter.
He kept waiting for defenders to track him down and make it a footrace to the goal line, but no one got within 15 yards.
"Credit to our line,'' Bey said. "They pushed down – they put their heads down – and got their blocks down when they needed to. That was fake one way and head the other way. I got through the line. I was worried I was going to get caught from behind.''
St. John's got into a hole that might as well have been a canyon when 195-pound sophomore Titus Gehret powered through the heart of the line for a 7-yard touchdown that made it 21-0 with 10:37 to play.
His score was set up by a crafty and patient 30-yard run by Henry where he changed speeds and directions several times.
Bey scored the final touchdown with 7:01 remaining on an 11-yard run around right end on fourth-and-five off yet another beautiful fake handoff into the line.
Make no mistake, though, the Versailles defense ruled on this night.
"The defense played a heck of a game tonight,'' Jones said. "They played great from the start to the end. Anytime you can get a shutout is just an unbelievable effort against a physical team that has a lot of skilled players. They put up 29 points last week.''
The Flyers have some beefy players on the line, but the Tigers have the look of a Division I team. There's Tyo at 6 feet 4, 275 pounds, Austin Nerderman at 6-0, 260, Caleb Rush at 6-2, 255, Brayden Keihl at 6-2, 250 and Noah Gilmore at 6-1, 215.
The tactics were simple: Overpower the man across from you and make the quarterback and running backs hurry.
"The d-line was pushing all night trying to get to the quarterback,'' Tyo said. "We had bat-downs. We were flowing. Our secondary was pretty good, all over the place.''
Outside linebacker Alex Kaiser said the name of the game is three-and-out.
"That's just wanting to get them off the field as soon as possible,'' he said. "The quicker we can get our offense out there to score the better jump we'd have.''
So what does it mean for Versailles to win its first two games?
This is one of the sterling programs, big school or small school, in Ohio with six state championships, three second-place finishes and 18 playoff appearances in all.
But the Tigers have made it to the playoffs just twice since 2011.
"I think we're starting to bring Tiger Ball back,'' McEldowney said. "We've been state champions, runners-up and a playoff team in the past, and right now we're just trying to get back there.''
The players charged off the field screaming with joy and whooped it up in the locker room. In all, though, the celebration lasted less than a couple of minutes.
The players realize there hasn't been a winning season since 2014 and that there is a lot of heavy lifting to do.
Note:  Press Pros extends condolences over the passing last week of sponsor and friend, Frank Fullenkamp, of Fullenkamp's Frenchtown Trailers and Supplies.  Frank was a supporter of youth sports, the Versailles Tigers, and was deeply proud of their winning legacy.  He was 67 at the time of his passing, and his contribution to the Darke County community will be missed.