It wasn't vintage Marion Local football, and it was even a bit ugly.  But big plays by Peyton Otte and a heroic effort by the defense helped the Flyers win their second straight.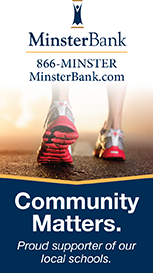 Maria Stein, OH – Three principal components to the Marion Local football program could not figure what to make of it.
Make of what?
Only that the Flyers turned the ball over six times Friday night – five fumbles lost and an interception – against an athletic and talented New Bremen Cardinals team…and still, somehow found a way to beat New Bremen, 21-13.
"How many turnovers did we have?"  asked senior wide receiver Charlie Huelsman after the game.
Six, he was told.
"How many did they have?"
One.
"You're kidding,"  he gasped.  "We had six turnovers, they had one, and we won.  Wow, that's not a very good ratio."
No, nor was it the game plan, either.  But the Flyers were simply haunted Friday by an inability to control the ball,  or withstand prosperity when it looked as if momentum, and the game, was going their way.
It even started bad.  On the game's first play from scrimmage junior running back Dylan Fleck coughed it up deep in Marion territory, but New Bremen was unable to move it themselves, actually lost yards in four downs, and gave the ball right back to Marion on a punt.
Marion didn't fumble on the exchange of the ball, but they couldn't move it, either.  New Bremen's defense was more physical, more active than the Marion offensive front and the Flyers were forced to punt.
They exchanged possessions again before New Bremen quarterback Mitchell Hays connected with running back Wyatt Dicke for a sparkling catch and throw from twenty five yards out that resulted in a Cardinals touchdown and a 6-0 lead.  The point after attempt was missed.
Again Marion took the kickoff but couldn't move the ball.  But the Flyers defense was establishing a pattern…that of stuffing the Cardinals running game, forcing Hays to scramble, throw on the run, and occasionally run for his life.
Then, with 1:11 remaining in the first half, Marion finally moved it to the New Bremen nine yard line on a bomb down the middle of the field from quarterback Carson Griesdorn to junior Peyton Otte, who made a finger-tip catch but couldn't keep his feet to take the ball into the end zone.  With first and goal Marion couldn't get the ball into the end zone on four plays, and Griesdorn was stopped on a fourth and goal at the two yard line.  The teams went to halftime with Bremen holding onto that 6-0 lead.
"We just didn't execute,"  said Tim Goodwin later.  "Too many missed blocking assignments…I don't know, maybe I need to make things simpler."
Or maybe they need to play the second half first!  Because like last week against Fort Recovery, Marion came out in the second with that same sense of renewal.  They stopped New Bremen on the first possession, three and out, and forced the Cardinals to punt.  Only, Peyton Otte fumbled the punt at midfield, giving the ball back.
The defense bailed them out, again, denying Bremen yards and momentum, and forced another punt.  This time…some of that Marion magic you hear so much about.  Still unable to run, Carson Griesdorn connected with Otte on a deep out pattern – another finger-tip catch – and Otte streaked down the sideline 77 yards for a go-ahead score, 7-6.
New Bremen took the ensuing kickoff and still couldn't move the football, punting again to Marion.  Starting at their own 30 the Flyers began creasing the Cardinals' defensive front, creating room for backs Drew Seitz and Grant Meier.  But someone popped Seitz on a second and five run and the ball popped 15 feet in the air…and then into the hands of a waiting Mitchell Hays who sprinted 60 yards with the fumble recovery to score a touchdown and put Bremen back up, 13-7, at 4:06 of the third quarter.

Marion responded off the kickoff with a drive of their own – the running game and a 60-yard Griesdorn to Huelsman connection right down the middle of the field – that gave Marion the ball on the Bremen 15 yard line.  Two plays later Griesdorn found who else by Peyton Otte in the end zone for an 11-yard score.  Marion retook the lead at 2:22, 14-13.
Again the Marion defense swarmed the Cardinal front, stuffing the running game and chasing Mitchell Hays like dingos do a jackrabbit, ultimately stopping the Cardinals on fourth and short.  Marion took over the ball, with momentum, and started to move upfield, the running game at last playing with some confidence.
But Dylan Fleck, who had put the ball on the ground with game's first play, got stripped from the side on a nice gain through the line and New Bremen was in business at midfield, and eight minutes left in the fourth quarter.  But again the Cardinals turned the ball back after being stopped on fourth down.
Visibly tired, the New Bremen line began giving up yards in chunks, to Seitz and Meier, while the secondary had to respect the Flyers' deep threat, Peyton Otte.  Time was not on the Cardinals' side, either, as Marion kept pounding it while the clock ticked away.  With 2:54 left Seitz ran off right tackle, broke a pair of tackles, and dove into the end zone from 18 yards out to increase the lead, 21-13.
Still, with two minutes left, Hays and company mounted one last drive that took the ball all the way to the Marion 20 yard line.  But with 30 seconds remaining Hays' pass attempt to running back Zach Bertke was deflected straight up in the air, and after what seemed forever it settled in the arms of Marion's Darren Meier for an interception.  Game…set…and match!
"You don't win many games when you turn the ball over six times,"  said Peyton Otte, whose choir boy looks belie his fierce competitive talent on the field and 180 receiving yards in Friday's win.  "What did we have…six?  We have to go back to work and improve on catching punts and ball security."
"I just didn't play with confidence," said Huelsman, the senior, taking ownership and responsibility for his own drop.  "Better to win ugly though, than not win at all.  It should be an interesting film meeting tomorrow."
If Otte was the offensive star with his two touchdowns and three big plays through the air, a game ball has to go to the Marion defense, that literally took New Bremen's attack out of the game after their only offensive touchdown in the first quarter.
"The defense was great,"  said Tim Goodwin, not mincing words.  But he wasn't effusive, either.  "Obviously, we're talented because we've played poorly for two weeks in a row and beat two pretty good football teams."
But to the point about losing six turnovers, and still winning, Goodwin just shook his head and stated his agreement with Huelsman and Otte.
"You don't win many games when you have six turnovers."
The talent showed up in the overall numbers.  Marion racked up 406 total yards to New Bremen's 174.  Marion ran the ball 33 times for 139 yards.  Carson Griesdorn threw it 20 times, completed 12, for 257 yards.  Peyton Otte owned 180 of those yards on eight catches.  Huelsman added 80 more with three balls caught.
Mitchell Hays hit on 13 of 26 attempts for 145 yards, but the Cardinals had just 31 yards on the ground.   New Bremen is a good football team, and one that shows promise of turning over the old order of the Midwest Athletic Conference.  Just not this night.
"I have to take responsibility for that,"  said Cardinal coach Chris Schmidt, giving respect to the Marion defense.  "I have to do a better job of coaching.  But I'm proud of our own defense, as well.  We lost to this team 27-0 last year in the playoffs and tonight we showed that we could come here and compete with Marion Local.  We just have to be better."
To Goodwin's point about playing that badly and winning against two quality opponents…the numbers don't lie, but were disguised by the unusual circumstance Friday of ANY team losing six turnovers, almost half of its possessions, and still winning.  Clean that up and their 406 yards really looks like Marion Local.
But clean it up in a hurry, because Versailles waits next week, at 2-0, and looking like another team ready to test the Flyers after their 27-0 win Friday over Delphos St. John.
And does six turnovers make it tough to sleep on a Friday night?  Tim Goodwin was asked.
"It's always tough to sleep," he likes to say.
This time, though, he sounded like he meant it.