What I derived from Week 1 of Friday night football speaks volumes about the issues of our country, who reports them, and how they're reported.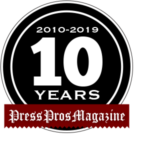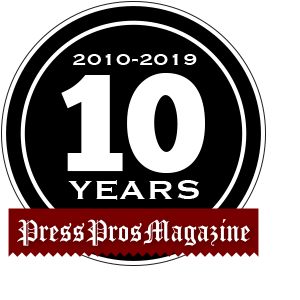 Most of the weekenders who read this site know by now that I covered the Marion Local-Fort Recovery football game last Friday.
And while the game itself was a typical MAC game – the outcome determined in the fourth quarter, as so many are – there was one contemporary impression that I carried all the way home.
It wasn't the atmosphere. The stands were, for the most part, empty. The crowd was limited to parents and family because of the Coronavirus.
The game itself will not go down in history. Marion Local won, as they usually do, despite a strong and spirited effort by Fort Recovery. It was just another opening night, and a good high school football game.
No, what struck me was the attitude of the kids who played…because I realized that these were young people having FUN – who've worked, lifted weights, and ran countless miles since January to HAVE FUN on Friday nights.  They show up without agendas, or seeking attention…just to play football with their buddies.
There was no political overtone, except for the Department of Health and the periodic public address announcement about wearing masks.
There was no sense of combativeness – no factions. The people in the stands, working concessions, school administration, and even the Mercer County deputies on duty couldn't have been nicer- appreciative to be there. You saw Trump signs and a few Biden signs around, but no one brought it to the football game.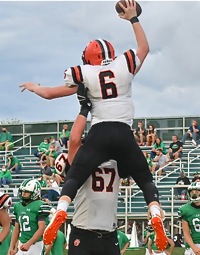 No bull horns, no placards, and no one handing out tracts.  Just a sense of hometown normal.
Contrast this to the current environment of the NBA, the NFL, and the other professional sports. See any fun there?
Do you even see a stable environment? Do you enjoy watching basketball, or football, with a side order of anger?
It's a stark contrast, and one that you can blame on Trump, on Derek Chauvin, or protestors for hire. But you cannot blame it on the kids – kids who like Marion sophomore Drew Seitz, and junior Carson Griesdorn have been taught since kindergarten that to play is to have fun, it's temporary, and a privilege paid for by someone else.  Don't take it for granted!
I know we're not supposed to have fun currently.  We're supposed to be focused on all of the issues, and how bad humanity is.  But in my post-game interview time Friday (all 69 seconds of it because Tim Goodwin said, "Make it quick…we're gettin' on the bus"), the kids I spoke with mentioned the word "fun" five different times during those 69 seconds.
FUN…five times in a minute and nine seconds!

It gives credence to my personal opinion that major league sports – all of them – will soon be going away as the people's priority. I predict that within a decade only the large urban areas that host professional teams will support them.
And to a lesser degree I fear a similar divorce of support for some colleges, as well, with players like those in the PAC 12 demanding 50% of conference revenues, extended scholarships, and paid health care, post-college.
To wit, when was the last time you read mainstream media reporting on anything but contracts, dissent, protests, and demands?  #Hashtag…where's the #fun?
I predict that people in the suburbs, small-town, and rural America (which comprise more than half the population) will cease to support and finance these attitudes and return to the grass roots appreciation for playing high school sports.
I see this happening because it's natural, and healing.
I see it happening because the people are tired, those who turn on the NFL to get away from the daily bombardment of politics and social issues only to see it played out on every network.
I see it happening because it's simple, and easy to like. You don't have to think about going to see Coldwater, or Sidney, or Troy play.  Just watch and appreciate the opportunity of a kid doing something he likes without question or guilt – before he's poisoned by those telling him the glass is half empty.
Naive?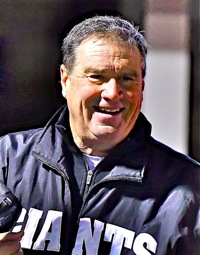 Too simplistic?
Too privileged?
Whether you believe or not – whether you stand or kneel when the anthem is played – millions have died for the right to live life believing that the glass is half full.
As millions have played high school sports for the fun of it, then carried that attitude through life with the experience of knowing…that if you can't run the ball, there's always another way to score.
And that's fun, too.