It took Carson Griesdorn and Drew Seitz a little time, but once they found their game legs a pair of 'newbies' helped Marion Local overcome a slow start and plow to a second-half win over Fort Recovery.
Fort Recovery, OH – When it was all said and done Friday night Marion Local coach Tim Goodwin had a few things to smile about – things besides the 23-14 win over Fort Recovery that saw his overcome a slow start, lack of execution, and probably a case of opening night jitters.
After all, Goodwin and the revamped Flyers had some new faces out there in critical positions, seeing the elephant for the first time.
He could smile over getting some experience, a winning experience, for a pair of young quarterbacks – Carson Griesdorn and Tate Hess – perhaps the most unknown, and wanting position on the team.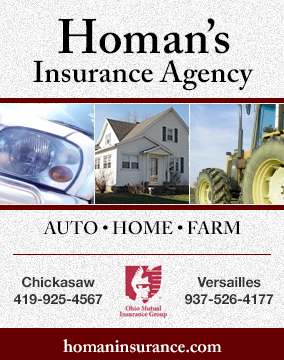 He could smile over the emergence of a new tailback, who in 19 carries (mostly in the second half) would rack up 91 yards on 19 carries, a touchdown, and a two-point conversion. Afterwards Goodwin would call 6'2″, 210 pound Drew Seitz …"man-child".
He could smile over the second half metamorphosis of his offensive line, one that overcame getting pushed around the first half…to doing some pushing themselves in the second half.
He could smile over his defense, and five sacks on Recovery quarterback Clay Schmitz, the reigning passing leader of the MAC in 2019.
And, he smiled as he mentioned a turn of momentum with a play from senior leadership – Charlie Huelsman's first half touchdown catch in the back of the end zone that gave his first-time starter Carson Griesdorn his first touchdown pass, and a chance to relax a bit…to just play Flyer football.
Ragged?  Rough?  Uncertain?  That about describes Marion Local in the first half Friday while desperately hoping for positive strokes from new quarterback Carson Griesdorn.
Recovery is a big, physical, veteran team with the league's top passer, and one of the best skill position players in wide receiver Gavin Thobe.  The Indians have formidable interior lines, and they shut down Marion's early efforts on offense – no run, or pass, either one.
In the meantime the Indians mounted a first quarter drive at 8:40 that culminated in a five-yard touchdown run after a ten-play drive, senior Derek Jutte crashing through Marion tacklers to score and give his team a 7-0 lead.  The guys who operated the cannon in the end zone were trying to remember when Recovery last scored first in a game against Marion.  But they didn't have long to savor it.
Five minutes later, at 1:11, taking advantage of a turnover that gave the Flyers good field position, Griesdorn navigated the ball to the 26 yard line where he found Charlie Huelsman in the back of the end zone.  His throw was a bit late, and a bit behind, but Huelsman made a twisting grab over tight coverage and came down just inside the end line.  The extra point tied the game;  but it did more.  It gave a shot of confidence to Griesdorn, the offensive line, and even the defense, that went about harassing Schmitz for the remainder of the game.
But best, it allowed Marion to go to the halftime huddle outside the locker room with a 7-7 tie and a chance to reassess themselves…along with some help from Tim Goodwin.  Goodwin tore into his offensive line, making his point quickly, and emphatically.
"I told them we've got guys back from last year who should be playing better than that,"  he said afterwards.  "I wasn't happy and I let 'em know about it."
Point taken.
But Clay Schmitz is a cool cookie, and taking the second half kickoff he led Recovery on an 11-play drive, completing five passes, that ended with him hooking up with receiver Cale Rammel for a go-ahead touchdown at 8:02, one in which Rammel split a pair of defenders, broke about three tackles, and finally romped across the goal line.
By this time Griesdorn, and sophomore accomplice Tate Hess were showing some cool of their own.  The two engineered a drive that took eight plays, and Drew Seitz hammering a tiring Indian defense with a 30-yard run down the sideline, tip-toeing to stay in bounds.  It extend the drive and flipped field position at the end of the third quarter.
Taking back up at the other end of the field, Hess scored by slipping into the end zone from six yards out to make the score 14-13.  Goodwin decided to eschew the extra point for a two-point conversion try – a little student body right to Drew Seitz, like John McKay used to do at Southern Cal – and Seitz waltzed in to give them a 15-14 lead.
Turnovers, and fatigue, would haunt Fort Recovery.  Facing a fourth and 1 from near midfield on their possession, Recovery could not get that one yard, turning the ball back to Marion with the now rejuvenated line and an eager Drew Seitz.  Together they drove the ball to the five yard line where the line opened a gaping hole at the goal line and Seitz bolted through to score.  Goodwin again opted for the two-point try, and Griesdorn found Peyton Otte in the back of the end zone to make it 23-14.
Now the rejuvenation carried over to the defense, who pinned their ears back and went after Schmitz, forced to throw with four minutes remaining.  Another sack, another turnover, and Marion would run out the clock – the final seconds – to secure the 23-14 opening night win.
"I liked our resilience, the way we played hard,"  said Indians coach Brent Niekamp.  "And for the most part we did that, but it wasn't good enough.  I'm proud of these guys because they gave a hell of an effort.  But we had too many setbacks (the turnovers and sacks) to overcome…and they wore us down.
"The turnovers were the difference in the game.  People talk about them being game-changers, and they were – the ones we lost and the ones we didn't get when they put the ball on the ground a couple of times.  They threw the ball up a couple of times and we didn't come away with those.  Those have the potential of being a big swing the other way."
Recovery had five of them, which aided and abetted Marion's nervous quarterback, helping him to settle into the comfort of his team's second half resurgence.
"I think we were all a little rusty at first,"  said Griesdorn.  "Especially me.  But you expect that out of the first game, especially with having just one scrimmage.  But we battled and played hard in the second half, and that's why we came out on top.  Give those guys credit.  They're a good football team, we just found a way to win."
Griesdorn finished with 10 for 19 passing, 120 yards, and that fortifying touchdown to Charlie Huelsman.
"He just made a great play,"  said Griesdorn, appreciatively.
But Drew Seitz's statement was perhaps more profound.  A punishing runner throughout his junior high experience, people and coaches, alike, had waited for this night and this debut.  Marion loves to feature a tailback that can wear down defenses and open up the passing game.  Seitz appeared to be the next in line.
"Tonight felt great,"  he said with broad grin.  "We didn't do too well at the beginning – we missed some keys – but the line started to do better and the defense began getting some stops.  I just tried to run hard.  The line did great, they gave me a big hole to run through on the touchdown, and I give them all the credit."
Tim Goodwin had seen a lot of opening nights, about 21 of them.  So he could assess it for what it was – some bad, some good, a win, and a chance to actually play football.
"It was ugly,"  he began.  "But we've seen Week 1 games like this before.  This was a little worse, because I think we're going to be a decent football team.  But execution-wise, this was a pretty low starting point."
Charlie Huelsman's catch was a big lift.
"It got us in the game, because our offense had done nothing,"  said Goodwin.  "I mean, nothing.  So he got us in the game, right before the half…it was definitely a big catch by Charlie.
"Both of our quarterbacks (Hess and Griesdorn) did some good things…we just don't have any experience there, at all.  Hopefully we can get better."
And Drew Seitz?
"He's a man-child, and the kid really doesn't know what he's capable of.  But he's got a ceiling on him."
The Flyers finished with 282 total yards, 120 through the air and 162 on the ground, thanks to Seitz.
Fort Recovery tallied 191 yards, total – 146 passing and 45 yards on the ground.
The final summation:  The offense came around in the second half, and the defense held the opponent to under 200 yards.  To someone accustomed to seeing all kinds of Marion Local teams over the years, you could honestly say – new start, new faces, but pretty much…the same old Marion.
Tim Goodwin, indeed, went home smiling!