Make no mistake, the Versailles Tigers can throw the football. They simply didn't need to Friday night in a 34-14 victory at Anna highlighted by the Tigers' ground-and-pound combo of a strong rushing attack and hard-hitting defense.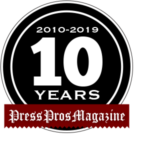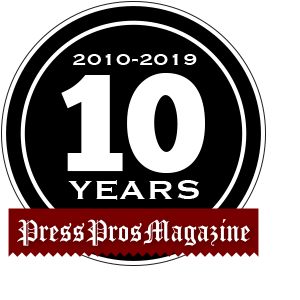 Anna, OH – One game into the 2020 season is too soon to declare the return of Tigerball, particularly that smash-mouth brand of football that turned Versailles into a state-caliber juggernaut.
One game, though, is all the 2020 Tigers have to go on. And it's looking pretty darn promising.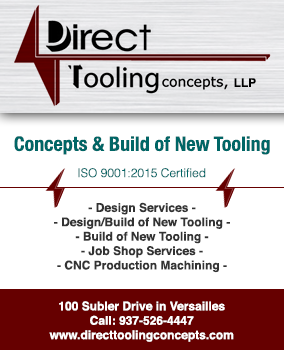 Versailles opened the high school football season with a win that surely put a smile on legendary former coach Al Hetrick's face with a grinding, pounding and productive rushing attack that finished with 330 yards and five touchdowns in a 34-14 victory at Anna.
"We did set the tone early," Versailles second-year coach Ryan Jones said. "We scored on the first drive and that's what you want to do. That's been the goal all week."
The Tigers enjoyed it so much they scored on their second and fourth drives, too. Versailles reached the end zone three times with 4:46 left in the first half … and before Anna even crossed midfield. That's not a knock on the Rockets. They opened up defense of their Division VI state championship with 11 new starters on offense and eight on defense.
The Rockets showed off their own potential on offense on their final drive of the fourth quarter. Junior quarterback Kohlten Carey hit Justin Richards for a 19-yard touchdown with four seconds left for the final. Carey spread the ball around to six different receivers overall, including Richards and his game-high 42 yards on five catches.

Carey finished 14-of-21 for 134 yards with one touchdown and one interception that came on a deflected pass.
His counterpart, Versailles junior Carson Bey, put the ball in the air seven times overall. Bey, who can sling it too, didn't need to on Friday. He clutched the ball 16 times for 93 yards rushing. He did complete 3-of-6 passes for 37 yards and one interception.
"(Coach Jones) could tell I was a little nervous. I have some pretty big shoes to fill from Ryan Martin last year," Bey said of his first varsity start. "Coach told me to stay calm, relax and you got this. … The nerves get flowing pretty fast. But after the first snap it's like, okay, you got this."
The smaller-than-normal crowd on the Tigers' sideline had that feeling, too, on Versailles' first drive. The Tigers drove 40 yards in eight plays for the first score of the 2020 season, a 24-yard run to the right by Jack Osborne. Osborne avoided one tackle and stepped out of another near the 15-yard line and sprinted to the end zone.
Bey made it 14-0 on the next drive. He capped the six-play, 52-yard series with a 15-yard keeper that fooled the Rockets' defense as he faked the handoff and rolled left. He scored socially distanced and untouched.
Bey made it 21-0 with 4:46 left in the half on a one-yard keeper. That four-play drive was set up by junior Jacob Carman's interception.

Versailles tagged on two more touchdowns in the second half. Junior Landon Henry, last season's leading rusher with 493 yards on 107 carries, followed his blocks for a 5-yard score to open the third quarter. Henry carried 21 times for a team-leading 155 yards.
Osborne added the final score with a 5-yarder of his own with 4:37 left in the fourth. He contributed 46 yards on six carries.
"Carson did a great job running the ball. Landon and Jack, that's a two-headed monster that can hit inside and outside," Jones said. "They hung on to the ball well and we busted a couple big plays. They had a great day and that all starts up front with the offensive line."
In 2019, Versailles finished the season with 1,312 rushing yards overall. That's 131.2 yards per game. The Tigers rushed right past that average on Friday.
"That's one of the things we talked about all week," Jones said. "Being physical running the ball. I gotta give a lot of credit to the offensive line. Our running backs ran hard all night. Our fullbacks blocked well. Tight ends did a great job. Just a fantastic job offensively as far as running the ball."
Junior left tackle Taran Tyo, junior left guard Jacob Treon, junior center Caleb Rush, junior right guard Brayden Keihl, senior right tackle Noah Gilmore and senior tight end Alex Kaiser did the dirty work up front. Sophomore fullback Titus Gehret chipped off a few would-be blockers, too.
"We have to give a lot of credit to them," Bey said. "We didn't pass very often tonight because we didn't need to. Our run game had it going and our O-line was pushing."
For the Tigers to be successful this season the offensive line will certainly be a driving force. Versailles has posted four winning seasons in 14 years since Hetrick retired following the 2005 season. The last came at 7-5 in 2014.
"We're looking at least a winning season. The past … I don't know how many years … we haven't had the best seasons since the Hetrick era. We're just looking to bounce back from all those years and have a better season than in the past," Bey said.
"All this off-season we've been training because we went 3-7 last year. We knew we had to bounce back and be better this year."
Anna is coming off a 14-1 season and that D-VI state title. But the Rockets graduated the bulk of that offense. Juniors Brandon Axe and Hunter Schmidt are the top returning rushers with 35 and 33 yards total, respectively, from last season.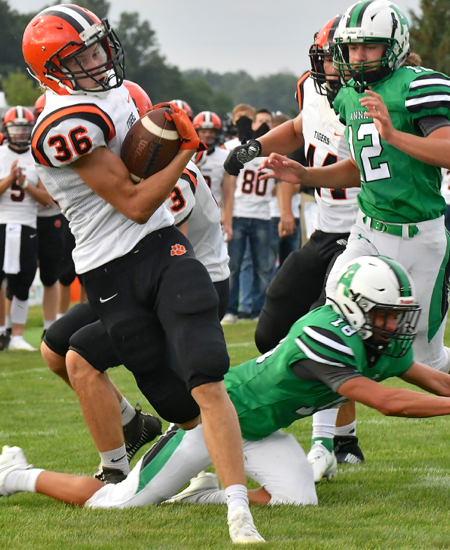 The Rockets finished Friday night with 194 yards of total offense, including 60 on the ground.
"We made some mistakes and we didn't play up to our potential tonight," Anna coach Nick Marino said. "Versailles is a good football team and did a good job. But we didn't play up to our potential. I'm not discouraged because I think there are a lot of things we can clean up. This team has a lot of upside that we're going to develop the next couple of weeks.
"It's (Carey's) first start along with 10 other guys on that side of the ball. We're going to get stuff cleaned up. That's the emphasis now. We need to see the biggest improvement between Weeks 1 and 2. We need to get ready for St. Henry if we're going to be a good football team."
Versailles prepares for Delphos St. John's and another chance to build on Tigerball.
"Bouncing back, coming out and knocking off the defending state champs … they're a good team," Bey said. "Anna is a good team. We had to expect the best from them."
The same goes for the Tigers. They feel they've been a good team even during the down years that saw uncharacteristic seasons of two and three wins from the Tigers. The MAC can do that to the best of them.
"We have out-of-conference teams come and tell us, 'Wow, we can tell even though your record doesn't say so you guys are from the MAC. We understand the toughness of your conference,' Bey said.
Friday's game was played under COVID-19 guidelines. That meant masks, socially-distanced seating and immediate family members only in the stands. The home team's band is the only one permitted and halftime lasted 10 minutes, not the usual 20.
"The masks are different. Other than that, once the game starts … you don't pay attention to the fans," Jones said. "We'd love to have the fans here. They deserve to be here. We've got some of the best fans in the state at Versailles, I feel, and the deserve to be here. It is what it is right now. We're all dealing with this. We can't wait to have them back and have a full house.
"You have to play every game like it's your last game, because it might be. You never know what the next week is going to bring."
For Versailles' fans, they hope it's more Tigerball.