Piqua downs Troy 26-10 in rivalry clash. With less than 10 minutes to play and down two scores, Troy was in desperate need of a score if it wanted to cling to any hope of pulling out a win at Piqua Friday.
By Andy Anders for Press Pros

Piqua – The Trojans faced third-and-3 at their own 49-yard-line. Junior quarterback Josh Mayfield, who wasn't named the starter until Friday, lined up to take the snap — which bounced off his shoulder. He tried to scoop the ball but Piqua defenders were on top of him, and the Trojans were forced to punt.
That was the story of the game. Troy turned the ball over four times inside Piqua's 40, the Indians capitalized on enough mistakes and secured a 26-10 win against their arch rival. It snapped a four-game Piqua losing streak in the series.
Troy got the ball back one more time, but Mayfield threw a pick six to speeding senior defensive back Jaden Owens on fourth-and-short deep in Piqua territory to set the final score.
"The amount of relief I feel, I can't even explain," Piqua senior quarterback Brady Ouhl said. "I feel on top of the World."
Brady Ouhl led the way for the Indians, completing 7-of-10 passes for 102 yards and a touchdown, adding 48 yards and a touchdown on the ground. His brother, sophomore wide receiver Blane Ouhl, proved his favorite target, hauling in four receptions for 49 yards and a score.
As much was clear on Piqua's first touchdown. After junior running back Tanner Kemp fell forward for a third-down conversion, Brady Ouhl sucked in the defense with a play-fake and found Blane Ouhl streaking up the sideline for a 26-yard touchdown strike. Piqua led 7-3 with 2:04 left in the first quarter, a lead it never relinquished.
Brady knew he had the defense beat before the snap.
"I saw press coverage, the corner rolled up, safety was on the hash, which meant I had a wide open [pass] toward the corner of the endzone," Brady Ouhl said. "I just let it go."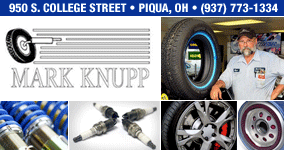 Piqua head coach Bill Nees wasn't surprised by his gunslinger's in-game recognition, given the amount of time the player spends on film study.
"He's a football junky," Nees said.
Mayfield led the way for Troy in a losing battle, surpassing 180 passing yards with 74 yards and a touchdown on the ground, although he threw three interceptions. Senior wide receiver Nicholas Barr finished with eight receptions for 78 yards.
The first half was filled with mistakes on both sides — Piqua gave away three first downs and negated two more with penalties — but Troy's proved more costly.
Four times the Trojans drove inside the Piqua 40-yard-line. Those four possessions combined to produce a meager three points.
Mayfield picked up 24 yards on a zone read keeper and used his legs again to extend a pass play and pick up first-down yardage, but made the wrong read on another zone keeper to lose five yards on third-and-7 deep in Piqua territory.
The Trojans settled for a 35-yard field goal off the leg of junior wide receiver Jack Kleinhenz to go up 3-0 with 5:19 left in the first quarter.
With his team trailing in the second quarter, Mayfield bombed a third-and-12 pass down the sideline to Kleinhenz and netted 47 yards. Mayfield scrambled for 17 more two plays later, and the Trojans had first-and-goal at the Piqua 8-yard-line.
The next play, junior running back Evan Jones fumbled at the 3-yard-line. Piqua junior linebacker Damian Lawson was there to recover.
As the half neared its close, senior wide receiver Lucas Henderson set up the Trojans at the Piqua 40-yard-line with 1:09 left in the first half. Sophomore running back Nick Kawecki tacked on 11 yards to convert a third down, then senior tight end Navin Couch made a 13-yard circus catch to set up a goal-to-go situation.
On third-and-goal, Mayfield threw a jump ball up for Barr, who snagged it at the same time as Piqua senior linebacker Ca'Ron Coleman.
Coleman stole the ball from Barr in the air for an interception.
"They ran the same play three times in-a-row, it was like slant-wheel," Coleman said. "I just knew where to go, try to high point the ball."
Coleman added six tackles with one tackle for loss Friday, and even carried the ball a few times on offense. He was a key component to containing Troy's run-pass option attack.
"Our outside people really secured it," Nees said, in reference to Coleman. "They were doing a lot of QB keep, zone read and including a number two as a bubble at the same time, which is almost ridiculous to have that many options. And I thought we did a nice job of holding our water."
Piqua's offense capitalized.
After a second-quarter three-and-out by Troy, Piqua took over at its own 48-yard-line. Brady and Blane Ouhl synced up on a second-and-15 pass to bring up third-and-3. A gaggle of Troy tacklers swarmed Kemp in the backfield on the next play.
Problem was, Kemp didn't have the ball.
Brady Ouhl kept a perfect zone-read fake and dashed 44 yards untouched to the endzone. After a missed PAT, Piqua set the halftime score at 13-3.
After another Troy three-and-out to open the second half, Piqua took over at the Trojan 39-yard-line following a facemask penalty that added 15 yards to the Indians' punt return. Piqua sophomore running back Bryson Roberts gained 17 yards on two carries, eventually capping the drive with a four-yard dive to put Piqua up 19-3 with 8:05 left in the third.
Troy tried to change momentum by bringing in senior La'Manuel Kemp-Short at running back, a 6-foot-2 275-pound behemoth that rumbled for 27 yards in five carries on the Trojans' next possession and finished the drive with a five-yard run in which he carried three defenders into the endzone. The lead was cut to 19-10 with 4:19 to play in the next-to-last quarter.
But it wasn't enough for Troy to overcome its mistakes. Mayfield threw two more interceptions including the game-sealing pick six, both while inside the Piqua 40-yard-line. Piqua junior defensive back Jasiah Medley received the second interception.
The team with the fewest self-inflicted wounds won the game, which was the exact message Nees conveyed to his team during the week.
"Last year, I thought there was a couple times where our own mistakes hurt us," Nees said. "And they capitalized on them. So I said, 'If we get into a situation where they make a mistake, we've got to capitalize on it."
Piqua turned around the rivalry Friday, and will try to hold onto that momentum when it travels to Butler next weekend. Troy will search for its first win at home against Xenia.