Coldwater … and other volleyball teams around the state … served up its season opener on Saturday amid COVID-19 guidelines. The Cavaliers weren't able to hold their high-powered Spikeoff Classic but did manage to gain some experience against a quality Ottawa-Glandorf opponent.
Coldwater, OH – Perhaps this season more than any other, the outcome of the Coldwater Cavaliers' volleyball season opener seemed secondary.
Make no mistake. Coach Nikki Etzler's team plans to challenge in the Midwest Athletic Conference – and beyond – with a youthful roster that includes one senior. Saturday's match against fellow Division III power Ottawa-Glandorf, however, was more about enjoying the moment than exiting with a win.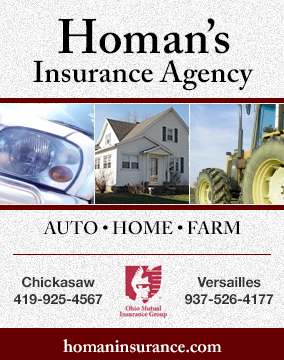 Coldwater traditionally hosts the Spikeoff Classic sponsored by Totally Promotional. The 12th annual tournament — which plays host to some of best small school programs in the state — was set with an eight-team bracket before it was bumped into uncertainty and finally spiked by the Ohio Department of Health's COVID-19 guidelines that prohibit matches with multiple opponents.
The tournament that was to also include Fort Loramie, Miami East, New Knoxville, St. Henry, St. Marys and Versailles generates more buzz than Coldwater business Sycamore Group did earlier this week on Twitter when it slapped a pro-Trump banner on its privately owned water tower.
Etzler and her Cavs took to the court Saturday against the Titans to salvage their season opener, as did the other six teams. Coldwater showed promise in the first and third games … that varsity inexperience showed up in the second one … and dropped a three-set loss to Ottawa-Glandorf 25-20, 25-14, 25-20.
Under the health department's stern guidelines for high school sports to continue fans were required to wear masks. Approved social-distancing seating in the bleachers was marked by tape. Instead of the pre-match handshake between teams they simply waved at each other from across the net. At first serve approximately 25 fans were on O-G's side and about 75 on Coldwater's.
Coldwater graduated six seniors from last season's team that finished 21-6 overall and third in the MAC. The team reached the D-III district final before falling to eventual-state champion Findlay Liberty-Benton in four sets.
Saturday's lineup featured senior Brooke Fiely, juniors Annelise Harlamert, Emma Grieshop, Kadance Blockberger and Aubrey Koester, sophomores Jenna Leugers and Alyssa Steinke and freshmen Madison Wendel and Becca Wenning. Sophomore Riley Rismiller missed the match due to commitments at the Darke County Fair. For a few of them it was their first true experience with the fast pace of varsity action.
And it came against an O-G team that went 25-3 last season, won the Western Buckeye League for the seventh time in eight seasons and lost to Liberty-Benton in the regional finals. The Cavaliers battled a tough group of Titans that featured senior Maddie White's booming serve, junior Erin Kaufman's quality kills, sophomore Chloe Glenn and freshman Katie Kaufman's controlling play at the net and senior Alexa Fortman's floor-burning digs.
Coldwater led the first set by as many as four points (8-4) behind solid serving from both Harlamert and Leugers. O-G tied the set 12-12, then scored the next four points on White's serve. The Cavs trailed 17-14 before the Titans put together a 5-0 run then traded points to finish off the win.
Game two saw similar results, only it was O-G that led early 13-8. The Titans scored six of the next seven points behind the serving of junior Mia Verhoff and stellar net play. They led 19-9 and closed it out.
Game three saw five ties … the last at 16-16. That O-G experience came up big again with a pair of 3-0 rallies to take control.
"As a collective group I loved the third-game management until point 16," Etzler said. "Up to point 16 we got some runs and we controlled their runs. That for me is what I'm taking away from the match as a super positive."
Coldwater temporarily held off O-G's victory with a 3-0 spurt behind a Fiely kill and a Harlamert serve to pull within 22-20. The Titans capped the victory behind a White kill that found the sideline, Coldwater's illegal touch and White's spike that deflected off a Coldwater defender at the net.
"We're going to grow all year. We're going to have to fail forward," Etzler said of learning on the fly. "O-G lost a lot of great players last year, too. They are a great team and they have a huge block. They have a setter who can run a nice offense. I'm glad we got to compete against them. Not knowing if we would have a season it was a great opportunity for us to play a great team.
"It's an opportunity for us to get better. Today we got to play and we're happy about that."
Wendel led Coldwater with five kills and Leugers, Koester and Fiely each added four. Harlamert had four of the team's six aces and led the team with 15 assists. Fiely had all three blocks. Koester led the Cavs with eight digs, Wenning had five and Blockberger four.
"It was great for us to be together as a team and work as a team," Fiely said. "Being the only senior it's special to be with the underclassmen and help them work their way through. And they help me grow as a player, too."
The opportunity to get on the court provided a mental boost as much as anything else. The Cavaliers, like every team around the state, knows the uncertainty the COVID-19 pandemic can bring to high school sports. Fiely doesn't play a spring sport so she didn't have a season taken away from her, but she knows another COVID flair-up could do exactly that to volleyball and other fall sports.
"That thought is always going to be in your head," Fiely said. "You just have to think confident. Go day by day and be thankful for the time you have in the gym with your teammates.
"People were devastated (in the spring). It's devastating for the seniors that left. It makes the time we have left with each other precious. We understand how valuable the time we have now is. We're going to use to our best ability."
The Cavs put it to good work Saturday despite the three-set loss. Coldwater showed inexperience with a handful of illegal touches, too few blocks at the net and coming up just shy of that diving dig. But the effort in going right at O-G and not backing down was there.
"It's great to have competition like this your first match to see where you're at," Etzler said. "We need to manage our game better. We need to control our errors. Just take our youth and teach them as quick as we can. Just be patient with them.
"Our girls, every time they got into the gym – whether it was the summer or the preseason – they were just so excited and grateful. That is a big part of the pandemic. Finding small opportunities to really appreciate what you have. I don't know the girls ever thought there wasn't going to be a season. We always just said let's take care of today."
Etzler, though, likely can't help but glance toward tomorrow a little bit, especially in the MAC. Fort Recovery, Marion Local, New Bremen, New Knoxville , St. Henry and Versailles are expected to be among the big hitters. The Cavs plan to be there, too, in a league that finished last season with nine teams ranked in the D-III and D-IV state coaches polls.
"I'm just thinking of the present right now, maybe because of the pandemic," Etzler said. "We did lose six seniors last year. But we're always fighting for that top spot in the MAC and we're always going to want a great tournament trail. So for us, in our gym that's always our expectation. This year, we just have to be assertive and hold people accountable. We need grace and patience through the process. We're training girls that don't play club but they're on the varsity court. This pace is new for them. They want to do well for the team. They're not a selfish group of girls. They're fun to coach and they just want to get better. As a coaching staff we're excited about that. Every day in the gym is so much fun helping them get better."
They took another step Saturday.