The reigning state champions almost welcomed graduation, coach Diana Kramer confident of the probability of 'next man up' being 'best man up'…so far.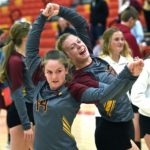 New Bremen – When I talked with New Bremen volleyball coach Diana Kramer last week (by phone) her optimism was almost such that…you could hear Carly Simon singing in the background – Anticipation.
Winners of two of the past three Division IV titles, and the school's only state team titles in history, the former player and coach from St. Henry has made the Cardinals a household name state-wide among would-be threats to her success.
"They are what they are,"  said Monroeville's Kendra Snook following her team's five-set loss to New Bremen in last November's D-IV semi-final match.  "They're like a machine.  They have so many athletes."
News travels fast and far.  Monroeville, Ohio is in Huron County – a hard three hour's drive from New Bremen.
And no one has to tell Fort Loramie's John Rodgers, whose Redskins lost to Bremen in the Division IV championship match.  Fort Loramie is just ten minutes away, on route 66.
The point is, near or far, the word is out on what Kramer has built in New Bremen in a very short amount of time.  Her summer camps are packed with young girls who aspire, and her feeder program of junior high players is continually successful.
At the top of it all she's had players like Paige Jones (University of Michigan) and Macy Puthoff (Indiana Wesleyan) to serve as walking, talking enablers.  The message to those who would like to be:  "You can do this, too."

So on the eve of the 2020 season, cue Carly Simon.  Diana Kramer has so much to anticipate it's hard for her to pinpoint that one player who might be the next Paige Jones or Macy Puthoff.
"We have so many quality hitters I've been able to move people around to other positions,"  she said recently.
"Seriously, I think Claire Pape (senior) is the best blocker in the MAC, and that says something because there are so many great players in our league.  I mean, Claire forces opposing players to alter their shot.  She's that good – she's a Division I college player (Purdue-Fort Wayne).  But last year she set for us, and this year she'll set and hit.
"I think Josie Reinhart might be our best player, overall, and she might be the best player in the league because she can do so many things.  She's that versatile."
Reinhart will play next year for Tiffin University.
"And Kaylee Freund (pronounced Friend) is our best athlete."
"Then, of course, we get a great player back from injury (Elli Roetgerman), we get our underclassmen back from last year with another year's tournament experience.  And we get great competition from our JV team last year."
We can never know about the days to come
But we think about them anyway
And I wonder if I'm really with you now
Or just chasin' after some finer day………..lyrics to Carly Simon's 'Anticipation'

Uh, yeah.  Diana Kramer never stops thinking about the next finer day when it comes to volleyball, or stops wondering about the luxury of riches that seem to come from her artesian well of talent.  Who will be next among all those little girls that cram her camp each summer?
"They all want to grow up to be like Paige Jones, or Macy,"  she says.  "Our players have been role models to the little girls in New Bremen.  They want to be like them.  My own daughter already says she wants to break all of Paige Jones' records.  We have that kind of enthusiasm."
But you better be ready to play, too, against any and all comers when you wear the target of champion.  And in her fifth year at New Bremen there's no one more respectful than Kramer of the challenge presented by area D-IV opponents who want to claim her crown, if not walk in her stylish Nike shoes.
St. Henry, Marion Local, Versailles (D-III), Fort Recovery, New Knoxville, and Minster are her immediate league threats…along with non-con threats Jackson Center, Lehman, Russia, and yes…Fort Loramie, who returns that same experienced core from last year's team that Kramer does at New Bremen.
"The culture of volleyball around here is so good,"  she gushes, unashamed in her enthusiasm and a vocal missionary for the future of her sport.  Kramer's always looking for the next convert.
"So many good coaches and good players.  The sport is growing because it's such a great thing to watch;  and there's opportunity to play at the next level if you have the talent."
Kramer, after graduating from St. Henry, played at Pittsburgh's Duquesne University, a member of the Atlantic 10 Conference.  So when it comes to sizing up an would-be threat to her own game – her own situation – she takes nothing for granted and is quick to acknowledge that the sport has blessed other programs besides her own.
"I like our team, and our players, but it's hard to say that this one or that one is the best in the league.  Everyone has talent and I'm sure that others think they have a player who's the best at a position."
Hesitating for a moment, she added another "they are what they are" reminder.
"Where we're concerned…it's the players we have that I don't mention that are going to make the difference in our season.  That's really important.  They're all competitive, they work hard, and they want to get back to the championship game."
Anticipate that!