Without knowing if we're going to have games or something more relevant to write, someone asked…who are the best interviews among area sports personalities?  Whoa!  The answers may surprise you.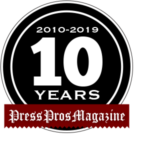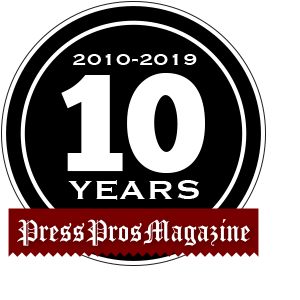 Over refreshments in a neighbor's 'tag mahal' garage/watering hole/foxhole of community opinion recently…the guy sitting on the stool by the wood stove said:
"Hey, if you never write another story about sports around here because of the virus, which coaches are the best interviews.  Who are the best go-to guys for a story?"
Out of the mouths of babes, they say.  You never know where the next good column idea is going to come from.
"All time, or current?"  I qualified.
"OK, current people,"  he said.  "Guys, or gals, who are still out there doing it."
A second qualifier.
"Personally, or in general,"  I asked.  "This covers a lot of ground."
"Well, you're the only guy in the room who writes, so I'd think you could figure it out,"  he snarked.  "It's a simple question.  It requires a simple answer."
But there really was no simple answer, I thought, as I went home and sat down to think about it.
And it was a wonderful question, so after consideration I thought you might enjoy reading about a half dozen of my best local picks, considering, of course…there are far more than six.  Anyway, here's some of my favorites.
One…Tim Goodwin, the head football coach at Marion Local High School.  Tim's not the most talkative guy – nor the most approachable, some have told me. But he's brilliant, and he's honest – really honest.  A math teacher by trade before turning to school administration, the first time I ever talked to Goodwin stands out – sometime in the early 2000s after a rare loss to Troy Christian (at Marion Local).
It was one of those Saturday games after lightning the night before and everyone was tired and a little out of sorts from having to drive all the way back to Maria Stein at 11 am in the morning.  Marion Local's always tough at home, but Troy Christian had a running back named Andrew Lightfoot that they couldn't tackle that day.  Lightfoot was about 5'11" and 215 pounds and he just wore 'em out…left, right, and up the middle.  He gained a bunch of yards, scored a couple of touchdowns, and the Eagles won the game, celebrating as if they'd just won Super Bowl XL.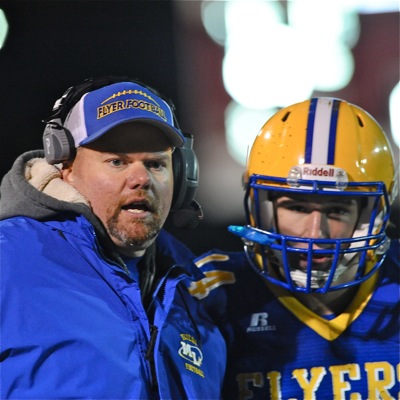 I approached Goodwin, introduced myself (then writing for the old radio website in Piqua), and asked, "Coach, you usually find a way to stop the other team's threat.  What was different about today?"
Goodwin looked at me, totally blank, screwed up his face a bit, and said:  "Were you here last night?"
"Yes,"  I answered, thinking that would buy me some points.
"So you just watched us for two days…and that's the best you've got?"  he said,  sober as a judge.
It was an awkward moment for me back then,  and he swears now he doesn't remember.  But it kindled a very good relationship over the years and today I would consider Goodwin to be one of the best at any level of sport.  And now with familiarity has even come a little humor.  He just thinks on a different level than many, and often employs mathematical principles to answer a question.  "Probabilities", he gave me a couple of years ago, explaining how he made a halftime adjustment.
But that first impression never leaves.  I learned, and I still respect…that Tim Goodwin doesn't suffer dumb questions.
---
Two…Jack Albers, the old basketball coach and math teach at Marion Local, who after retiring from coaching continued to teach math at more schools than I probably know.  And why is Jack so good to talk to?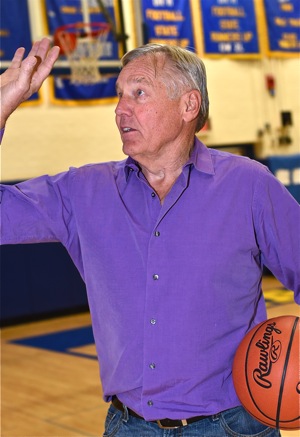 Well for one…he's one of the most passionate people you'll meet.  The first time I met him he sat me down on his patio and within three minutes he was on his feet demonstrating why modern high school players can't make a free throw.  There stood Albers, in his 70s, showing me the proper form of bending your knees, flex, and follow through.
Another reason…Jack's one of the best story-tellers in the world – not just the area, or the MAC, or southwest Ohio…but the WORLD.  It was him who first told me the legendary Minster story of how Jim Hegemann fought a bear at some carnival years ago – of how the bear's trainer told Hegemann, 'Whatever you do, don't punch the bear.'  And of course, the first thing he did was punch the bear.  I shared this in a recent post, but whenever I meet Albers, still, I ask him to tell me about Jim Hegemann and the bear.  And he can't do it without laughing 'til he cries.
Finally…like it or not, Jack is so highly opinionated that it's impossible to leave him without something good to write.  He's old-school, almost to the spiritual fringe, and he's proud of it.  Basketball was better, he'll tell you, when teams only scored 40 points.  Nothing wrong with defense.  And he's still 'inwardly' coaching from row three of the bleachers at Marion games.  He's not hard to miss.
And be prepared to improve (above)…if you ask him about shooting free throws!
---
Three…Ted Peacock, the now-retired football coach at Covington from 1999 to 2002.  In those four remarkable years, Peacock won 42 games and lost five, his record marred only by the fact of the Buccs' inability to win in the post-season.  It was tough on Peacock, who grew up and played in Covington, and it was tough on the community.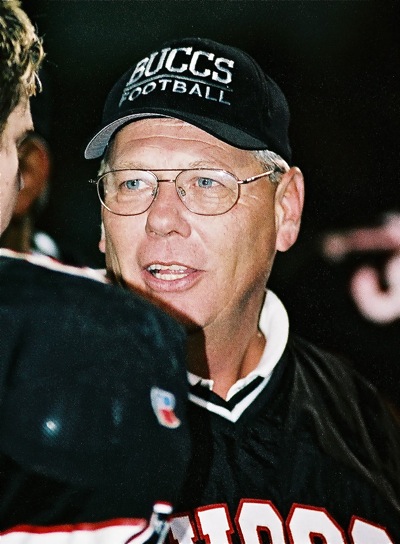 But Ted was one of the best interviews ever…because of his enthusiasm, his personality, and his willingness to simply step away from the restrictions of being a coach…and just let it rip.
He used to say, laughing as he said it, "I probably shouldn't say this (dozens of times), but what the hell…"  And then he'd go on and give you what you just don't hear from coaches now like you did from Ted back then.
He's also one of the most resilient people I've ever met.  He's suffered the through the loss of his first wife, Ann, he's beaten cancer, and the stigma around area football that he coulda'/shoulda' won more games with the talent he had.  But still…he's still involved with Covington football, and when you meet Ted Peacock he'll be smiling like he just won the Powerball drawing.
One of the best coaches-slash-people you'll ever find!
---
Four…Scott Elchert, the basketball coach and athletic director at Jackson Center High School.  And goodness, what can't you say about Elchert as an interview?
Win or lose, he's always available.  And win or lose, you get that piercing glare of "Yes, we won, but we could have been better."  Or, "Yes, we lost, and it was pretty easy to see why."
His superintendent at Jackson Center, Bill Reichert, once told me that "Scott's old-school, principled, and good for kids because they need to know there's gonna' be people beyond high school who are demanding – tough. Do things the right way."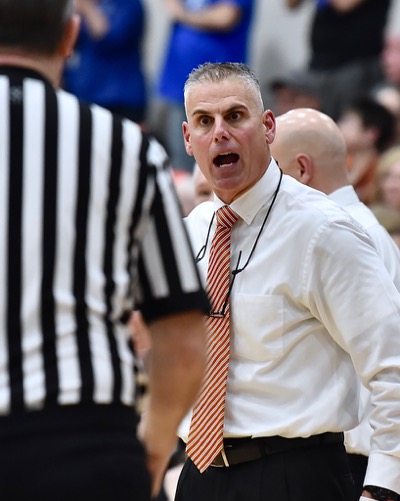 He's loud, and he's hard to miss on the sidelines.  He stalks and yells, and he works officials like a Blackjack dealer.  He wins games by denying opposing teams their ability to score – if you don't play defense for Scott Elchert you're not going to play.  And when you talk to him, post-game, you usually have to knock on the door of the coaching office at Jackson Center and wait to be summoned in.
"Well, in the first place…"  he'll start.  "You can't do this, and this, and this…….,"  his voice never wavers, nor does that stare.  He looks right through you.  I almost said once, "You know, Scott, I didn't miss a shot all night,"  but wisely held my words.  But you get the point.  When you talk to Elchert he makes you feel like you were actually in the game, and not just watching it.
The other thing…he never, ever ducks a question.
"How did it get away?"  he told me once.  "Did you see how we played in that two-minute stretch at the start of the fourth quarter?"  He'll give you chapter and verse.
Ask him how he won a tough game and you get the same honesty.  In last year's regional semi-final win over Cincinnati Christian, a team with more athletes and more size, this is what he said:  "Did you see how we played at the start of the fourth quarter?  I told them in the huddle we'd win if we just played like we practiced.  We played harder, we didn't make mistakes, and we played like we prepared."  He prepares his kids to give them the best chance for success…always.
And another thing I've learned…he sits up late and reads what you post after games.  His intensity and his energy knows no bounds, or hours.
And always…the stare!
---
Five…Steve Nolan, the head football coach at Troy Christian.  Over the years I've heard people say that Nolan was the toughest guy they've ever tried to write – stoic, unsmiling, and probably not interested in talking in the first place.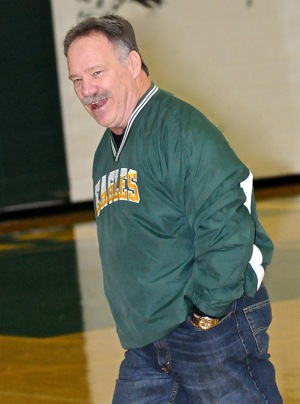 But Nolan, like Tim Goodwin and a host of others, is brilliant, and if you've paid attention, know the game, and present the facts of the game in a proper context there's no one out there who's a better quote than the former 233-win coach of the Troy Trojans, now in his second tenure with TC.  Tough at first, over the years I've really grown to like and respect Steve, even on the toughest nights.
I don't know another veteran coach who's adapted to the modern culture of football, and football in today's society, better than Nolan.  Has he mellowed?  Only he knows, but he's been able to appreciate the changes, particularly at Troy Christian.
"I've never had a kid come to me after a hard practice and thank me for coaching him,"  he told five years ago, during his first stint with the Eagles.  "But they do it here."
And still, he has that aura of authority and old-school respect for the commitment necessary to be successful in football.  Kids see it, they appreciate it, and they want to be a part of it.  They want to be around Steve Nolan.
I now consider him to be one of the best quotes I get to write, on the rare occasions I get to see Nolan and the Eagles.  Because here's what I've learned – he respects those who work at their craft…as hard as he works at his.
---
Six…Carla Siegel, the girls basketball coach at Fort Loramie.  What you have to acknowledge and appreciate about Carla…is Carla.  First and foremost, she's one of the classiest people I've ever met.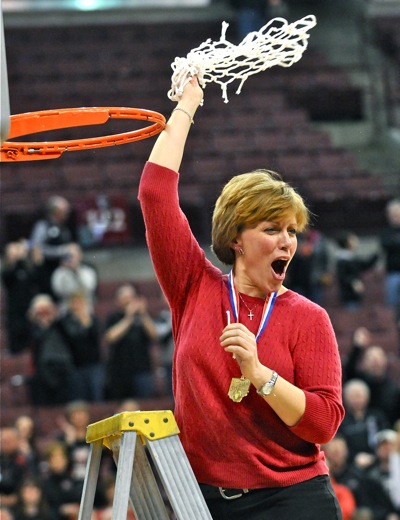 Why?  Because I was there to talk with her in the painful moments, before the two state titles in 2013 and '15.  She stepped forward, handled the disappointment, and understood that there were those who had to write about the outcome, win or lose.  Her respect for others, media and opponents, is always on display.
Another thing…without actually trying, Siegel is someone you learn from with every opportunity to talk.  Like the others on this list, she never ducks a question and if there's one she really isn't comfortable with she'll often say, "Ask me that in a couple of weeks.  I'll know better then."  In that respect she's very, very fair, to the question and the questioner.
She's almost stately on the sideline, arms crossed, as she watches the game.  And like the rest…she misses nothing.
And tough?  Siegel doesn't suffer lack of effort or focus.  She usually has enough depth to sub in someone who can do it her way, and she doesn't hesitate.
But afterwards…she's always there and always willing to talk.  And when the state tournament was canceled on her team last March while they were en route to Columbus, she handled the disappointment and heartbreak in the same stately way she coaches.  She spoke as a role model for her kids and her school – her community.  She was honest, respectful of the OHSAA's situation, while she assured her girls that their unbeaten record still stood for something.
A week afterwards we met, privately, and only then did she show her personal feelings of regret – of losing an opportunity for that third state title.
But never, ever, did she blame, or second-guess.  Just like the movie, there's no crying in (in this case) basketball.  Oh, for more Carla Siegels – many more.
Class!