In his four years as head football coach Ty Cates has found his footing, established as 'the coach' in Covington.  Now a new league and a new challenge loom…as the Buccaneers seek a happy farewell tour of the Cross County Conference.
(Ed. Note:  While we wait out the bureaucracy on whether area football teams play at all this fall, in Covington hope always springs eternal for a new season and new hopes in respect to ultimate success.  Whether they get to play, or not, the expectation for coach and community never changes.)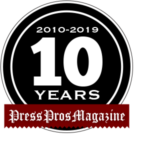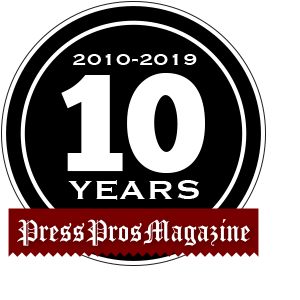 Covington, OH – Ty Cates smiled as he counted the years – four of them – as head football coach at Covington, a place where the sports pecking order since 2000 has pretty much centered around football.
Winning is the expectation.
Not winning is a cause for concerns about your career.
And Cates has won.  Taking over for Dave Miller after the 2015 season, he's won 33 of 46 games at Covington, including one Cross County Conference title, the 16th since joining the league back in 1991.  His best year was his first, winning eleven games (11-1) in 2016 with the remnants of Miller's program when he left for Kettering Fairmont.
Since…the real work of high school football.  In a rebuild the following year (2017) the Buccs dropped to 5-5.  After a stumbling start in 2018 they won their final seven games to finish 7-4, losing in the first round of the playoffs.  And last year…they surprised a lot of people with a 10-3 mark and a trip to the regional final in Division VI, where they lost to Mechanicsburg, 42-26.
He has the pedigree.  He was a fine high school running back and linebacker for Jason Schondelmyer at Arcanum, and was recently chosen to that school's athletic hall of fame.
He has that unmistakable coaching decor.  His hair is thinning, and he has the gravelly voice you associate with coaches older – with more miles and milestones.  He'll make a fine Charlie Burgbacher one day.
He's proven that he can handle the expectations that come with Covington football…in the tradition of his predecessors – Ted Peacock (89% win pct.), Kevin Finfrock (79%), and Dave Miller (81%).  This while playing in a league that now includes Division VII regional power Fort Loramie, who joined as a football-only school in 2017 and has won two of the last three conference titles.  The only other consistent CCC threat to Covington since 2000 has been Miami East, which like a shooting star has had its moments of highlights and flash.
But that changes next year, in 2021.  Covington, along with CCC mates Bethel and Miami East leave the friendly confines of predictable winning football to become charter members of the newly-revised Three Rivers Conference, along with West Milton, Northridge, Lehman Catholic, Troy Christian, and Riverside – a league that promises more football muscle along with diverse competition in the other sports.  Is Covington glad to leave behind the Cross County Conference, where they've won 195 games since 1999?  Ty Cates negotiated the obvious question tactfully.
"I wouldn't say we're glad to leave.  Anxious is a better word,"  he said recently.  "It's a new challenge.  We're curious – intrigued by it.  It's a change.  And I think it's going to be good for us in football because we're not going to be so familiar with the new schools.  It's exciting to play a new opponent.
"We certainly know Bethel and East, and we have history with Lehman, but now we have to focus against some schools with a history of success.  Our JV situation is going to improve, because there were teams in the CCC that didn't have enough kids for JV.  And the new league offers a third non-conference game, where you can beef up your schedule. Playing the St. Henry, and Minster and Fort Loramie [the past five years] has really helped us – teams that you have to play four quarters against to win.  And of course the goal is to become a better post-season team and I think the change, or challenge, will help us become a better post-season football team.  We want to get to the state finals and win it."
Cates' brand of football – his style – has been transforming at Covington.  Dave Miller was highly successful, winning 89% of his games with the triple option offense.  But the option, while successful, was not interesting enough to lure some of Covington's best skill position athletes into football.  Cates changed all that by opening things up, spreading the field, throwing the ball, and showing the community that there was a different way to win.  He attracted players like 6'6″ Zach Parrott to play wide receiver, an anomaly to most Division VI football secondaries.  He stretched things out and forced opponents to defend the entire field, and not just the line of scrimmage.
His brother, Andrew, gave Covington a second dependable set of hands catching the ball the past four years while playing out of the backfield.  Add Cade Schmelzer, a physical quarterback with the ability to throw the deep ball…and Cates had just what he needed.  Opponents noticed.
And with the shift in offensive philosophy, they developed a renewed reputation for physical football.  Covington hits, as more than one coach acknowledges.
"It took us a couple of weeks to heal after we played them,"  said Fort Loramie coach Spencer Wells following last year's 19-14 win over Covington;  and a game that ended with Cates and Company on the three yard line driving in for what would have been the winning score.
"They can be a scary team,"  adds Minster's Geron Stokes.  "They play with a kind of physical abandon that I like.  They play tough, hard football."
"I think there's an intensity that our staff brings, but the coaches that were here before did that, too,"  says Cates.  "Covington has always been physical, but I think our kids have grown tired of hearing that they don't play on the level of the MAC.  In their mind the only way they can beat those teams is to play with that kind of intensity and a little bit on the edge.  We preach it – they're bigger than us and they have more depth.  So how can we make up the difference?"
They found a way in 2019 to get beyond the first round of the playoffs, beating on successive weeks a good Worthington Christian and unbeaten Southeastern in the regional quarter and semi-final round games.  But the Southeastern game beat them up physically, and Covington limped into the regional final with Mechanicsburg the following week with two key starters missing with injuries.
"No excuses,"  says Cates.  "But if we're healthy I think we play Mechanicsburg a lot better than the score indicates.  We played hard, we made some mistakes, but at that level of football it's just hard to miss two starters against a team that good."
Cates graduated 16 seniors from last year's 10-3 team, the first group to have played for him for all four years.  They lost experience, and they lost talent.  Now, with an opening schedule of St. Henry, Milton-Union, TVS, and Fort Loramie, they have to regroup in a hurry.  Their farewell tour through the CCC will not be as easy as in those years when they won 46 consecutive league games.
"I always ask the kids to pick a word that describes our football team,"  says Cates.  "Some years they pick 'toughness', but last year's word was 'relentless'.  That's how we played, and we'll have to do that this year.  Play to the whistle and finish every play…what we practice every day.  We never tolerate lack of hustle.  It's hustle and play hard 100% of the time.
"The nice thing about last year's team was we felt like we could do different things to win,"  he adds.  "We were able to do that against Worthington Christian,with their speed and their passing game, and I thought we did it again against Southeastern, who may have had the best athlete we saw all season.  We were able to drain the clock with the running game, and then take some shots downfield if they loaded the box."
Unlike Dave Miller's option teams that were run dominant, Cates' style has borrowed from some of the area's best.  When he has a running game, he runs.  When he has a good arm at quarterback and receivers to go catch it, he throws.  At his best, he's balanced to do both.
"I try to play to the strengths of my talent,"  he says, simply.  "And I coach like I teach (History) in the classroom.  I borrow.  If I see someone with a good lesson plan I'm not ashamed to use it myself.  When I see something in football that I think might work for us I use that, too.  I always look at other programs to see what we can do to become better."
He's conscious of his responsibility, and he's very conscious of the legacy.  Since Ted Peacock came to Covington in 2000 the Buccaneers have won 83% of their games.  Entering his fifth season, Cates knows that continuity will be his biggest ally.  It's now 'his' program – his staff – and he's made the most of it, taking just five years to become the 7th winningest coach in school history.  He trails Larrie Tisdale, Miller, Peacock, Bob Riley, Finfrock, and Charlie Burgbacher;  and his next win will tie him with Burgbacher for sixth on that list.
"Coach Hetrick (Al Hetrick, from Versailles) always told me the longer you can keep a staff together the easier it becomes."
But he's aware of the critics, as well – those who point to the fact that for all their success since 2000 Covington has never broken through to Canton (or Columbus) in the recent era of OHSAA tournament football;  those who readily remind that during that same time Marion Local has won 11 titles, St. Henry has won twice, Minster has won twice, and Delphos St. John has won three times.  They won when winning counts the most.
"I feel like I have a duty here to the kids, and to uphold the standard – to try and take it farther,"  says Cates, who still leans heavily on the relationship with his own high school coach (Schondelmyer, at Arcanum).  "This is a football town, so I knew what I had to do when I came here.  It's a very special place for football, and thankfully we have kids that are just as conscious and buy in to those expectations.  I've been able to build a relationship with them.  They know I love them.  Sometimes it's tough love, but they'll run through a wall for me."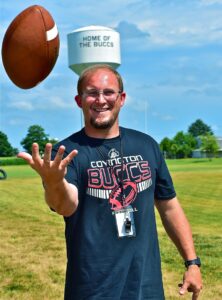 When up-and-coming coaches are mentioned for jobs at other schools, Cates' name is occasionally heard in the conversation, along with Geron Stokes (Minster) and Spencer Wells (Fort Loramie).  While flattered, Cates is content to be in Covington.
"Our program is in good shape,"  he contends.  "We just has 60 kids in our summer football camp, and we'll dress somewhere in the mid-40s again this year.  Our practice facilities are brand new, our kids work their tails off, and making it to the regional finals is nothing to frown on.  We did that with my first group of kids, so I do feel like I've begun to earn my way as head coach.  I plan on being here a few more years."
But first…"We just want to play this year,"  says Ty Cates, who like other waits on the Covid virus and a decision from Mike DeWine.  "We need to bring on another set of kids, get better, and take the next step."
And then…new teams and new challenges as they leave the old neighborhood.  Al Hetrick is fond to say this about career security – that a good team can make you a winner.  But 'winning football' is a matter of maintaining a good program.  Cates listens, and borrows.
Continuity…and a fun farewell tour…is his ticket to the Three Rivers Conference.