As if the picture of stability with the Ohio High School Athletic Association wasn't murky enough, it got worse on Monday with the firing of popular Executive Director Jerry Snodgrass.  And indicative of the times, no one's saying why.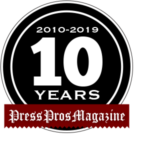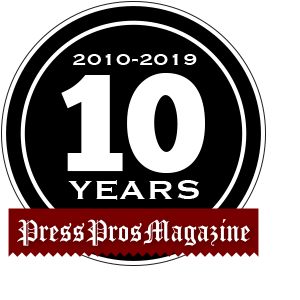 My phone rang at 9 pm Monday night.
"Did you hear about Jerry Snodgrass?"  the caller asked.
My first reaction, of course, was the worst possible scenario.
"Something happened to him?  Health?"  I said.
"No.  They fired him."
A different kind of death in the family, if you will, for an organization that's long on questions recently and short on answers.  The OHSAA is awash with issues over financial stability, tournament attendance, and the it-just-won't-go-away matter of…competitive balance.  Not to belabor the point, but, more questions than answers.
As abruptly as it was announced that Snodgrass was out Monday, it was also announced that deputy commissioner Bob Goldring, a long-time member of the inner circle of the organization, would take on interim duties as acting commissioner, or director.
In a statement released by director of communications, Tim Stried, it simply read:  "The Board of Directors felt it necessary to go in a different direction with OHSAA leadership.  We cannot go into more detail at this time."
But they don't have much time.  There'll have to be some specifics given, and those soon to come, because the popular Snodgrass represents a plethora of rumors as to why he was let go.  The reality is…he was hit by an avalanche.
One theory advanced from a Cleveland-area associate Monday was…fallout from frustration over schools and administrators tired of being put on hold over the Covid-19 issue, incumbent on a decision from Governor Mike DeWine.  Will there be school, and will there be sports? That's only a theory, now, and not to be taken as gospel.  But in a May 16th interview published on Press Pros (The Risk Of Indecision) Snodgrass reaffirmed at that time that the resumption of schools and sports would be a decision rendered by DeWine.
"I can't tell you," he said by phone. "I don't even have an instinct, because we have to rely on the recommendations of a governing body (the Governor and the Director of Health). We take our cue from both of them. People have this misconception that I can just institute fall sports, winter sports, and spring sports arbitrarily because of my leadership role. But I don't have the ability to do that. People don't have to agree with it, but that's the way it is."
But people want to know.  And it's likely that some schools will lose some sports from their budget if there are no means of sports revenue to sustain them come September.  But a pandemic can hardly be blamed on Snodgrass as the avalanche gained momentum.  He just happened to be on the slope.
At the head of the list of issues…is money, which Snodgrass admitted to the OHSAA taking a $2 to $3 million dollar hit back in March with the cancellation of the state wrestling meet, boys and girls state basketball tournaments, and the boys hockey tournament.  Revenue lost, with no way of recouping, for an organization that cannot run on simple good will.  Like the member schools, the OHSAA needs money.
In a May 21 story from the Athletic, authored by Tom Reed and Aaron Portzline, Snodgrass confirmed that the OHSAA had received a stimulus loan worth more than a half million through the Payroll Protection Plan.  Other sources to that story said that without tourney money from fall sports like football and volleyball the future of the OHSAA was in serious jeopardy.  Snodgrass reportedly took a 25% pay cut.  Other significant high-level employees saw reductions of 20%.
But there are other issues, as well.  Declining tournament attendance in recent years has been a troubling concession to a lack of popularity.  And what do you do to attract people once they're out of a habit?  Historically, nearly 80% of the OHSAA's revenues have been generated through ticket sales.  Snodgrass's predecessor, Dan Ross, once told me that if people don't watch in person you have to find another means of revenue. So the games were televised and the rights for the broadcasts sold.  That made it easy for people to stay at home and watch.  But if popularity is an issue, then TV ratings become an issue, too.  And when ratings lag, so too, do the fees for the rights to broadcast.
Tournament venues can be viewed as part of the snowball effect, moving back and forth from Canton to Columbus, and back, for football in recent years…and away from Ohio State's Schottenstein Center for basketball last year (to St. John Arena), although the basketball tournaments were never played due to the pandemic.  This spring it was announced with a positive spin that the University of Dayton Arena would host the tournaments in the future.  All of this has given fuel to the impression that OHSAA tournaments are now events without a home.  Conflicting schedules can be blamed, of course, but again, the root of the issue is money.  Venues like Value City Arena and UD don't come rent-free.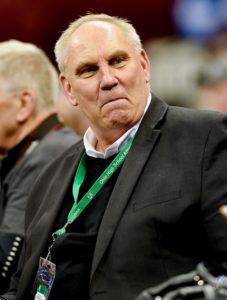 One tweet from the OHSAA last night stated that while Bob Goldring will be the interim commisioner, a national search is in place – a 'national' search – for Snodgrass's replacement.  This won't bode well because, one), Snodgrass is a good guy, knew the state of Ohio like the palm of his hand, and is immensely popular with everyone from athletic directors to coffee shop owners.  He knows them all, coming up through the ranks as a teacher, coach, and athletic director at Findlay High School.  ADs were already outspoken on Monday night Twitter, pointing the finger at the OHSAA's board of directors, one calling it "a house of cards".
Two, as an administrator Snodgrass was readily available to one and all, and took on any and all questions, even from fans in the stands – especially from fans in the stands.
"People wouldn't ask if they didn't want to know,"  he shared with me in 2018 after assuming the position from Dr. Dan Ross.  "If you can, you owe them an answer."
Three, Dan Ross was an ambassador, yes.  But he was also a salesman an effective politician, and the fact of looking nationally for a replacement would lead you to believe that the next commissioner's first priority will be to shore up the coffers and lessen the stain of red ink.  Jerry Snodgrass was a people person, and at this point there is great empathy for one that puts families ahead of 'Franklins'.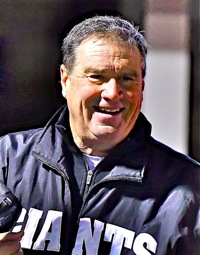 And then there's all the rest of that nastiness – competitive balance,  how to get the corporation back on track without making it look corporate, and worst, the OHSAA has to save face with how it explains why they couldn't save Jerry Snodgrass.  Tim Stried said they can't go into more detail at this time, but they'll have to, and that quickly.  Their mantra for years now has been…it's not the outcome that matters most, but how you play the game.  Jerry didn't even get a handshake line!
What lies next?  They've got a month to deflate the political beach ball that looks increasingly like high school sports – issues of stability and safety.  And one should not put the cart before the horse.  How will schools be allowed to even operate in a scant four weeks?  Time is running out.
As it did on Jerry Snodgrass – the avalanche, you know.