Behind another star-spangled effort on the mound, the Cincinnati Riverbats sparkled at the Tournament of Stars Wooden Bat World Series tournament at Newton High School on Saturday.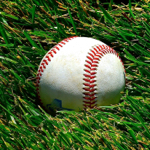 Pleasant Hill, Oh – Consider it the Cincinnati Riverbats' patriotic tribute to Independence Day weekend. On Thursday it was Jake Napier and his four-hit shutout. On Saturday it was Jacob Dameron and his two-hit blanking.
The Riverbats 15-U team have turned in a couple of Yankee Doodle Dandies at the Tournament of Stars Wood Bat World Series tournament. Cincinnati's third straight victory – this one a 9-0, five-inning win against the Butler County Bombers  on Saturday – rocketed them into today's semifinal round in Springfield.
Dameron pitched Saturday like he had a barbecue to attend. Fifty-three of his 77 pitches were strikes. The 11 a.m. game started with a temperature of 86 degrees that felt like 90. It ended two hours later at 90 degrees (and feeling like 96).
It was sweltering under a blazing sun at Newton High School. Dameron was hotter. The junior-to-be at Middletown High School struck out seven and walked two.
"It definitely was the heat," Dameron said of his efficient outing. "I was dying. I was trying to keep cold in the dugout. Overall a good game. They just couldn't get the bat on the ball. They couldn't lay off my curve, either. I just kept coming at them and my defense did the rest of the work."
Butler's Tyler Friend managed a sharp single up the middle in the first inning. Jo Jo Nelson, Dameron's teammate at Middletown, singled to right field in the fourth.
Dameron's biggest threat came in the second inning. Charlie Edling led off and reached on a dropped third strike. Following a strikeout looking, Nelson and Landen Freeman both walked on five pitches. Dameron left the bases loaded after getting Nick Stroud on a groundout.
Dameron was grilling the Bombers' batters with his curveball. He was hitting the corners, as did Butler County starter Aiden Sargent until Sargent ran into trouble in the third and fourth innings.
The Riverbats – paying tribute to July 4th with blue jerseys with red and white stripes along the sides, white pants and red socks – treated home plate like a ticker-tape parade. They celebrated four runs in the third inning on a walk, three straight infield errors and a single.
In the fourth inning the Riverbats pushed across five more runs. Jake Fabry doubled, Napier singled and Owen Metze sacrificed them both into scoring position. Alex Bemis and Rodney Rachel both walked. After a strikeout, Sam Everhart singled for the 7-0 lead. Evan Fleetwood and Charlie Meckey, who had his third straight multi-hit game in the tourney, both added RBI singles for the final.
"This game was special. We had a few rivalries on that other team," Dameron said. "There was one kid on my high school team on Butler County. … We had to come out here and shut them down."
Napier started the Riverbats' festivities on Thursday with an 8-0 victory against Ironmen Midwest Black. He threw 104 pitches (64 for strikes), struck out 10 and walked two.
And don't forget about Aaron Stidham, who unfurled a solid outing Friday in the Riverbats' 12-4 victory against Miami Valley Prospects. Stidham allowed two hits and one run in four innings. He struck out four and walked three, throwing 64 pitches (36 for strikes).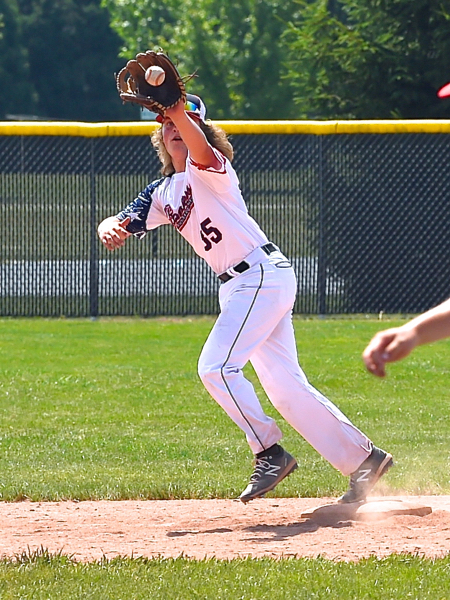 "We give each other some good luck, for sure," Dameron said of Napier. "Talking about our last starts Napier gave it a special touch. He's just good. He throws hard. He's got a nasty curveball. He can last long in the game."
Dameron's curve is equally effective. Napier knows firsthand.
"His curveball is pretty dirty. He struck me out three times in practice," Napier said, grinning.
"You know you can't touch my curve," added Dameron with a sly smile.
Napier has more pop on his fastball, popping the catcher's mitt at 84-85 and topping out at 87. Dameron clocks in at 78-79.
Both gave a salute to the defense behind them. It sparkled again Saturday behind second baseman Bemis, shortstop Lucas Swierk and third baseman Rachel.
The Riverbats have had one weekend off this summer and practice three days a week. That's perfectly fine with Dameron, who along with his teammates missed out on a spring high school baseball season due to the COVID-19 pandemic.
"We don't really get too many days off. But I don't mind. We have to get to baseball when we can," Dameron said.
The Riverbats get two more games Sunday. They play the winner of the Dayton Classics Flannagan and Colts Elite at 4 p.m. at Springfield's Carleton Davidson Stadium. If they win, the advance to the championship game 7 p.m.
After putting away the Bombers (who donned celebratory uniforms themselves with white jerseys with red and white stripes on the left sleeve and stars on the right, white pants and patriotic bunting socks), the Riverbats still had time to attend a Fourth of July picnic and celebrate.
"I'm going to go home and sleep," Napier said.
"I'm probably going to go home and sleep, then wake up around 10 p.m. and set some fireworks off," Dameron said. "I think that sounds like the planThat's the Riverbats' plan for Sunday, too … to go out with a bang.