Success comes through all kinds of trial and error.  Marion Local Pony League pitcher Ian Rindler has a system that drives opposing hitters (and his mother) crazy.
By Andy Anders
Versailles, OH – There's dozens of places for young pitchers to get their curveball game ready.
Players head to the local high school field, go to a private facility or often simply wait for their next practice in junior high or little league…or PONY league ball to add a hook to their pitching weapons chest.
Marion Local 14U pitcher Ian Rindler practices in his room, using bed linens in lieu of a catcher.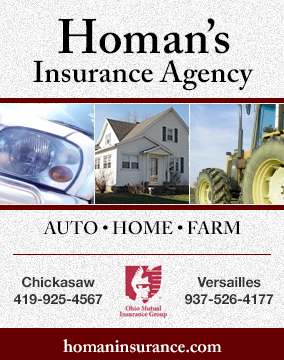 "He'll practice at night with his grip before he goes to bed, and he'll literally throw it at his pillows," Ian Rindler's mother, Sarah Rindler said. "I'm like, 'Please don't hit anything.'"
The only thing Ian Rindler broke Saturday were pitches to generate swing-and-misses and the will of the team missing — Minster's 13U squad — in a two-inning shutout effort to pick up a save during the 2-1 Flyers victory.
As collected postgame as when he was on the mound, Rindler only had a few words to describe his emotions following the closeout.
"Happy…excited. Glad we got the win."
Rindler's been a fan of baseball since age two, and has wanted to be a pitcher since about that time.  A fan of the MLB's Cincinnati Reds, he watched and played and excelled from a young age.
"Ian's been throwing baseball since he was knee high," Marion head coach Chad Hess said. "He's always put extra time in — I can't even measure how much time he's put in. He's a great worker."
While he's worked on his pitching for almost his entire life, Rindler only added the hook that shook the Wildcats one year ago while transitioning to a 45-foot little league mound distance to a 55-foot PONY league mound.  Saturday, tossing from the standard 60-foot-6, he maintained enough command to avoid a single walk in his two frames.  Rindler kept it simple when asked how he commands the curve.
"You've just gotta get on top of it," Rindler said. "Get on top of it then swipe down."
Knowing all the while he could be called upon, Rindler stayed cool at shortstop prior to his turn on the mound, picking up two assists in the field as part of a defense and pitching battle between the Flyers and Wildcats.
Far from overshadowed by Rindler's outing, Marion starter Parker Hess opened with four innings of one-run pitching and two strikeouts.  Minster shortstop Conner Schmiesing scored to tie the game at one in the top of the fourth, but that proved the only damage dealt against Marion's starter.
"We go out every night, throw and hit and do all the different stuff," Chad Hess said of Parker Hess. "He wants it, he likes to go out and play. And that's the only thing you can ask for as a coach is a kid who wants it, and he's always shown me he wants it. Couldn't be more proud as a dad and a coach."
Minster pitcher Ian Hocomb, nicknamed "E-bob" by his teammates, dealt an exceptional outing himself until he took a pitch to the foot while batting in the fourth inning.  After he hobbled to first base with a grimace and then to the dugout when a courtesy runner was produced, the tall right-hander surrendered a hit, two walks, and the eventual game-winning run after reappearing on the mound.
Having a second pitcher — Rindler — ready to go proved decisive for Marion.
"We've been working since these guys started pitching six years ago on getting depth," Chad Hess said. "That's what it's all about. You've gotta have depth. It's pitching."
Rindler relieved Parker Hess in the fifth and opened with a walk to Minster third baseman Kole Richard.
Despite the pressures of a one-run game and humid air that made breathing feel like drinking soup, Rindler regathered himself and retired the next three hitters, two by strikeout. The latter of the two Ks closed the inning and stranded a man on third, secured by an eephus-like curveball that left Rindler's opponent chopping at air.
"It's just cool to see something like that, especially in the situation," home plate umpire Philip Cavin said. "He wasn't exactly the biggest kid on the field. He wasn't. That was a big pitch, though."
Rindler closed the save with a three-up, three-down inning.  Afterward, Cavin offered some praise to the junior high schooler.
"I told him that was the best [slow roller] I'd seen in three weeks," Cavin said.
For a pitch perfected by pillows, Rindler's curveball certainly turned heads.