A home crowd of 17,503 (mostly Nebraskans) watched as the 7th-seed Buckeyes pulled off wins over Minnesota and Nebraska Sunday to win the 2019 Big Ten baseball tournament title.

(Ed. Note:  Unfortunately, there was no Big Ten baseball season in 2020, a season of promise for a young and rebuilding Ohio State Buckeye program.  But that cannot diminish the memory of how they caught fire in time to win their second Big Ten tournament title on four years, one year ago this week, with three wins in twenty four hours…and a long-shot finish with wins over Minnesota and Nebraska.  Enjoy this Press Pros encore, from writer Mark Znidar and photographer Julie McMaken Wright)
Omaha, Nebraska – A horde of 17,503 Nebraska fans that screamed its throat raw for simple pop-ups that were caught and even relay throws turned out at TD Ameritrade Park expecting the Cornhuskers to wrap up their first Big Ten Tournament championship.
The opponent was an Ohio State team that everyone assumed would be dead meat playing its third game in 24 hours and seemingly had flat-out run out of pitching.
They were wrong. Were they EVER wrong!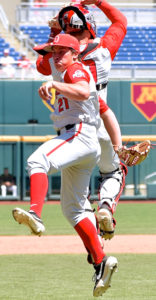 By the time "Everyday'' Andrew Magno had struck out the side in the ninth for his third save of the week and 154th pitch of the week, one could have sworn it was a memorial service inside the big stadium.
The only ones whooping it up were the Buckeyes in a dog pile near the mound.
Sophomore left-hander Griffan Smith and Magno were shutdown good in giving up four hits as the Buckeyes hammered out a nearly perfect 3-1 victory on Sunday.
Ohio State (35-25) became the first seventh seed to win the tournament, but it is no neophyte at this business. It took down its 10th conference championship to tie Minnesota for the all-time record.
Now it's on to a third NCAA Tournament in four seasons. The selection show is Sunday on ESPN.
And hey…the Buckeyes did all this without No. 1 starter Garrett Burhenn throwing a pitch because he is in concussion protocol.
They got to the title game when redshirt freshman left-hander Seth Lonsway pitched five innings on 48 hours rest to beat Minnesota 8-6 in the morning. He struck out six, gave up four hits and one run with 79 pitches.
"Husker Nation was strong today, no doubt about it,'' Ohio State's ninth-year coach Greg Beals said. "There was something in that crowd that helped us. It was the second game of a doubleheader, and you could be tired. But it's championship day and an electric crowd kept our guys fired up pretty good.''
On his way out of the news conference, Beals said that his cell phone had blown up to the tune of 188 text messages.
The crowd was a big factor in pumping up his players and wiping away some of the fatigue.
"I felt like I had control of my fastball and the crowd was just firing me up,'' Smith said. "I had so much adrenaline going through my system. This is such an opportunity to play in front of a crowd like this.''
Smith also got the victory over Maryland in a second round game on Thursday. He threw 110 pitches in seven innings.
Yet he wanted the ball again, pitch count and fatigue be damned. He gave up two hits, an unearned run and struck out six in 6 2/3 innings.
"After the first game coach asked, 'Are you good to go?''' Smith said. "I told him yes, sir, absolutely. I will give you everything I've got.' This is what we've been working for all season and I was going to give everything I had in the tank. I trusted my teammates, and, man, Andrew Magno came in and just shut it down.''
The crowd helped put Smith into a zone and fired his emotions.
"As a little kid, you dream about this,'' he said. "I felt like I had control of my fastball and the crowd was just firing me up. I had so much adrenaline going through my system. This is the opportunity to play in front of a crowd like this.''
Ohio State broke the tension by scoring a run in the first inning when Dominic Canzone singled to right-center, went to second on a walk to Matt Carpenter and scored on a single to right by Brady Cherry.
That, Canzone said, let everyone know it would be a ballgame.
"That was electric,'' he said. "You get back to the dugout and everybody is on you. It almost was a must. You can't let them get momentum, especially with that many people behind you.''
The second run went to video review when Brent Todys was called out at the plate on a sacrifice fly to right by Nick Erwin in the fourth inning. Replay proved that Todys avoided the tag by catcher Luke Roskam by a matter of inches, and it was 2-0.
"I didn't really need to see the replay because the tag and me touching the plate was almost a tie,'' he said. "But I knew when he swiped (the first time) I didn't feel anything.''
Todys said the Buckeyes knew they wouldn't be sacrificial lambs against a team that probably has a berth in the NCAAs locked up.
"We were ready to play,'' he said. "We knew we were prepared for this. We knew we were hot.''
Nebraska got its only run on a bases-loaded walk by Magno with two out in the sixth. One runner reached on an error and two on walks by Smith. He had thrown another 90 pitches and was gassed.
Magno, who was voted the tournament's most outstanding player, stalked off the mound when he got a fly ball to end the inning.
Ohio State upped the lead to 3-1 in the eighth on a sacrifice fly to center.
"That was big,'' Magno said. "When we got that run I knew it was over. It was done. I had to dig deep and get it done for these guys. I knew it would be something like nine outs I had to get and I had to give it everything I had. I told the coaches I've got seven, eight and nine for you.''
It was the coming of age for a team that had been maddening for Beals and his staff for so long.
Something has clicked as the Buckeyes have rattled off 10 victories in their last 12 games, and all of them, save for Youngstown State, have been 'must-win'.
"After the Minnesota series we knew we had to come out and win at least five of six,'' Cherry said. "I don't know if we had it together, but we knew we had to get it together.''
Cherry went 3-for-4 against Nebraska and 2-for-4 against Minnesota.
But the story of the day was what the coaches were asking for from Lonsway, Smith and Magno and what they gave in return.
"Man, could I expect it? No, you can't say that,'' Beals said. "What I did expect was the brotherhood to live inside them and compete and do whatever they could for our team. Did I think I was going to get 80-some pitches out of Griffan and five-plus innings? No. Did I think I really was going to get another 3 1/3 out of Magno? No. We error on the side of caution on pitch counts so when you get to a certain point (in the season) guys still have juice in the tank.''
Lonsway threw 5 2/3 innings of one hit ball in a 2-1 come-from-behind victory over Michigan in the first round on Wednesday. He threw 105 pitches.
In the elimination game semifinal against Minnesota, he was working on 72 hours rest against a team that had swept the Buckeyes in a regular-season series and beaten them 9-6 on Saturday.
It wasn't Red Bull or Starbucks that powered Lonsway, but guile and strength as he worked five innings of four-hit ball against the Gophers.
"We talked about it last night and I said I want the ball,'' he said. "We were communicating back and forth after my start Wednesday because I knew pitching was going to get thin. I told them I felt good and wanted to help my boys out. I gave it my all.''
It wasn't rocket science for him against Minnesota.
"I was just competing. I wasn't trying to think,'' said the sophomore from Celina. "I was trying to get my three-pitch mix working for strikes. I felt confident. I worked the changeup in and just competed.''
Lonsway gave up one run on a sacrifice fly in the fifth, walked one and struck out six. He threw another 79 pitches.
"Seth Lonsway has trained extremely well,'' Beals said. "He is in great, great shape. Of all the guys I thought could answer the bell it was Lonsway.''
The Buckeyes jumped on what was left of the Minnesota pitching staff by scoring four runs in the fourth on a two-run homer by Cherry, groundout by Ridge Winand and single by Erwin.
They scored two more in the fifth on groundouts by Conner Pohl and Todys and another two in the sixth on a ground-rule double by Canzone and sacrifice fly by Carpenter.
Things got way too interesting when freshman reliever T.J. Brock gave up five runs in the seventh.
On came Magno. One runner reached base via a walk in his 2 1/3 innings.
"Magno is a freak of nature for his ability to throw and throw and throw,'' Beals said. "He is blessed with that.''