New Bremen's Macy Puthoff and Minster's Trent Roetgerman have been tabbed for the 2019-20 sponsor scholarship award for top male and female student athletes in the Midwest Athletic Conference.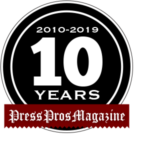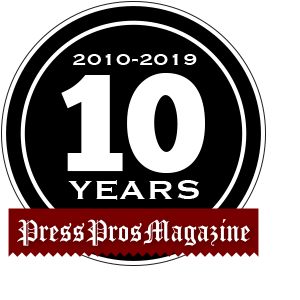 New Bremen volleyball and track standout Macy Puthoff…and Minster three-sport athlete Trent Roetgerman…have been selected as the Press Pros' 2019-20 scholar-athlete award winners, made possible by the support of sponsors of MAC sports coverage on Press Pros Magazine.com.
Puthoff and Roetgerman will each receive scholarship support in the amount of $2,000…Puthoff to further her education in the fall at Indiana Wesleyan University to study Biology and Pre-Med; and Roetgerman will pursue his future at the University of Cincinnati where he'll major in Construction Management.
Recipients of the MAC scholar-athlete awards are selected from student-athlete applications reviewed by an independent committee of area teachers, school administrators, and guidance counselors – based on overall athletic achievement, scholastic achievement, and personal essay.
Puthoff was a near unanimous selection, based on her four-year experience in both volleyball and track and field. She was a member of the Cardinals' first-ever state championship team (volleyball) in 2017, and made three trips to the Final Four, winning their second Division IV title last November, over Fort Loramie. Her conference, region, and state recognitions are too numerous to list, but clearly, Puthoff was one of the best volleyball players in the MAC for the last three years.
"I push myself to be the best volleyball player I can, never shying away from a pressure situation. I try to find my inner confidence," said Puthoff in her application essay. "Staying calm is essential. You can't freak out. Volleyball has influenced me to work harder and always believe in myself, qualities I will use for the rest of my life."
"She's a two-time First Team All-Conference, and a two-time First Team All-State player," says Bremen coach Diana Kramer. "She's won over a 100 volleyball matches at New Bremen.  She's a leader and a role model. Every little girl in New Bremen wants to grow up to be like Macy Puthoff."
In addition, she's a First Team All-State track participant and will participate in both sports at Indiana Wesleyan. Puthoff graduated high school with a 4.0 GPA and scored 30 on the ACT test.
Trent Roetgerman was a three-sport athlete at Minster – football, basketball, and baseball – but it was in football where he made the biggest impact, where as a wide receiver last fall he landed First Team All-MAC recognition, and topped that after the season with First-Team All-State recognition in Division VI.
He helped the Wildcats grab a share of the MAC conference title (9-1, 7-1 in league play), and a berth in the post-season playoffs, where they lost to eventual state champion, Anna, in the first round.  As a sophomore he was a member of the Wildcats' 2017 Division VII state championship team.
Statistically, he led the MAC in receiving in 2019, with 45 receptions, 841 yards (18.7 avg.) and 13 touchdowns. In addition, he ranked second in the league in punting, with a 38.7 yard-per-kick average.
In basketball, the 6'2", 190 pound forward helped Minster to a 14-8 record before falling to MAC rival Parkway in the district tournament semi-final round.
"In football, especially my senior year, I tried to outwork the guy across from me, and be tougher than him," said Roetgerman in his application essay. "Babe Ruth once said it's hard to beat someone that never gives up, and that quote has been my motivation.
"Lessons you learn from sports can change your entire view on life. It's why I played three sports. I wanted to get as much from my high school experience as possible."
Roetgerman graduated with a 3.72 GPA and scored 27 on the ACT, and  represents the second Minster athlete to receive the Press Pros sponsor scholarship, joining Jared Huelsman, who won it in 2017.
Macy Puthoff is the first-ever New Bremen athlete to win the Press Pros sponsor award, since its inception in 2013.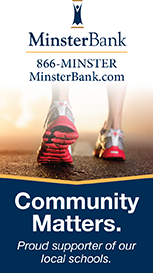 Nearly sixty student-athletes applied for the 2020 scholarships.
The Press Pros Scholar-Athlete award is made possible by the generous and loyal support of the following sponsors: Winner's Meats (Osgood), Wagner's IGA (Minster), Keyhole Pizza (Newport), McSobers (Coldwater), Homan Equipment (Maria Stein), Leugers Insurance (Maria Stein), Kremer Roofing (Versailles), Fullenkamp's Trailers (Versailles), The Mr. Shoppe (Coldwater), 49 Degrees (Coldwater), St. Henry Bank, Carriage Werkes (St. Henry), Moeller Trucking (Maria Stein), Phelan Insurance (Versailles), VPP Industries (Versailles), Eric Biggs State Farm Insurance (Versailles), Kaup Pharmacy (Fort Recovery), H.A Dorsten Construction (Minster), Minster Bank, Schwieterman's Pharmacy (Minster), Westrich Furniture (Delphos), Minster Dental, Weaver Eggs (Versailles), Moeller Brew Barn (Maria Stein), Knapke Kitchens and Baths (Versailles), Direct Tooling Concepts (Versailles), Homestretch Sportswear (St. Henry), Wilson Sports Medicine (Sidney), H.A. Dorsten Construction (Minster), Homan Insurance Agency (Chickasaw), presenting sponsor, Securcom.com (Minster), and The James Massey Trust.