The Buckeyes' sophomore outfielder from Toronto, Ohio, had 11 hits in 33 at bats in first full season in college.  Now, he's lifting weights in a garage and taking sporadic batting practice until the quarantine is lifted.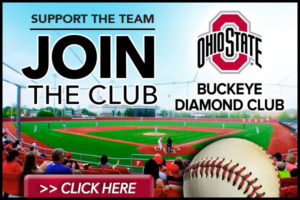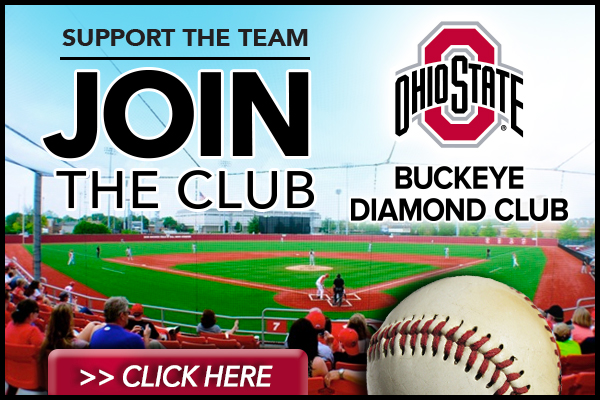 Columbus – The Air Transportation major inside Nolan Clegg might have come up with the appropriate word "grounded'' when the NCAA ruled that all sports would be cancelled this spring because you know what has been going around.
The work stoppage for the Ohio State baseball team couldn't have come at a worse time for Clegg.
He had the very tall order of taking over right field for one of the program's all-time greats, Dominic Canzone, and was doing a lot more than surviving.
Canzone, who was chosen in the eighth round of last June's draft by the Arizona Diamondbacks, batted .346 with 16 home runs and 43 runs batted in. He had 25 multi-hit games and a team record streak of 59 games reaching base.
Clegg hit in his last five games – three were two-hit games – and scored five runs. That gave him 11 hits in 33 at bats in 10 games.
What helped him was not trying to do too much.
"It was just doing my job,'' he said. "I had to set up different opportunities for the team. I bunted a lot. I brought in the third baseman to open a gap on the left side. I've always been pretty fast and kept bunting in my back pocket. I had to stay loose and do what I can do. It was never a mentality of pressure being applied to me. The coaches know what I can do and put me out there for a purpose.''
Actually, all that good stuff happened after the true sophomore from Toronto, Ohio, realized he was putting way too much pressure on himself. He went 2-for-16 with eight strikeouts and 12 men left on base the first five games.
Coach Greg Beals took some heat off Clegg by sitting him for the final game of a three-game series against Georgia Tech in Atlanta and the first two games of a three-gamer against Lipscomb.
Once back on the lineup card, he went 1-for-1 against Stetson to start his mini-tear.
"I definitely think I was nerved up,'' Clegg said of the slow start. "The coaches saw that and let me relax and decompress.''
Who could blame him for gripping the bat too tightly?
In 2019, he mostly watched as an all-senior outfield of Brady Cherry in left, Ridge Winand in center and Canzone in right played in every meaningful game.
Clegg started 12 games and played in 19 in batting .286 (12-for-42) with two home runs and 13 runs batted in. Eight starts were in center field.
There was even less playing time in the post-season. He pinch-ran three times in the drive to the Big Ten tournament championship and pinch-hit against Vanderbilt in the NCAA tournament.
"All three of those outfielders, Dom, Ridge and Brady, helped me out,'' Clegg said. "I switched to outfield my senior year in high school from catcher. I was pretty fresh to it. They gave me pointers. They helped make my steps count.''
Toronto coach Brian Perkins had Clegg take off the catcher's equipment for the last time as a junior. He had knee surgery.
"It wasn't too hard to let go of catching,'' he said. "It was taking a toll on my body at one point. I had knee surgery. I had partial tears in a patellar tendon. I had surgery the fall of my senior year. The coaches did a really good job of not catching me anymore. I had to take pressure off my knees.''
Clegg was a monster in high school in being voted first-team All-Ohio three seasons and Division IV state player of the year as a senior, when he batted .446 with 37 runs batted in and 41 runs scored.
As for his quick transformation to college outfielder, Clegg said he received a lot of help from Cherry, Winand and Canzone to the point where he feels comfortable playing left, center or right.
"That was just extra effort in practice,'' he said. "I did as much as I could and waited for my name to be called.''
Clegg has just started another semester, albeit on line only. He is scheduled to get time in a flight simulator sometime this summer as part of his course of study.
His long-term goal remains to be decided. He is thinking about becoming a military pilot and eventually a commercial pilot.
These days, his feet are firmly on the ground a little too much for his liking. He and a friend have combined their weight lifting equipment for a respectable gym in a garage.
"We've got about 300 pounds worth of weights and some dumb bells and we've got a bench, so we're in pretty good shape,'' Clegg said. "I think I've actually gotten stronger just because of the frequency of my workouts. I can lift five to six days a week instead of doing nothing.''
The actual baseball practice has been spotty at best. There is one batting cage in his hometown.
"We'll take batting practice at the high school here and there, but it is tough to get people together,'' Clegg said.
The Chillicothe Paints have an offer for him to play in the Prospects League for college players, but summer classes might make that difficult to impossible.
If you are wondering whether Clegg is named for Nolan Ryan, he is.
The Cleggs are a true baseball crazy family in that older brother Hank is named for Henry Aaron, and his father's first name is Aaron.