After all those years, all those wins, new knees, a previous comeback, and an "I'm done" period to see how time would be away from football, Steve Nolan makes his second comeback at Troy Christian this fall…because he doesn't want to just exist.  He wants to live life to the fullest.
(Ed. Note:  After a five year absence to do talk radio for ESPN and a year with Sports Illustrated.com, Bruce Hooley returns to Press Pros as columnist at large and contributor for Ohio State Buckeye sports.  On a local note, he's the former sports editor for the Troy Daily News from 1983-'86.)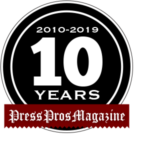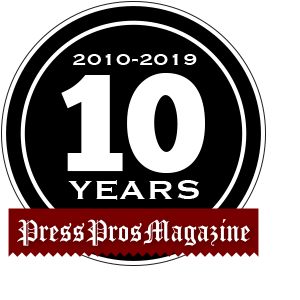 Troy, OH – Maybe if he knew then what he knows now, Steve Nolan wouldn't have said, "Yes."
But back in November, an unprecedented shutdown of the country amid a COVID-19 pandemic was still four months away.
Had Nolan seen that coming — and no one did, or could have — he might have thought about declining the offer to become head football coach at Troy Christian High school.
Or, at least taken some time to deliberate…to weigh the risks to himself, at age 67, or his wife, Marietta, who remains immuno-compromised a few years clear of chemotherapy treatment for lymphoma.
Even now, either of those reasons would justify Nolan back-tracking on the commitment he made to the people from Troy Christian who'd already tapped his loyalty to them once before when he came out of retirement to coach the small private school for three seasons.
But get Nolan talking about the new Three Rivers Conference the Eagles are entering, the roster he inherits, the strength gains of his players or the possibilities this fall and going forward and you'll notice something missing:  Any hint of regret!
Sure, the Steve Nolan who first arrived at Troy High School in the fall of 1984 to revive the slumbering Trojans is different in some ways.
He's older, his hair and goatee are a little grayer and his knees aren't original equipment.
But while there's some snow on the roof, there's still fire in Nolan's belly, and there's certainly nothing artificial about his enthusiasm to coach a team and transform it.
"Thinking about all the things we have to do re-invigorates me," Nolan said. "I'm pumped. I feel just like I did when I was taking over for the first time at Troy. I have that same kind of juice flowing. I've spent these last two months just hunkered down and it's driving me crazy.
"That's how I was for the four years I wasn't coaching. I was just kind of existing. If you're doing that, you're not living life to the fullest."
The energy in Nolan's voice rises as he rolls through that introspection, explaining to himself, as much to his listener, why he's returning to Troy Christian for the second time.
His initial comeback came in 2013, a year after he retired following a 28-year run at Troy High School that included 202 wins, eight league championships, three unbeaten seasons and 11 state playoff appearances.
A coach who dominated like that for nearly three decades earned his retirement, but Nolan's lasted only one year, long enough to get those new knees and the old itch to return once some former players began asking him for help hiring a coach at Troy Christian.
Yeah, good luck with that, considering Troy Christian lacked enough players to field a team in Nolan's last season at Troy in 2011, went 0-10 in 2012 and lacked a league affiliation to make sensible scheduling all but impossible.
"I was doing so much work as an advisor, without getting paid, I told them, 'Hey, I might as well do it myself. I'll take it over for a couple years.' " Nolan said. "We had 21 kids on the team in Year One and 25 kids in Year Two.
"It's not easy here. We offer everything. We have boys soccer, cross country, golf, marching band. We have about 95 boys in the whole school. You look at Minster, Marion Local, some of the schools in our division, they have 70 or 80 kids on the sideline."
Only 11 play at one time, however, and Nolan long ago proved himself special at squeezing the most out of that number.
Troy made the playoffs each of his last two seasons, and so did Troy Christian in his second season, after a 4-4 debut in his return.
Nolan coached one more year at Troy Christian, then turned the program over to Ryan Jones, who coached three seasons before Versailles offered an opportunity too good to turn down.
Nolan watched from a distance last year while former Troy Christian assistant Jeff Weaver struggled, going 4-6.
"Did I miss coaching? Yeah, I missed it." Nolan said. "There were parts I didn't miss, but the good parts, I missed a lot."
He won't go into detail, but Nolan's frustrations aren't likely different from anyone who's done what he's done for even a fraction of the time he's done it.  You'll often hear that what makes coaching a challenge is that kids have changed. Kids, though, haven't changed nearly as dramatically as their parents.
"I would stay that's very accurate," Nolan said. "Society has changed. How parents handle it when the kids come home, that's changed a little bit. If things didn't go well in the old days, you suck it up, you go back and you take your lumps.
"Now, you go home, (mom or dad asks), 'What happened?' So someone texts someone else, someone on social media says this, then all of the sudden…"
It's not that Nolan is get-off-my-lawn guy.  It's that he knows what's required to grow beautiful grass.
"When Troy Christian approached me, I told them, I'm not coming back unless we do this, this, and this in the weight room," Nolan said. "The parents were great. Very supportive. The kids were extremely cooperative. The difference in them from January to March was just night and day.
"The gains they made since the first of the year were phenomenal. They were so committed to it. You could see the strength, the attitude, the confidence…all the things that come with that. So, we were really pumped. And then, it all stopped."
It's easy to sense Nolan's frustration over the COVID-19 separation from his players.
"I see all these kids going through Troy Christian and I'm excited about their athletic ability," he said. "I know what I can do with them. We'll have an H-back who's 6-4, about 235 pounds who runs a 4.7 or a 4.8 40.
"I can't wait to get him. I really miss helping kids be successful. When you see that look on their face, the confidence, those types of things always meant a lot to me.
"Getting kids to the point where they can accomplish something, gain confidence to go through their life and make something of themselves, that's the biggest thing I take from coaching."
Now you understand why Troy Christian athletic director Jeff Sakal made sure to ask Nolan about returning before searching for anyone else, even though strength coach Mick Roberts, who'd been with Nolan since 1988 at Troy High School, told Sakal not to bother.
"He said, 'There's no way he's coming back,' " Sakal said.
Turns out, there was a way, because Nolan's vision and that of Troy Christian's board aligned perfectly.
"We couldn't be more elated and thankful," said Sakal, Nolan's AD at Troy for a decade and for two of his three earlier seasons at Troy Christian. "I've never seen him so excited. The emotion and energy he has to get back into it is really something.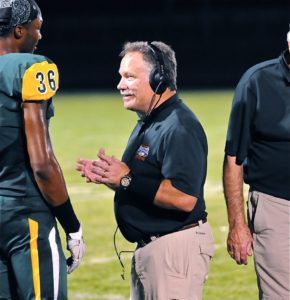 "Once you're a head coach like that, it gets in your blood. It's hard to get it out."
That comes through in stereo once Nolan gets going on the gratification he gets demanding precision, coaxing improvement, expanding capacity and ingraining confidence.
"When you teach these kids the right techniques, they're more successful and obviously they get better and better," Nolan said. "There's not another sport that does it like this. Kids' abilities fit in so many different slots.
"You can take the slowest, heaviest kid and he can get something out of this. Even if he can't run anybody down, you can adjust your offense, teach him how to use his hands a little bit better, keep him on his feet and there are certain things he can do.
"Even the little guy, you can do some things with. Even if he's not very athletic, you can teach him some things. The strength room coordinates that, especially if you have a great strength coach who knows what he's doing and teaches all the athletic movements correctly to make the whole athlete.
"I see all of that fitting together, so I'm really excited to get back and do that some more. You know?"
Nolan is clearly energized, which explains why he took the job so quickly, but not why he made Troy Christian keep it quiet for nearly two months.
"I didn't ask my wife first, and I wasn't quite sure what she would say," Nolan said. "After I quit four years ago, I told her, 'I'm done,' and we were able to do some things together that we couldn't do when I was coaching. I was a little bit nervous about telling her."
He waited through Thanksgiving. Then Christmas. Then the New Year, until finally one January morning at breakfast…
"I said, 'You know the Troy Christian coach isn't there any more."
"Yeah," she responded. "Are you going to talk to them?"
Before he could confess, Marietta Nolan's instincts built over 40 years of marriage to the man across the table told her what he had not.
"You already took it, didn't you?"
The protest he thought was coming never came.
"What surprised me is how she handled it," Nolan said. "I couldn't believe it. I haven't done anything with the playbook in about two weeks and she's been on my back to get after it again. It's evident to her that this is a part of who I am, so I'll do this as long as I can. I'm juiced again."