The successful and independent-thinking coach of the Minster Wildcats isn't one bit worried about the world around him…because all he can do about it now is stay home. And that's not bad, either.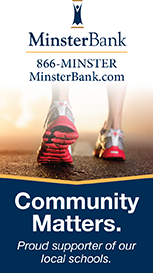 I talked with Geron Stokes for about fifteen minutes the other night, interested in his take on the suspension of Ohio schools, spring sports, and a little bit about what football might look like in the fall. Feeling a little stir-crazy for lack of action, I figured he'd have some interesting answers.
"Are you bored with staying at home?" I asked.
"Are you kidding?" he shot back. "I'm in Heaven. I'm enjoying time by myself. I'm enjoying time with my daughter. I'm getting some reading done. No, man. This is Heaven for me.
"You're not upset with the stay-at-home mandate?" I asked, thinking he might be…because Geron Stokes is one of the most independent-thinking people I've ever met.
"Not at all," he said. "If that's what it takes to get back to normal – to help people who are sick get healthy – it's OK with me. I'm not smart enough to figure things like that out, but somebody is and they're getting paid to do it. I don't know that much about politics, or care, but if they think they know what to do I'm going to let them and take whatever comes. What else can you do? We can't control things like that."

His Minster football team had another good year last year – not "great" by Stokes standards, he'd tell you, but good. Keep in mind, now, that the Wildcats were 9-1 in the regular season and the #4 seed in Region 23, Division VI.
Keep in mind, too, that Stokes and company's only loss came to Coldwater (8-3). No shame in that.
And keep in mind that they were knocked out in the first round of the playoffs by Anna (14-1), 47-21, the eventual state champion in Division VI.
And bear in mind that they actually beat the eventual state champion in Division VII, Marion Local, who finished 13-2.
Taking those three games for what they were – what they represented – one could easily make the claim that that kind of 9-2 season was 'great'.
But Geron Stokes doesn't calculate greatness by mere wins and losses. His perspective is far more rounded, if not grounded. Ask him and he'll tell you that he gauges success on things like individual work ethics, improvement as a unit, and playing for each other rather than for individual honors.
"You work to improve, be as good as you can become as a team – and then you take what comes," he said following the Marion Local win. "This was a great win for us, but we've got to get better."
While other coaches are presently sitting at home thinking about how and when they get the chance to go back to work – to get better – in preparation for the 2020 season, Stokes says it's the last thing on his mind.
Nor, does he worry about the absence of spring sports for the impact it might have on athletes he'll count on come football season.
"I can't do anything about what's going on," he says. "But I hate it for the kids sake because I don't want them to miss those experiences…of competing in track and baseball. Track and baseball are big things at Minster. We're very good in those two sports. But if and when they tell us we can come back I'll start thinking about football. Whenever that is, and whatever someone decides, I'll be good with it."
If his answers sound a bit care-free, don't confuse that with the indisputable truth about Geron Stokes. One man's care-free is another man's focused, and Stokes is one of the most focused, and driven, people you'll ever meet.
In just seven short seasons he's developed a new culture of football at Minster, along with a 66-25 record, with two state titles and one runner-up finish. He's the second-winningest coach in Minster history, to Ken Newland, who holds the mark presently with a 67-16 mark.  Newland's record is in serious jeopardy. One of Stokes' secrets…he doesn't allow for outside distractions.
"I know nothing about politics, or care," he admits. "I've never understood why people get so upset over politics – get mad over who's president? I've never even voted for president…because I'm not knowledgable about it. I know someone is, though, and whoever they elect I'm good with. They can decide.
"I figure Obama or Trump…neither one changed things for me that much. Taxes? I don't even look at my paycheck to see how much I pay in taxes. Someone else who's smart in finance is making those decisions and it's out of my control. So I don't worry about it. Whatever the government, or the OHSAA, or some other governing body decides, I'll be fine. I'll figure it out."
Hard to believe? Go back to his record – to those title wins over heavily-favored Kirtland in 2014…and Cuyahoga Heights in 2017.
"We were accustomed to teams throwing the ball when they have to," said Kirtland coach Tiger LaVerde, afterwards. "He (speaking of Stokes) throws it when he wants to. They had a great game plan."
In 2017, a similar comment from Cuyahoga Heights coach Al Martin: "We were prepared for the passing game and they ran it down our throat. They were more physical than us."
In both cases Geron Stokes had it figured out – how to succeed against both preparation and the odds. He takes the same approach when considering if, and when, football will resume in the fall.
"I'm not smart enough to understand how this is all going to work out," he says, talking about the Covid-19 virus. "But I'm interested in how it ends because it's never happened before. I know we're locked down to suppress the virus now, and eventually we'll go back out…but I'm not sure how it's gonna end.
"I'm not worried, because I have no control over it, outside of staying away from people…social distancing. I'll do what they tell me to do, but if we don't have football that would suck for kids because I think it's such a great experience they'd miss. But I can't control whether we play, or when we play. We're going to prepare like we're going to play, and if we do play that's awesome. But if we don't…whatta' ya' gonna' do?"
That, by the way, is a question that many other coaches and administrators are considering. What ARE you going to do…when football, and fall sports, is so much a part of your overall athletic revenue?
"It's interesting to think of it in that respect, when so many people are laid off and businesses are struggling to stay open," he says. "How do you think of high school sports being greater than that?
"I think our country is going to be in an interesting situation. And think about college football, and if they don't play, or the NFL. Again, I'm not smart enough to see through it, but I think everyone could be hurting. I'm concerned, I guess, but I'm not worried."
When I hung up it was like having talked with Geron Stokes after a football game. You never exactly get what you think you're going to hear. It was refreshing, honest…and with just a touch of that feeling you've been had.
And a first: I've never heard anyone say they don't know how much they pay in taxes.
Seriously, if you're bored…talk with Geron Stokes.  He'll liven things up.