"Baseball is a lot like life. It's a day to day existence, full of ups and downs. You make the most of your opportunities in baseball as you do in life."  – Former MLB and Detroit Tigers broadcaster Ernie Harwell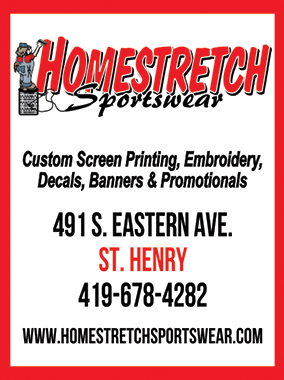 Coldwater – Free time has rarely been a problem for three-sport standout Jake Hemmelgarn. That changed when the world did.
These days, with the coronavirus pandemic keeping Ohio schools closed and all spring sports idle, Hemmelgarn has to be creative finding ways to occupy his time. Baseball still fills the void with backyard throwing and hitting sessions with his brother. He's honing off-field skills, too. Like antagonizing his sister.
"Yeah, I'm getting very good at making her mad," Hemmelgarn said, adding a mischievous laugh.
"Normally I don't even come home after school because I have practice. I come home, do homework and go to bed…it seems like. Now I have a bunch of free time. I'm getting bored sitting around the house."
The Coldwater Cavaliers were scheduled to open defense of their Division III OHSAA baseball state championship on March 28. That was delayed when Gov. Mike DeWine and the Ohio Department of Health ordered schools closed beginning on March 16. The order has been extended to May 1.
Now the only game to be found in Ohio is a waiting one. Until that May 1 reassessment, Coldwater coach Brian Harlamert is doing his best to keep his players engaged in a variety of ways.
On opening day he sent out a virtual game recap – the Cavs won, of course – with individual highlights and team superlatives. The team chat has been filled with Harlamert's players posting photos of them in their jerseys and caps as well as requests for photos and quotes relating to baseball. His freshman and junior varsity coaches send their starting lineups on scheduled game days.
"Right now coach Harlamert is doing a good job keeping us in a positive frame of mind and giving us good advice," Hemmelgarn said. "It helps you envision (the season) a little bit. I think that's good he's doing that. It's keeping us in a good mindset."
"It's kind of an odd little thing," Halamert said, "but I think it keeps the kids engaged and focused. They have a lot of down time right now."
Coldwater had two days of practice before sports were shut down by the state order. It's possible that's all spring teams will get this season.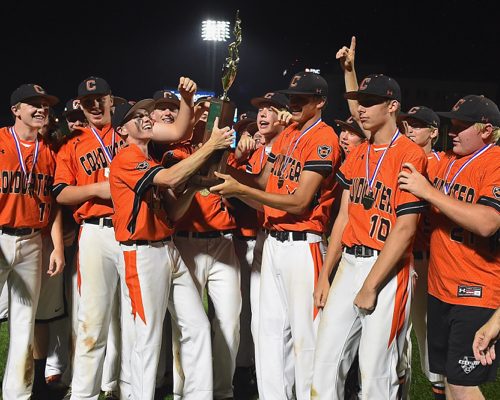 "I think it was good … being out there two more times with my buddies, to enjoy it," Hemmelgarn said. "It does make it a little hard because you realize what you're missing. It was two good days."
That's the same thing the Cavaliers had to end the 2019 season. Two good days. Coldwater beat Roger Bacon 12-7 in a back-and-forth state semifinal at Akron's Canal Park on June 8. They returned the next day for a 1-0 thriller against West Lafayette Ridgewood to win their seventh state championship.
In the Cavaliers' effort to find positives in the current situation, Hemmelgarn finds a silver lining of sorts in this … should there be no 2020 season, then he'll have finished his high school career as a state champion. And what could be his final high school hit delivered it. With two outs in the bottom of the fourth, Hemmelgarn took a 1-1 pitch into left field to score Jacob Wenning from second base.
"I think knowing if the season does not happen like we want it to happen, we went out with the best possible outcome we could have," said senior Noah Miller, who started at first base and scored the winning run in Coldwater's 5-4, eight-inning victory over Archbold in the regional final. "That's always in the back of my mind. We can be proud no matter what happens.
"This is just a very unpredictable thing going on right now. It's hard to sit back and wait thinking we'll be back at this date, then it's pushed back. It's a helpless feeling you can't do anything about it."

Miller knows he'll play another day, albeit with another school. He signed with Ohio Northern University to play both football and baseball.
"There's nothing like playing baseball with the guys you've grown up with," Miller said. "I know if this season doesn't happen it's not my last season playing baseball. It's definitely something I can fall back on."
Hemmelgarn plans to attend the University of Cincinnati and will focus solely on academics.
"I guess it has to come an end at some point. But the way it is like this, I've been waiting to play my senior year my whole life," Hemmelgarn said. "Just going out there with my friends. Not being able to play would be kind of hard getting over."
Harlamert, a fifth-grade science teacher, continues to stay in contact with his team through social media. His message: stay positive.
"I keep telling my players and parents through our group chat is to have hope. Stay active and have hope," Harlamert said. "I'm still holding hope for May 4. That's my deadline day. If we're back in school in some capacity or still doing online stuff, but able to (hold activities), that's our goal to start practicing again. That's not in our hands. Our goal is to keep guys engaged.
"When we left that Monday (March 16) when all of this happened it was hard because the next day it was nice outside. The field was dry. It was mowed. You drive by and your like, 'Man, I can't even go to baseball practice.' It's been kind of tough. It's getting harder and harder each day and gloomier and gloomier the way the forecast looks.  … You feel for those seniors who want a chance to play their spring season."
Coldwater's seven state titles rank them fourth all-time in OHSAA history behind Cincinnati Elder (12), New Catholic (9) and Cincinnati Moeller (8). The Cavaliers' 21 state tournament appearances is the most in OHSAA history.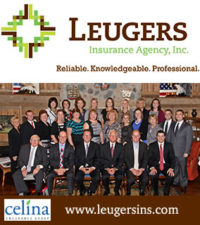 "I think it starts with the coaches first," Hemmelgarn said. "We kind of start young with the camps and everything. The coaches make it fun and get us out there working hard. Everybody wants to win so you put that type of culture into the program and everybody wants to be part of it. The kids want to be part of it and the parents and community are always backing us up. It just makes it a lot of fun. I think that's a big reason it makes Coldwater so successful.
"The coaching staff," agreed Miller. "They push you 100 percent all the time. Those two days we could practice before the shutdown, we were grinding. There was no let up. We were just thinking about the present and how we all had to get better. We got after it for those two days. Coach Halamert and coach (Cory) Klenke preach the work ethic that has to be put in to be great. After last season winning state, that cemented in our minds we have to work hard if we want to get back there.
"Knowing we still have that contact via text and stuff, it helps knowing we're still there for each other during this tough time. We're all sticking together."