Rising junior off guard started 56 games in two seasons and averaged more than 25 minutes per game, but that apparently was not enough to keep him happy.
Columbus – The coronavirus has turned the third planet from the sun into one screwed up piece of rock since the first week of March, and maybe at times the vicious little bug doesn't even have to infiltrate the body to make its impact felt.
The news on the street late Sunday night was that Ohio State junior-to-be off guard Luther Muhammad was entering the NCAA transfer portal.
What? Could you repeat that, please? Is he that bored in quarantine? Does he not have enough to do?
It was understandable when the Buckeyes lost point guard DJ Carton and Alonzo Gaffney to transfer.
Carton is going through mental health issues and wanted a fresh start. He was never going to become the starter with senior-to-be CJ Walker having upped his game when he was on indefinite leave. Shooting guard might have become his prime position.
Gaffney was your proverbial 6-foot-9, 198-pound weakling without a position. He wasn't strong enough to play underneath the basket and the team had plenty of three-point shooters in Andre Wesson, Kaleb Wesson, Duane Washington and sometimes Walker.
The rumor is that Gaffney might turn pro. Good luck with that. Sources have told me his family sincerely thinks that he is its lottery ticket as a well-paid professional.
Wherever he winds up, it will be his fifth basketball team since his sophomore year at Cleveland Villa Angela-St. Joseph. As Jim Morrison of The Doors sang, "I'm a back door man.''
Maybe there was an issue with coach Chris Holtmann. Maybe he is just a bust. He appeared to be lost when in games.
But Muhammad leaving is a puzzler. He had it made here. He was respected here. He had a niche here. It couldn't have been much better anywhere else than here.
Last season, he was a plus player. He started 28 of 30 games and averaged 25 minutes per game. He was a marksman at the free throw line in making 51 of 60 shots for 85 percent. He ranked second on the team in steals with 30 and averaged 7.5 points.
The numbers were just as strong when Muhammad was a true freshman as a four-star recruit out of Hudson Catholic High School in northern New Jersey. He started 28 of 34 games and averaged 26.6 minutes and 7.6 points and 2.7 rebounds. He was third in steals with 32.
So what gives here?
Adam Jardy of The Columbus Dispatch wrote that the rumor is Muhammad might be looking for a new team in order to have a larger offensive role.
If that's the case, then the young man should seek out a shooting coach, pay him well and never miss a day of instruction. That's because the only part of Muhammad's game that goes clank more often than not is that flat perimeter jump shot that rotates sideways.
It's an ugly sight most of the time. You never, ever think one of his jumpers is going to go through the basket, and that's even when he's left wide open.
The numbers show otherwise. He was 34-for-98 from three-point range last season for 34.7 percent. That's respectable. As a freshman, he was 36-for-96 for 37.5 percent behind the arc.
Yet when Muhammad went into a slump, he was in a coma. During a 10-game stretch beginning with Kentucky and ending with Michigan, he shot 5-for-34 from three-point range. As a freshman, he endured a 3-for-51 streak that wasn't as much a slump as it was a case for the missing persons bureau.
Holtmann stuck with Muhammad through all of that, even taking him to lunch last season with senior captain Andre Wesson to keep his mind straight.
Why would a player give up a starting role on a team that played in one NCAA tournament and was bound for a second? He averaged more than 34 minutes playing time the last five games.
We might find out what happened once Muhammad signs elsewhere. But he's a private man – he often looked uncomfortable during interviews and spewed cliches – and might never spill his guts.
The problem could be the NBA virus. He might think that he can play in the league. Putting up more points in college might brighten his star. At the same time, scouts would still see an undersized 6-foot-3 guard incapable of being the lead ball handler. Size counts in that league.
The thing is, he would not have been looking over one shoulder next season with Carton or Duane Washington reporting at the scorer's table to give him a blow after the first media timeout.
With Carton gone, Muhammad thrived during a five-game stretch in making 11 of 23 treys.
His signature game was 22 points in a victory over Maryland on February 23. But it was his defense that swung that game as he frustrated All-Big Ten point guard Anthony Cowan into 10 points. It wasn't that Cowan was off. He couldn't get open in managing four field goal attempts.
There might be a college coach out there who will promise Muhammad more shots. Maybe he goes back home and plays for St. John's, Seton Hall or Rutgers.
The wager here is that next coach will leap after him like a loose ball for his defense. If someone tries to make him a lead scorer, that team was in deep trouble offensively before he arrived.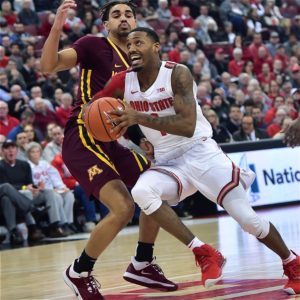 In a way, Holtmann quickly rebounded by getting 6-foot-3 Bucknell point guard Jimmy Sotos to transfer. But he'll have only one season of eligibility remaining and will have to sit out next season. He started 34 games last season and averaged 11.5 points and 3.9 assists. Five times he scored 20 or more points.
In December2018, Sotos led a furious comeback against Ohio State in a 73-71 loss. His team had the ball for a final shot that missed. He scored 12 points on 5-for-12 shooting and had seven rebounds and five assists and one turnover in 35 minutes.
But Sotos can help Ohio State only as a practice player for the coming season, meaning Walker and Washington will be the only pure guards on the roster.
You will read that 6-foot-5 guard-forward Musa Jallow can handle the ball a little bit, but that's not what you want from him. He is coming off ankle surgery and is best suited as a defensive player and, at best, a second on offense. University of California transfer Justice Sueing has played shooting guard and can handle the point in a pinch.
That's called pitching in and means Holtmann will be sweating that Walker and Washington avoid injuries and foul trouble. That's a big ask.