Because some are forced to remain home-bound, the past memories of living 'American' have cast us in a different shadow. One man's answer to quarantine as a positive health option.

Ed. Note: Tom Cappell is a veteran shooter, hunter and free-lance writer from Missouri whose views on the outdoors and the outdoors industry are thought-provoking and always responsible.  His columns appear on Press Pros, sponsored by Olde English Outfitters, in Tipp City.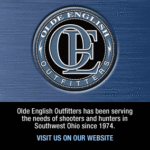 It's been a hard year, harder still if you watch and  believe the evening news.
Because that which they choose to report is that which advances the agenda of distress and despair. Some of it – a lot of it – is real. And it's documented by history. But this is not the world's first pandemic – not even America's first.
It's bad news, more bad news…and more bad, depressing news. The worst, I think, in my 72 years.  You reach a breaking point, despite warnings, so last week I took matters into my own hands.
Two years ago I went through heart transplant surgery – the most stressful physical experience of my life, and far worse than the rheumatic fever I had when I was in the seventh grade. I remember that well, and the day-to-day warnings of my mother and aunt who then claimed that if I didn't stay quarantined in a darkened room I ran the risk of growing up blind and in a permanently weakened state.
I lived through that just like, God-willing, I've now lived through the gift of a new heart. So far, so good. But a heart can only do so much if you can't synchronize the organs and muscle memory to create a feeling of familiarity and well-being. Last week I left my house, defied the networks, the politicians, and the doctors, remembering those days of crawling out from beneath the gloom of being sicker than I actually knew. I got in my car and went to a healthier place. I went fishing.
I drove southeast from my home in central Missouri to the familiar country landscapes where I first discovered life after crisis in that summer of my twelfth year. Leaving the interstate I wheeled south on county route 12 towards Amlin, and Shaner's creek, a broad tributary that cuts across some of the best farmland in the area – ground that now rests in the hands of second and third generation families I've known since that summer so long ago.
"Glad to see you out," said Mark Stringfellow, whose six hundred acres now includes the farm of my Uncle Mel, where I spent so many of the formative days of my adolescence. And on the Stringfellow's property Shaner's creek, like time immemorial – forgotten by most –  is still one of the best places to catch smallmouth bass and panfish I've ever fished.
"People rarely fish it anymore," said Stringfellow (who grandfather I knew growing up) as he shoved open the gate to the pasture field where he raises beef cattle, one of the most successful operations in the area. The Stringfellow brothers grow good meat, and Shaner's Creek grows good fishing.
I used to walk it. Now I used a John Gator to make the half mile trip to the big bend in the creek where I've harvested decades worth of squirrels, bullfrogs, and 'perch'. Within a half hour I was dropping a jig among the stumps and fallen trees that highlight the landscape of the creek, water that probably reaches twelve to fifteen feet in depth.
On a warm March day, the temperatures almost touching 70, and under a cloudless sky I immediately got a bite..then another, and another…and within minutes I had a half dozen red-eared sunfish (shellcrackers) tied up on my stringer. My mind drifted to those days fifty years ago – to that time with the fever when my Uncle Mel told my mother (his sister) that the best medicine for that boy is fresh air. "I don't care how sick he's been…there's nothing better than fresh air and the thrill of doing something he enjoys." Those were my first days outdoors after the threat of something I really didn't understand, in the summer of 1960.
I sat there last week in the same vulnerable state I probably felt from the threat of being twelve. All I could think about then was was I was going to grow up with a weak heart and blind. Maybe I did, given my issues of the last two years;  and I've always been near-sighted.
There wasn't another person within five miles of me as I sat there pulling one big 'slab' after another from the creek…even a few black-speckled specimens that look like crappies, something I don't remember catching in Shaner's Creek back then. It was exhilarating, almost defiant in the face of an invisible enemy said to threaten the very core of our current culture. This ignored politics, and it wasn't in compliance with the CDC.  But it was grass roots therapy – fresh air and the confidence of knowing – of remembering – that fifty years ago I felt better after a day on the creek bank. Better than another day of quarantine.
Two hours was enough, as heart and head told me it was time to gather up and go home. I turned off the car radio as I drove up route 12 to the interstate, and the ninety mile drive back to the chaos of urban uncertainty and vulnerability. After cleaning fish I turned on the TV in time to see the governor say that it was everyone's personal responsibility to do what's best for their own health and the well-being of those around them.  I took his words to 'heart'.
I've decided I'm going fishing again – next week. Right now I feel better than anyone I know.