Six months from kickoff, the coach of the Dayton Flyers talks about the consequences of no spring football, and the issues they will need to address before September 3.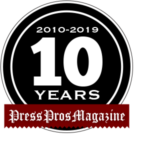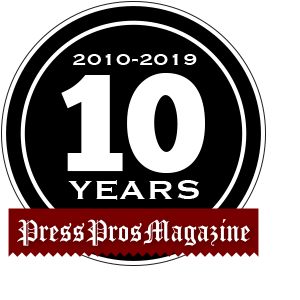 Dayton, OH – University of Dayton football coach Rick Chamberlin is the most optimistic guy you'll ever meet. His glass, as they say, seems always half full. And we asked him if that's the case, given the current situation with suspension due to the coronavirus, including the Flyers' spring practice.
After all, you can only control that which you can control.  And there's more you can't control when you're an NCAA 'FCS' non-scholarship football program, relying on the considerable reputation of the school and its culture, rather than football itself, to attract the athletes you need to win.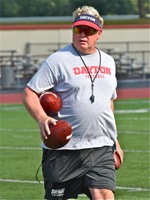 But heading the list of uncontrolables for now is the suspension of spring football, the Flyers' showcase spring game scheduled for April 19, and the opportunity to begin the build on last year's 8-3 record (6-2 in Pioneer Football League play). Like with the big FBS schools, Ohio State, Alabama, and Clemson, the Covid-19 scare has taken care of all that.
Still, Chamberlin was upbeat this week as he talked about spring without spring football, and the process of improving on 2019 without the likes of NFL prospect Adam Trautman (projected to be a mid-to-late-round pick in the upcoming draft), without most of his offensive line, without senior running back Sean Prophit, and fellow senior Ryan Skibinski, who graduated second all-time for career receptions.
"Well, spring football is an opportunity for players to develop themselves as better football players," said Chamberlin. "And that's what we need most right now.  We're not getting ready for any opponent, we're just working on the basics – learning your position to become a better player. During the winter you work on physical development, of getting stronger.  In the spring you focus on knowing your assignments, the mental part of football, and executing your techniques better than you did before.
"It's especially important for freshmen,"  he adds.  "Because while they got coaching during the fall, in the spring they get added attention to bring them along as fast as possible. So that's what we're missing out on now.  We'll be doing some things to help them improve mentally, but when it comes to technique and skill, that's what we're going to miss and it's going to be tough on the freshmen. Now, they won't get that until they come back in August."
While bigger schools, like Ohio State, have some of their incoming freshmen enroll mid-year with the second semester, at Dayton that doesn't happen. Chamberlin would prefer they graduate with their class and continue to compete in sports other than football at the high school level.
"The guys we sign will not come in until summer," he says. "We don't have early admittance like the bigger schools. Our guys finish their high school careers…some of them are playing basketball, and track, and other spring sports, and then they'll enroll at Dayton for the fall semester."
Prior to the virus there was considerable reasons for optimism regarding spring football, as the Flyers, despite the loss of players like Trautman and Skibinski, return junior quarterback Jack Cook (2,697 yards and 33 touchdowns) and junior running back Jake Chisholm (1,147 yards, 8 TDs, and 112.9 ypg) on offense.  As a unit the Flyers blew up Pioneer League defenses last year, averaging 42.5 points per game and 468 total yards. In truth, to win eight games in 2019 they had to outscore opponents to do it.
The defense was an issue. The Flyers, playing a lot of first-time starters on that side of the ball gave up an average of 35 points and 382 yards per game.
---
Moeller Brew Barn, Maria Stein and Troy, Ohio
Moeller Brew Barn wishes to thank our loyal clientele for your support during the closure of restaurants and pubs. Stay safe. 
---
"We have some positions on the team that are going to be very experienced," says Chamberlin. "And you'd expect young men like Jack Cook to be even better than they were last year…Jake Chisholm at running back…Billy Skalitzky at wide receiver.
"Where we're going to be young is on the offensive line. That's where I think not having spring football really hurts us most because we only have one offensive lineman returning, and two of our backups from last year were seniors, too. So we'll have some redshirt freshmen who'll be starting this year along with some juniors competing for those jobs, and that's where we'll need to grow offensively, and as quickly as possible. If we can do that our offense will be tough, just like it was last year."
Their three losses in 2019 were frustrating ones – 31 points scored against Duquesne, only to give up 35…38-21 against Stetson…and to score 38 against always-tough San Diego, only to give up 50.  The defense would have gotten a hard look this spring.
"I would hope that we're better [defensively], because we'll have a lot of young guys back who played last year. We were very average, everyone knows that, because we had a lot of first-time starters. The hope is that they grew and took their lumps during the season, and now they're going to be more confident.
"We'll have Brandon Easterling, a first-team All-American returning (at defensive back), and the other guys around him are a year older and wiser. Our defense, as a unit, can play better, and has to play better."
But how much better, and the matter of who's better individually will have to wait…until August when the Flyers reconvene to seek answers for the questions that would have come in March and April, had there been a March and April.
Their schedule will not be easy, with a spate of early road games that include the opener at Southeast Missouri, then Georgetown, and Marist.
Optimism, as we spoke of with our opening?
"We won't have an NFL tight end, like Adam Trautman, but we'll have some weapons," assures Chamberlin, who begins his 13th season as Flyers head coach with the 2020 season – his 45th combined as player, assistant coach, and head coach. 45 years is long enough to have seen just about every situation, with the exception of the one at hand.
"We've never had anything like this," he adds, looking beyond the loss of spring football, a matter, of course, over which he has no control.
"We just have to get a lot more done now in August."
Still, the glass is half full. Always…half full!