Four-star freshman point guard from Bettendorf, Iowa, left team to take care of mental health issues shortly after game against Northwestern on January 25 and never returned; Team could be adding Harvard forward Seth Towns as graduate transfer.
(Ed. Note:  As of March 21, Columbus native Seth Towns, Northland High School graduate and Ivy League Player of The Year in 2018 at Harvard, has announced he will be transferring to Ohio State for his two remaining years of NCAA eligibility.)
Columbus – The next few chapters of the mysterious, shrouded story of point guard DJ Carton as a basketball player will continue, only it won't be with Ohio State.
The former four-star recruit from Bettendorf, Iowa, announced in a statement Thursday night on Twitter that he has entered his name into the NCAA transfer portal and is shopping for a new university.
"Buckeye Nation, I first want to say thank you to all the Ohio State fans who supported me during the difficult times I went through this year,'' he said. "I also want to thank the university, my teammates, the coaches and all of the staff who went above and beyond to help my family and me this year.''
Carton wrote that he made this decision after "some careful thought and consideration.''
"I have decided to make a fresh start and enter the transfer portal,'' he wrote.
He thanked coach Chris Holtmann and teammates and wished them the best of luck for next season.
Carton was the Buckeyes hottest recruit since D'Angelo Russell in 2014-15. Russell became a lottery pick by the Los Angeles Lakers in the NBA draft.
Where will Carton land?
Iowa was on his short list when he was in high school and the university is approximately a one-hour drive from his doorstep. Thirteen teams reportedly have shown interest, among them Big Ten teams Illinois, Minnesota and Nebraska. DePaul are Creighton are the other Midwest schools.
The list stretches all the way west to the University of Southern California and Oregon, south to Oklahoma, Auburn, Alabama, Georgia Tech and Arkansas and east to Seton Hall.
Although Carton's body of work is small with 20 games, he forever will be remembered for having one of the most up and down seasons in recent team history.
Carton abruptly left the Buckeyes days after a victory at Northwestern on January 25, saying that it was an indefinite leave of absence in order to take care of his mental health.
The day he made his decision, he was seen in a practice uniform and headed to the gym.
"I have been suffering with mental health issues for a couple years," Carton wrote on January 30. "I have been through a lot. I'm disappointed to say I'm not 100 percent right now. I am not doing my teammates justice if I don't work on this now. I am doing everything in my power to strengthen my mental health. I will fight for my team and Buckeye Nation and I will come back stronger!"
Mother Jen Carton said she and her husband were "proud of our son for wanting to make his reasons for taking time off public.'' She said he had been dealing with mental health issues throughout the season.
Carton left campus and returned home to start his treatment. He reportedly was taking classes on line. His mother said that he eventually would return and "will be back stronger than ever in a Buckeye uniform. I guarantee that!!'' (Note the two exclamation points.)
---
Heath Murray State Farm Insurance – Troy, Piqua
10% discount on auto premiums – limited time offer – call Troy (937-335-9600) and Piqua offices (937-916-4150) for additional information.
---
Weeks later, Carton returned to the university to resume classes. Holtmann stressed that he would not return until he passed a number of tests and received clearance from the medical staff.
Ohio State made sure to keep information about Carton on its team website, in advertising and in highlight clips shown on the overhead scoreboard.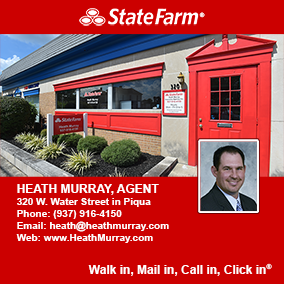 Holtmann said that he was behind Carton's decision and understood the importance of mental health. The coach has been seeing a psychologist since his days as Butler coach.
At first, Holtmann inherited the Butler job on an interim basis after Brandon Miller stepped down on October 2, 2014, presumably for mental health reasons. That rang home for Holtmann because he and Miller were tight.
When one media outlet reported that Ohio State had taken Carton out of pictures and videos shown in the area, the athletic department quickly said those are routinely changed in order to keep them fresh.
Throughout Carton's absence, Holtmann and teammates such as Andre and Kaleb Wesson and Kyle Young said they were in constant contact with Carton and that he was very much a part of their circle.
The job at hand for Holtmann is finding a backup point guard to senior-to-be CJ Walker. The only other player on the roster capable of handling the bulk of the ball handling is junior-to-be Duane Washington.
It was obvious from the start why Carton was ranked that highly by scouting services. He scored nine points against Cincinnati in the opener and followed with point totals of 13, 11, 10, 13 and 11 despite never playing more than 25 minutes.
Holtmann brought him along gently. Walker would start a game and Carton would enter after the first media timeout.
Carton's best statistical game was at Minnesota when he scored 19 points in a loss.
His highlight game came in a victory over Kentucky on national television in Las Vegas when he took the game by the throat in the closing minutes. He totaled 15 points on 5 of 6 shooting and had two blocked shots and one steal.
Many thought that would be the game that would propel him toward becoming a star, but the inconsistent games continued.
The Buckeyes struggled mightily with turnovers, and Carton was a big part of the problem. He had five against Minnesota and West Virginia, four against Cincinnati, Penn State and Wisconsin and three against Maryland.
The situation got so bad that Holtmann moved Carton off the ball in order to bring about more calm in his game.
Had Carton returned, in all probability he would have been the backup point guard and shooting guard. Walker was that good after Carton left the team to the point where the Buckeyes wouldn't have won nine of their last 12 games without him.
Some of his best work came in a victory over Michigan at The Schott when he totaled 15 points on 6 of 12 shooting and had seven assists.
It was obvious that Walker, a senior to be, was more than a talented player who transferred from Florida State when he was voted one of four captains going into the season.
He wept openly after a home loss to Wisconsin.
There could be several other comings and goings for Ohio State. Alonzo Gaffney, a 6-foot-9 freshman from Cleveland, did not play in the seven of the team's final eight games. He played one minute against Iowa on February 20 and three minutes against Wisconsin on February 9.
Holtmann said he couldn't go into detail as to why Gaffney was away from the team. He did have several bouts with viruses and a knee injury.
In addition to being a star in high school, Gaffney also was a teenager on the move in having played for Cleveland Villa Angela-St. Joseph as a freshman and sophomore, Garfield Heights in suburban Cleveland as a junior and Brewster Academy in New Hampshire as a senior.
What was puzzling is that Gaffney left VASJ after having a major role on a team that won the Division III state championship.
The new face on the roster could be 6-foot-7 forward Seth Towns as a graduate transfer.
Towns is from Columbus Northland High School – the same place that produced Jared Sullinger and Trey Burke – and was heavily recruited by former Ohio State coach Thad Matta. He chose Harvard for its academic challenges, saying it was a golden opportunity for an African-American man from the inner city.
His decision reportedly could come next week. When healthy, he is a mercurial player with NBA-type ability.
Towns was a budding star for the Crimson his first two seasons in averaging 12.3 points and 4.4 rebounds as a freshman and 16.0 points and 5.7 rebounds as a sophomore, when he was voted Ivy League player of the year.
His career went into a holding pattern after his second season when he came down hard after taking a rebound in the conference championship game against Penn and suffered torn cartilage.
He didn't play a single game his final two seasons, but graduated with a degree in sociology.
Surgeons had to go back into the knee and further repair the cartilage.
"All I can say is, he's a beautiful kid," Harvard coach Tommy Amaker said. "I wish he didn't have to go through what he's gone through the last two years, but he'll be fine — better than fine." He smiled. "He'll create a path and leave a trail."
Towns is interested in creative writing for his post-graduate work.