Behind Darian Rose's 19 points and their customary defensive effort, the Ft. Loramie Redskins "finally" won that elusive championship in girls basketball.
(Ed. Note:  While the current suspension of the state tournaments due to the coronavirus has cast a pall on new championship ambitions, it also gives rise to memories of tournaments and championships past.  With so much speculation over whether Fort Loramie would win their third Division IV title last weekend, we thought you'd enjoy reminiscing with this encore presentation of our game story when they won their first, in March of 2013.  Remember, and enjoy.)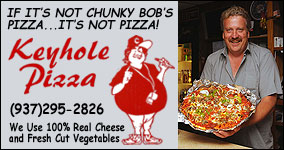 Columbus – After 19 years of coaching, 14 as the head coach at Ft. Loramie, and four trips to the state Final Four, Carla Siegel (and her Lady Redskins) finally shed the label of "bridesmaids" to become the "bride" of Ohio Division IV basketball on Saturday afternoon – for the sake of history, March 16, 2013.
With a convincing 57-42 win over 11-time state finalist (and four-time champion) Berlin Hiland, the Redskins claimed their first title "ever" in girls basketball.
"Finally,"  sighed Siegel in her press room comments after the game.  "For those who don't know, I've been coaching here for 19 years, the head coach for 14 years, and this has taken a long time to accomplish."
And fittingly, it came at the expense of a program that mirrors Siegel's Redskins for their style of play and respect for being a standard in small-school basketball, state-wide.  Plus, the Berlin Hiland Hawks have had a hand in leaving Loramie at the altar in past years – a big hand, knocking Loramie out on two of Siegel's four trips to the Final Four.
They win titles at Hiland, in both boys and girls basketball.  Runners-up in the girls tournament last year, and winners of the boys crown, it was an emotional effort for Coach Dave Schlabach and his team's bid for atonement on Saturday.  In his press room comments, he paused for a long time to gather his composure before speaking.
"They're a good team," speaking of Loramie.  "Probably the best defensive team we faced this year.  They have so much depth offensively.  They keep running people into the game that can score.  And their length made it very tough on us in the paint.
"Overall, we couldn't get good looks for Regina Hochstetler (88 made threes on the year), and we just never got comfortable in our offense against that defense today."
Numerically, the numbers tell the tale.
Loramie's offense, led by Darian Rose and her 19 points, and Renae Meyer, who rebounded form a sub-par game in Friday's semi-final win with 10 points (and 11 rebounds), shot 47% from the floor.  But more impressively, 88% from the free throw line, largely on the effort of Rose who was 8 for 8, most coming in the closing minutes of the game.
But Loramie's defense, to Schlabach's point, held the Hawks to just 33% from the floor (17 of 52), and tormented featured scorers Hochstetler and Kendra Schlabach all day long.  Hochstetler finished with a game-high 23 points, but it took her 25 shots to do it (9 of 25).
If words fail to describe the emotions of a championship, surely it would pertain to Siegel and her group of girls, many of whom return in 2014.
It's a title that came at long odds, considering the starting post player, Reggi Brandewie blew out her knee before the season ever started, and came back halfway through the seasons, a shell of her former playing personality.
It's a title that came at the expense of players adjusting on the fly to her absence – Darian Rose and Paige Ordean having to shoulder more of the rebounding load, as well as 10 points per game lost when Brandewie went down.
The heart-tugging "long shot" winner on Saturday (finally), no one was happier for her circumstance than Reggi.
"Obviously, everyone on our team is very happy, but I don't think anyone is happier than me," said Brandewie, fighting back the tears and her excitement.  "I almost didn't come back, and never thought I'd be playing on the Ohio State floor this year.  I'll never regret the decision to come back.  It's the best decision I've ever made."
If it's possible to catalog or rank happiness, surely the next most happy was Carla Siegel, who had spoken previously to the fact that if the Redskins ever did win a title it would be a tribute, in part, to all the girls who have played for her previously but were denied that state title…that were "left at the altar".
"I tried to hold it in during the fourth quarter,"  said Siegel, her eyes moist with emotion.
And when the clock finally wound down she received a standing ovation from the partisan crowd of about 2,000 who made the trip to Columbus to see history, to see honor finally bestowed on their program and their coach.
"When it became obvious that we were going to win I kept telling the girls in the huddle that we don't have it won yet – that Berlin Hiland is not a team that ever gives up.  They're a team that's very capable of coming back, and have before.
"But at the end, wow.  I looked up in the crowd trying to find Jane (Poeppelman), my high school coach here at Loramie.  I don't know if she was here or not, but this title is a tribute to her and what she has meant to girls basketball in Ft. Loramie.  I'm sure I'll get a call or an email from her tonight or tomorrow."
"I'm just proud to be a part of this team,"  added senior Renae Meyer.  "I remember looking up to the other players and now we're the ones they'll look up to. We're the ones who finally got it (a championship)."
Darian Rose, she of 21 points in Friday's penultimate win, and 19 in Saturday's ultimate breakthrough, played her best basketball when her best was needed, as has become expected of the All-Ohio junior.
"Darian just seems to rise to the occasion,"  said Siegel in the official post-game remarks.  "People forget that she's just a junior, but she's already scored a thousand points, she holds all the Loramie free throw records, and when teams go box-and-one on her I'm excited, because I know she's going to take over the game.  Today she wanted the ball against their pressure in the fourth quarter.  She wanted to be the leader of her team."
Of course, it was a banner day for the Shelby County League…two divisions represented and two titles won by Anna and Ft. Loramie.  And no one was happier for their perennial rival Rockets than Siegel.  Like Jane Poeppelman did for girls basketball years ago as coach of the Redskins, Anna and Loramie have now raised the standard in small-school basketball for the rest of the state.
But unlike Jack Billing, who announced that he was stepping down as coach following the Rockets' win earlier in the day, Siegel smiled at the suggestion that she might follow him.
"No, as long as I'm enjoying this, and as long as I'm teaching in the Loramie district, I'll be here.  I have no intentions of following Jack.  I just congratulate him on what he's done with his program and what they've done for girls basketball in the Shelby County League."
It took Anna a long time between their first title in 1981 and their second in 2011…30 years.  They say that once you break through it gets a little easier to repeat.  Jack Billing and Carla Siegel will dispute that, of course.
"No one deserves this more than Carla,"  beamed Reggi Brandewie as she ducked into the locker room to shower and dress for the triumphant trip back to Shelby County.
And the look on Siegel's face confirmed…reality was "finally" beginning to sink in.  She was at last a champion.
Happy to throw that garter.
There's always someone waiting, maybe not 19 years…but waiting!
With 108 years of great food and service to Shelby County, "The Spot" is proud to sponsor the state tournament on Press Pros Magazine.com.  CONGRATULATIONS REDSKINS!