Due to the cruel fate associated with the coronavirus, the anticipated matchup between Fort Loramie and Minster in the girls Division IV final was snatched from the books of history…that, and so much more.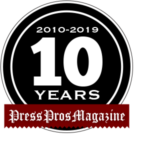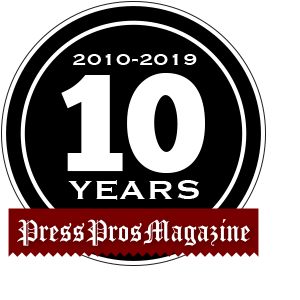 It's been the worst twenty four hours possible for coaches Carla Siegel and Mike Wiss…notwithstanding the impact of that same time period for their respective basketball players at Fort Loramie and Minster.
Both on their way to Columbus for Thursday's 6 and 8 pm Division IV semi-final games with Cornerstone Christian and Beloit West Branch, they were summoned mid-trip by the Ohio High School Athletic Association with the news that the 2020 girls state tournament had been suspended – no game(s). Their season, if not officially so, apparently terminated.
"Oh my God," said Siegel Friday afternoon, her eyes red with emotion. "Painful. You work so hard for this opportunity with the girls. All year long you push and you drive 'em…and you know I'm not an easy coach. You get to this pinnacle and they're so excited to be there. Your town is so excited to be there. And then it's ripped from you.
"I'm not upset with the OHSAA at all, and I want to make that very clear," she clarified. "I have no axe to grind. It's just hard to put into words how heart-breaking this is for our coaching staff and our girls. You can't imagine. One of the girls said, 'there's no closure to the season', and what an adult thing to say. Your season's over with one phone call, even though they're still saying that it's not official – that they're still trying to find a way.
"But we're in limbo now. We're not allowed to practice for three weeks, so what does that mean. And I know Jerry's trying to make this work (Jerry Snodgrass), and I appreciate his willingness to try. But this is such unfamiliar territory. It's such an unfamiliar feeling."
Such were the emotions Friday of Fort Loramie coach Carla Siegel and Minster coach Mike Wiss, twenty four hours after having their highly-anticipated appearance in the state tournament finals declared null and void by the impact and panic of the coronavirus.
And to put it into basketball perspective…Siegel's Redskins, the #1-ranked team in Division IV wire to wire, would have been playing for their third state title in seven years. Wiss and his #8-ranked Minster Wildcats would have been playing for their third successive Division IV title!
"I really thought this year was going to be great, because so many of the girls have been playing for me since their freshman year," said Siegel. "As sophomores they took us to a regional final that we weren't supposed to be in. And then last year Minster beat us in the regional final.  So they've been together for so long, and I really believed that this was the year for them.
"We've broken all the records this year…most points scored, best defensive average, three-point shooting, field goals, free throws, steals, assists, and we've played some really good teams. And we beat those teams by 30, 40, and 50 points. This was a team that's been in the making for three years……"
Her voice trailed off.
"We had our parade yesterday at 11 am and then we got on the road. We stopped to eat lunch in Marysville, the only meal we would have before the game. And that's when I got the phone call. I told the coaches, because I didn't want to tell the girls and spoil their meal.
"And then we got back on the bus and I had to break the news to them. And it's so hard to see your girls in that kind of pain – hard to watch them sob uncontrollably because of having lost something that they were so focused on doing since November. I don't want to say that it was all for nothing, but there was no closure.
"I tried to console them by reminding them that they were the first undefeated team (26-0) in Loramie history…that they were the #1-ranked team from the beginning of the season to the end…that they were the Associated Press champions wire to wire. We tried to tell them all the things they had accomplished – what great role models they had become in the community. We tried to build them up as best we could, but it was hard – not enough."
…………..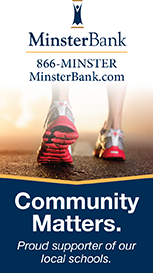 Mike Wiss spent Friday afternoon watching his baseball team hit in the cages on Hanover Street, two blocks from the high school. His own twenty four hours since getting the call to turn around Thursday and head back home had been much the same as Carla Siegel's – his story of having been denied a familiar irony.
22-5 for the season, Minster had lost to Fort Loramie in the season's first game by 30 points. But winners of 11 of the final 13 games, they had clawed their way to #8 in the final coaches' poll for the season.
And having blasted their way through the sectional and district rounds of the tournament, there was little doubt in most minds that Minster and Fort Loramie would get through the semi-final round of the state tournament to meet in the Division IV championship game.
"We were on the bus to Columbus and I clicked on my phone to see West Branch and Dayton Carroll warming up, 15 minutes before the start of the first Division II semi-final game," said Wiss. "They were actually warming up on the floor.
"Then the next tweet was Jerry Snodgrass and his announcement, and my coaches all went, 'Oh, my God.'  The girls were in the back of the bus, relaxed and enjoying the ride. So we (the coaches) knew, but I told the bus driver to just keep going, because it wasn't official yet.
"But within two minutes it got deathly quiet in the back, and I knew the girls had gotten the word on their phones. We stopped, and I went to the back of the bus and talked to them. I won't say they were inconsolable, but it was very emotional. It hurt, especially the upper-classmen. And it's so tough when you've been with a group so long that you can almost call them your own kids.  It hurts to see that kind of hurt."
Like Loramie, they turned around and came home, determined to spend the day together, and to try and reconcile the sudden end to their season – to help each other through their disappointment.
Carla Siegel said it, and Mike Wiss echoed her sentiments.  Both recognized the historical significance of the weekend, as well as its significance to the profile of girls basketball in west-central and southwest Ohio.
"It meant so much to me," said Siegel. "I know we beat them in the season opener, but nothing's guaranteed in a championship game like that. But what a great moment it would have been for girls basketball in our area, for Fort Loramie and Minster to play for the state title. I know Mike's competitive, and I like to think I'm competitive, and what that says about the two programs – about the competition in the MAC and the Shelby County League. I'm very proud of that, and I wanted the state to see."
Wiss almost echoed her words.
"You know Carla grew up over there (Loramie), and I grew up over here (Minster). She's been doing basketball a lot longer than me, but in the course of the competition and the years – and what you want for your kids – you also grow to appreciate what the bigger picture means.
"The whole thing of Minster vs. Loramie would have been so big for this area because of the families, the kids that have graduated, the kids yet to come in the future, and the work ethic. You can go on and on about that story. We've talked about it for years, and this is so tough now because of they way we all are. It's ingrained in the kids that every year we know someone's going to go to Columbus. I know it's hard to understand for the people who haven't been there. But this year we had that opportunity and Minster-Loramie would have been great for the game of basketball in our area. I agree with Carla 100%."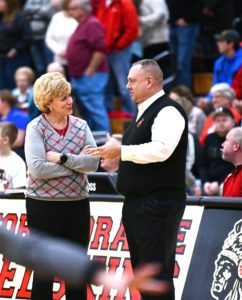 Emotions aside, both agree that while the official word for now is that nothing's official concerning an eventual game to determine a champion, a three-week moratorium on school and practice all but eliminates the possibility of pulling it off.
"It would be like putting together a CYO team to play in a game of that magnitude," said Siegel. "No one wants to play under those circumstances, even as badly as you might want to play."
"Things like this get tougher as you get older," adds Wiss. "Because now we've been through Ebola, and West Nile, Swine Flu, and we'll pull together from this. I told the girls on the bus that we'd stay together for awhile.  We're a family. This hurts, like losing a teammate (Jackson Hogenkamp) last year in baseball. You've got to be together – like family – to get through something like that."
But twenty four hours after the fact Siegel, Wiss, and their teams were anything but near healing and getting over the fact – two coaches, two teams, and one nightmare.
One they'll never forget.