Behind a heroic effort by Aiden Reichert and clutch shooting from Christopher Elchert and Garrett Prenger, Jackson Center stunned favored Cincinnati Christian to advance to the Division IV regional finals.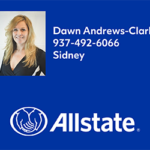 Dayton, OH –  About four years ago, when asked how Jackson Center could possibly beat a bigger, deeper, and more talented opponent then to advance to the state Final Four…Scott Elchert leveled that familiar stare of his and said, "Don't ever count us out.  Don't ever count out the Tigers."
It's become a running dialogue between us from that point to the present, but Tuesday night in UD Arena Elchert's words came to fruition again…just as they had in 2016.  Matched up with a bigger, deeper, and well-selected group from Fairfield's Cincinnati Christian (21-7), Elchert and the Tigers (22-5) stunned everyone except the knowing with a masterful 40-30 win in Tuesday's second Division IV regional semi-final game.
They did it in customary Elchert, and Jackson Center fashion.
One, they played incredible defense, denying Cincinnati Christian open looks at the rim and holding the Cougars to less than half their season's average of 67 points per game.
Two, they played patiently on offense, taking care of the ball, reversing the ball, and taking high percentage shots when they finally got their chances.   For the game they shot 50% from the floor (15 of 30), compared to Cincinnati Christian's 35.3%.
Three, they got off to a great, and positive, start…guard Christopher Elchert (son of the coach) hit his first three shots from the field (his only points of the game) to give Jackson an early 9-3 lead.
Four, they were mentally and physically tough, and they had to be.  Several years ago it came down from on high that officials were to make 'hand-checking' a point of emphasis, denying defenders from 'steering', or pushing ball-handlers off course or off-balance.  Hand-checking was apparently 'de-emphasized' Tuesday, as CCS (Cincinnati Christian School) mugged Jackson Center ball-handlers throughout the second half.  The Tigers played through it.
Five, they limited their mistakes and crashed the boards, committing just seven turnovers for the game, and out-rebounding CCS by a 27-16 margin – allowing CCS just five – 5 – offensive rebounds for the game.
"We came out fast and were able to make some plays,"  said Christopher Elchert afterwards.  "I need to be a leader for our team.  I was able to make some shots early it helped the team settle in and play with some confidence."
If it were only that easy…eh?
But credit Elchert (the Jr.) for making it easier, indeed hitting his first three shots from the field as CCS obviously focused on taking Aiden Reichert out of the picture, blocking the Tigers' post player's first two shot attempts.  Undaunted, Jackson Center "settled" in, worked the ball around the perimeter, in and out, and walked to the bench after the first quarter with a 13-5 lead.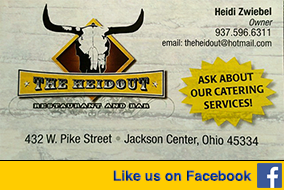 "The way he started (speaking of his son) was big for us,"  said Elchert (the coach).  "I don't think there was any surprise that they were going to come out and try to take Aiden Reichert out of the game.  We talked about it…make some plays to help everyone settle in and I felt like those early buckets were important."
But CCS couldn't 'keep' Aiden Reichert out of the game.  The 6'4″ junior would settle in, himself, and score 8 points on a couple of running hooks, and a couple of mid-range jumpers to pace the Tigers to a 19-12 halftime lead.  And the 12 points allowed had a stunning impact on Cincinnati Christian, a team accustomed to scoring at will against less dedicated defensive opponents.
"They did what they do,"  said CCS coach Carl Woods.  "We knew about them.  We'd seen them.  They play tough, hard defense, and no tricks.  Just straight up man-to-man.  Give them credit.  They did a nice job."
But CCS, a team with more athletes, and more speed, did a job of their own in the first four minutes of the second half, turning Jackson Center over on four of its first six possessions, scoring off three of those turnovers, and tying the game at 20-20.
"No surprise there, either,"  admitted Elchert.  "We knew they'd come out after halftime and amp up the pressure and try to force us into some mistakes, which they did.  They got the momentum back and were able to get back into the game."
CCS outscored Jackson 15-9 for the quarter, and held the Tigers without a field goal for what seemed an eternity – Reichert and guard Garrett Heitkamp finally hitting a pair of jumpers – both 3's – to settle Jackson Center and get back to some momentum of their own."
"That was important,"  said Reichert, afterwards, holding an ice pack on his wrist.  "I just tried to find my teammates, rely on them, and after they hit a couple of shots that kinda' opened some things up for me.  Chris made some big shots to get us going."
Thinking about it for a moment, he added with a broad smile:  "And I love playing in this arena."
Leading 29-28 at the start of the fourth quarter, Elchert reminded his team that they would have to be as tough as the moment….and they were.  They settled back into their defensive mindset, forcing CCS's guards away from the lane, and there were no easy looks at the rim.  Shots that the Cougars got were contested, long, or awkward.  In the meantime, off the strength of lay-ins by Reichert and Garrett Prenger, Jackson slowly built a 36-30 lead at the 1:52 point of the quarter.  And at that point CCS had to foul and take their chances on Jackson missing at the line…an issue throughout the season.
Camdyn Reese and Reichert did come up empty on a pair of two-shot fouls.  But Prenger, who would go on to score 11 points for the game, coolly converted on 5 of 6 attempts.  Reichert would come back to hit a pair.  CCS missed on a pair of long three's at their end, the rebounds landing in the Tigers' hands, as the clock continued to tick down.  Continuing to work the ball Prenger scored the game's final points on an uncontested lay-in.  The final…Jackson 40, CCS 30.
"I shoot a lot of those (free throws) everyday in practice,"  said Prenger.  "I just took my time, took a deep breath, they went in for me tonight.  That meant a lot to me, to be able to help our team get this win, especially after missing a layup in the second half…it was nice to come back and make those free throws."
Reichert led all scorers with his 18 points.  Prenger, of course, joined him in double figures with 11.  And remarkably, after scoring their first 6 points Christopher Elchert would not score again.  The only other Tiger to score was Garret Heitkamp, with 5 points.
For CCS, Logan Woods led them with 11 points.  Kareem Swain and Devin McKinnon had 4 each.  Cameron Rogers had 6.  And Kai Vance and Winston Spencer had 2 points each.
As to being tougher than the moment, Scott Elchert was only too glad to remind again – that you never count his team out.

"It was tough,"  he shrugged, standing outside his locker room door.  "It was physical (the hand-checking), and it's a good thing that we were tough as the moment.  I feel we have the ball-handlers that can take care of the ball, but still we had a tough time of getting the dribble penetration that we needed.  They took that away.
"This was not easy.  They're a very good team and we've seen them play,"  he added.  "They are a VERY good team – very skilled, and some very strong athletes inside.  The fact that we held our own on the glass was a huge factor.  But we take pride in how we do things, and in how we play defense.  We're not the most entertaining basketball sometimes, but we're not in it for entertainment.  We're in it to win."
They get another opportunity now to win on Friday, taking on Wellington, who knocked Fort Loramie out of the tournament in the evening's first game, 38-35.  They stand now…one game away from another Final Four.
"Yeah,"  said Elchert.  "We've got one more to go.  We were here in this same position last year, we were here in this position in '12 and '16, and I can tell you the feeling we had on those years was better than the feeling we left with last year.  So that's what we'll be shooting for."
A better feeling, and what no one appreciates when they watch Jackson Center play that un-entertaining brand of basketball.  But what's it matter?  The man said it himself.  They're not here to entertain, they're here to win.  Think about that…all those who believe in trophies for everyone.
And never, ever, count out the Tigers!