The mere fact that Fort Loramie and Minster could land in the Division IV title game on Saturday is a huge boost for this weekend's state tournament…and girls basketball.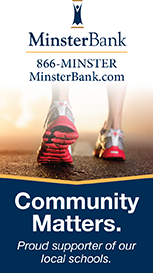 Former OHSAA commissioner Dan Ross once told me, "Every now and then you luck out and get two really compelling teams in a championship final." Words to that effect – it's been a long time since we had that conversation.
What he meant was…a game where the matchup is so dynamic, so emotionally charged, and so anticipated that people (especially from the respective communities) simply can't stay away.
And for an event that's seen flagging attendance in recent years (both boys and girls state tournaments) the anticipated matchup of Fort Loramie and Minster in this Saturday's Division IV final is little more than a stroke of luck for the OHSAA, Auglaize and Shelby counties, and frankly, the game of girls basketball…period!
That is, of course, should both teams get there – past their semi-final matchups Thursday when #1-ranked Loramie faces Cornerstone Christian (22-5) and Minster tangles with Beverly Fort Frye (26-2).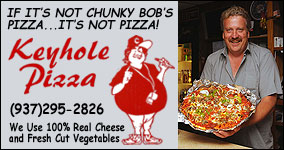 But this much we know…that those two semi-final games are going to draw almost as many people as the final, given the anticipation of Loramie and Minster both winning and moving on. Again, people simply can't stay away because of the long-standing rivalry between two teams in football, basketball, and baseball…and that thin county line that dissects state route 66, all that separates them.
This comes, of course, as conversation swirls about where future girls finals will even be played. The title weekend has been moved out of the Schottenstein Center this year because of supposed conflicts for Ohio State.
But people have clamored for years to have the Final Four moved back to St. John Arena because it's a better atmosphere – smaller, traditional, and a place where 4,000 people (average attendance for last year's girls tourney) doesn't look like stars spread across the night sky. Last year's D-IV final drew just 3,546 people (Minster and Ottoville).
And in 2021 both girls and boys tournaments will be played at St. John. But after that….?
You hear rumors…of UD Arena, the Nutter Center, and other venues offering cheaper rent for the OHSAA while having the requisite seating, parking, and amenities. But at this point it's just speculation. And back to the here and now…and Ross's proclamation for two really compelling teams in a championship final.
This gets really interesting because Loramie and Minster have already met this season, in their opening game, with Fort Loramie pummeling Minster, 47-19, on November 23.
And since that game Loramie has been challenged just once (on the scoreboard)…in last Saturday's regional final game with Cincinnati Country Day, where their 14-point lead in the first half got whittled down to just 4 – 38-34 – with four minutes left in the fourth quarter. The Redskins eventually won, 50-34, but have averaged beating teams by 45 points through their previous 26 games.
Likewise, Minster has rolled to a 22-5 record, losing only to Fort Recovery (43-36),, Marion Local (33-32), Dayton Carroll (67-65, in double overtime), and Kalida (48-46, in overtime) since Fort Loramie. That's four losses…by a total of 12 points!
They're different teams – Fort Loramie for the fact of their collective ability and incomparable depth off the bench (they can substitute in waves and lose nothing athletically); and Minster, for the fact of having two of the most dynamic backcourt players in the tournament – Ivy Wolf and Janae Hoying.
Loramie will score more points, given their front court size and experience with Marissa Meiring, Kenzie Hoelscher, and Dana Rose.
But where they're strikingly alike is on defense – intense, full-court, pressure defense that turns opposing teams over and creates easy transition layups. Loramie got regional semi-final opponent Danville 40 times in last Thursday's 84-24 win.
Cornerstone Christian knows something about that defense. In last year's D-IV semi-final game at Schottenstein Minster defeated Cornerstone, 65-31. Asked how they did it, Minster coach Mike Wiss smiled afterwards and said, "Defense." Cornerstone scored just 6 and 7 points in the second and third quarters. And Minster turned Cornerstone over 16 times and scored 21 points off those changes of possession.
And defensive turnovers is one of Carla Siegel's primary goals with every Fort Loramie opponent. The Redskins averaged almost 30 points per game this year off turnovers.
Experience is also a factor. Both Loramie and Minster have been to the Final Four many times, Loramie having won in 2015 and '13, while finishing runner-up twice.
Minster has won four times, in 2019,'18, '04, and 1998.
Cornerstone will be making its third appearance, all-time, and Beverly Fort Frye is making its second, having previously appeared in 2013.
It may not happen, of course. Cornerstone Christian returns much of its tournament roster from a year ago, including leading scorer and Northeast Ohio D-IV Player of The Year, Michaela Cloonan, who promises, "It's great to have another chance, because last year we didn't play well. This year we're going to try to capitalize on this opportunity."
This is not the same Minster team, either, who's won back-to-back D-IV titles, but misses the frontcourt presence of Courtney Prenger from last year's team. And Fort Frye has to be respected for the fact of their 26-2 record. But if they do get to the final game…..
The two teams separated by just five miles along route 66 will bring everyone, past and present, to see the renewal of this rivalry sparked by years of encounters…spring, summer and fall. Both schools have won state titles in basketball, baseball. Minster has three in football, and so many titles in track and cross country it's hard to keep count.
However, they've never met EACH OTHER for a basketball title, and that will fuel the anticipation for this weekend, given the red-hot popularity of girls basketball in their respective conferences, the MAC and Shelby County League. Fort Loramie has been the state's #1-ranked team all year; and Minster, despite having five losses, is ranked #8 and ahead of numerous teams, including Fort Frye, with fewer losses.
To further stoke the fire…Minster has knocked Loramie out of the tournament each of the past two years in the regional finals.
The OHSAA, the state tournament, and girls basketball, couldn't be luckier. Jerry Snodgrass has replaced Dan Ross as commissioner, but being from Findlay, just up the road from Minster and Fort Lormaie,  he knows.
It doesn't – it can't – get more compelling than this.