They were allowed to play their preferred style of basketball, and the Anna Rockets made National Trail pay, claiming the Div. III district title Saturday afternoon in Vandalia.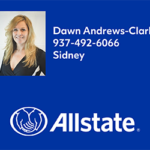 Vandalia, OH –  The Anna Rockets (21-4) will return to the Division III regional tournament next week, having knocked out Cross County Conference big dog, and impressive National Trail (20-4) Saturday afternoon at Vandalia's Student Activity Center, 69-54.
The Rockets have now won 14 of their last 15, and 21 of their last 23 games, and did it with the help of the run-and-gun Blazers, whether they intended to or not.  What they did…was play Anna's preferred style of basketball – run and score in transition.  The Rockets made them pay, scoring 18 of their 69 points in transition, while the Blazers left too much court space for the likes of Anna speed and quickness, Bart Bixler, Riley Huelskamp, Isaiah Masteller, Kam Steward, and Isaac Lininger, to operate.
"Great win for our kids,"  said Rockets coach Nate Barhorst.  "Because we knew they were going to have two strong kids in the Harrison (Cameron) and Woodall (Zach) kids, and they both came out and performed.  They (National Trail) are pretty darn good for a reason."
Uh, yeah…and Cameron Harrison (16 pts) and Zach Woodall (22 pts) had Barhorst seeing green for the entire first half, matching Anna's ability to run and shoot, stride for stride.
Harrison came out like a house afire, scoring 9 points in the first quarter – Woodall had 4 – and the Blazers, unbeaten in CCC play in the regular season, actually led at the end of eight minutes, 21-18.
But during the quarter timeout the Rockets made some adjustments in their pressure, and held Trail to just 8 points for the second quarter (Woodall had 6 of them), while the Rockets' transition style leaned on Riley Huelskamp (5 pts), Steward (3), Lininger (2), Justin Murray (2), and Bixler for 14 points for a 32-29 halftime lead.  And if anyone was there who'd been watching the Wapakoneta or Piqua sectionals in Division IV, they must have felt cheated, realizing that there are some teams that can still score in high school basketball.
"They kind of played into our hands in the first half,"  said Barhorst, referring to Trail's willingness to run and shoot.  "But I told our team that there were probably a lot of people getting film on us, and our defensive transition.  They know if they're going to score on us it's going to be in transition…because we're a transition team ourselves.  And that's a weakness of transition teams…of having trouble getting back.  We really worked on it, getting back, matching up, loading ball side, making sure we got everyone covered, and then find your man and do your job.
"It did take us some time to adjust to them because you see them on film, and then you see them live, and sometimes you have to change the dynamic of your game plan.  So we had to change some things after the first eight minutes.  And Woodall is as good as any player we've seen this year because he can pull up and hit that 15 footer, and Harrison can do it, too. We stressed Harrison all week in practice, but it wasWoodall wh made us pay today."
The Rockets jumped out early in the second half, extending the lead to 8, 9, and 10 points.  But Woodall, especially, would not go away.  He scored on four out of five possessions, consecutively, in the third quarter to keep the Anna margin at five and six points.  The problem was for Trail…that Cameron Harrison all but went away.  The junior shooter would score just 2 points in the third while Anna's depth off the bench started to pay dividends and wear down the Blazers.
Isaac Lininger came on and gave them instant offense, scoring 7 points in six minutes.  Steward scored 4 in about the same period of time.  Huelskamp kept attacking the rim and got to the foul line for points – a veritable assortment of fireworks.  Justin Murray and McKane Finkenbine both scored…and by period's end they were running on full confidence, while still leading by just 5 points.
But Woodall and Harrison would be all Trail had in the fourth – Woodall scoring 4 and Harrison 5.  The rest of the lineup went silent while Anna roared away for 19 points and the eventual 69-54 margin.
Kam Steward, who continued to run and score, would lead them in scoring with the quietest 19 points you'd never guess.  Isaac Lininger more than made himelf felt, scoring 16 points.  Huelskamp woul hit 9 of 11 free throw attempts and finish with 15 points..while Bixler (8), Masteller (5), Murray (4) and Finkenbine (2) collected the remaining points.
For Trail…Woodall was outstanding with his game-high 22 points.  Harrison, who returns next year, finished with 16, Ty Weathington and Michael Leal had 6 points apiece.
Now, of course, a third consecutive trip to the regional round next week where the Rockets, without saying as much, will seek to make the most out of the remaining days of the dynamic tandem of guards Riley Huelskamp and Bart Bixler.  Disappointed by last year's final loss to Purcell Marian, it's been the internal motivation since their stumbling start in December after capturing the state Division VI football title.
"Today was a huge effort for us against a good basketball team,"  said Barhorst while his team accepted the district trophy and cut down the ceremonial nets.  "We rotated a lot of guys on Woodhall and Harrison today, trying to keep the contain and not let the others go off."
Translation:  That's exactly what you have to do in the regional round of the tourney where opponents are not so familiar, scouting is not so accurate, and every year someone you least expect jumps up to ruin your run.  Nate Barhorst has learned – they all have learned – they've got one more shot at it with this remarkable collection of fireworks.
Or…Rockets!