The Parkway Panthers beat Marion Local for a second time, knocked the Flyers out of the Division IV title, and captured their first district title EVER.  It makes for pretty good story.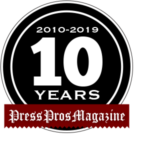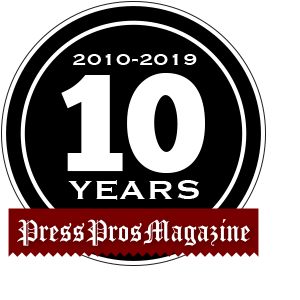 Wapakoneta, OH – Movie producers will tell you they're always wary of a sequel – trying to capitalize on an original that was either good, or popular. They'll tell you that a second story line is often hard to script, and a letdown – contrived, and too much of a good thing.
And that might have been in the minds of anyone who saw the January 10 meeting between Marion Local and Parkway, a slugfest encounter that Parkway won on a shot by junior Dylan Hughes with just 3 seconds remaining…44-42.  It was the first time Parkway had beaten Marion, at Marion, in a generation!
But Friday night's sequel between the two MAC teams proved to be even better than the first…as tough as the first…as dramatic as the first…and for Doug Hughes' Panthers, an even better story line.
Tied 8-8 at the end of the first period, and 15-15 at the end of the first half, Parkway took at 22-21 lead at the end of three quarters, built upon it with clutch shooting from sophomore Caden Slusher, and iced it from the foul line in the final two minutes to claim the school's first district title ever, 41-31…in the Panthers' first district appearance ever.
But it wasn't Hughes' first district, as he explained.
"No, I made it to district and won in '98-'99 when I was at Botkins,"  he said.  "And after Fort Recovery knocked us out in the regionals I went to the state tournament the following week to see Fort Recovery play…and this girl walked up to me and said, 'I saw your team play Fort Recovery.  My brother is the coach there.'  Long story short, I ended up marrying that girl named Binn from Fort Recovery, and all these years later we have four kids.  And the joke is now if I would have rather won that game and never met her, or lost the game and have four kids and a wonderful wife.  I tell her…I would have liked to have made a couple of more free throws and hopefully have met her down the road."
You knew it was going to be low-scoring and physical…like the first Marion-Parkway game, and both teams came prepared for that.
"It's the only chance we had because we're not a team that scores many points,"  said Marion's Kurt Goettemoeller after the game.  "And give credit to Parkway, they played great defense and Doug had them prepared.  I hate it for us to lose, but I'm happy for Parkway.  They made a couple of more plays than we did and hit all those shot at the foul line at the end.  Take those away and it might have been 32-31."
It was that hard to score…impossible for either team to get to the rim, and both spent much of their time on the perimeter waiting for the other to make a mistake and offer a crack to the lane.  The only real highlights for either team in the first half was a Caleb Kinney 3-pointer for Parkway;  and a 3-point answer by Nathan Ungruhn.
Parkway came out of the halftime locker room in the third quarter and went on a quick 4-0 run.  Marion answered with a 6-0 run of their own, but the Flyers could never get traction.  Parkway changed defenses – man to zone and back to man – and that further complicated Marion's attempt to break out, or away.
On the other end the Flyers gave as much as they got, making Parkway beat them from the perimeter – their only option.  Caden Slusher took the challenge and popped a three pointer from the left wing that gave the Panthers a short lead that they held at the start of the fourth, 22-21.
Marion's only second half highlight was the shooting of senior Bryce Moeller, who went on a 9-point binge that included a long three-pointer from the corner in the fourth quarter to give the Flyers a short-lived 24-22 lead.  Short-lived…because Caden Slusher came down the court on the very next possession and hit a 'three' of his own to take back the lead and further frustrate Marion's will to crack Parkway's defensive code.  Slusher's mother, Amber, watched excitedly from the stands, and when asked about that shot afterwards she smiled and said, "I thought to myself…here we go.  Third quarter's his quarter.  Caden always seems to do well in the third quarter."
She missed it by about 30 seconds, actually, but who cares after the fact?  Because Caleb Kinney, ignited to score 10 of his game-high 17 points in the final quarter, helping the Panthers to gradually pull away.
Still, with two minutes remaining they were within striking distance, but it simply wasn't in the cards for the Flyers.  Their last gasp came from Alex Eyink, Tuesday night's hero, as he lowered a shoulder and attempted to drive through Slusher to the rim with a minute left.  He was tagged with a player-control foul, and the air rushed out of the Flyers' balloon.  Parkway iced the game at the foul line, hitting 9 of 12 in the fourth quarter.
Caleb Kinney led Parkway with 17 points, but had plenty of help as Slusher and Dylan Hughes each chipped in with 10 points a piece.  Parkway improves to 18-7 for the season, heading into the regional round of the tournament.
For Marion, just four players scored, led by Bryce Moeller's 9 points in the second half.  Alex Eyink added 8, while Charlie Huelsman and Nathan Ungruhn had 7 each.  Marion finishes the year with a 13-13 mark.
Kurt Goettemoeller admitted after the January loss …."this one stings a bit."  And it stings worse when you lose in a district final – when you lose your final game of the season.  Goettemoeller, dressed smartly in a white shirt and pink bow tie, shared his thoughts about the bow tie, and the game, afterwards.
"They wanted me to wear a bow tie on Valentine's day,"  he smiled.  "And I told them if we get to a district final I'd wear one.  It seemed pretty improbable back then, when we were sitting at 5-12.  But what a super run our guys had.  I'm super proud of them.  Obviously I'm disappointed because we had a chance to get out of here, but it's so tough to do that in this district and you have to give all the credit in the world to Parkway.  They're big and strong and their kids stepped up and made the plays.  They wore on us and Doug does a heckuva' job.  We'll be rooting for them to get to Columbus."
By the smile on Amber Slusher's face, and the fact that the entire Rockford, Ohio community seemed to be packed into the stands and upper deck of Wapakoneta's spacious gymnasium, it was obviously a big, big night for the Parkway Panthers.  It was a history-making night, and one they celebrated by cutting down nets, everybody hugging everybody, taking pictures, and milling around on the court to talk about it for nearly an hour after the final horn.
"I reminded the kids before the game that it would an extremely physical game, just like the first one," said Hughes, his district champion medal draped around his neck.  "I told them if we let them get going off the offensive glass it's going to be very hard to beat them.  So this means a lot to Parkway and everyone who's ever graduated from Parkway.  This was a first…we'd never played in a district tournament, and after winning tonight we're tied for the most wins in the school's history.  When Roger Craft coached here in '79-'80 he was 18-6, but they never won a district title.  They lost in the district semis.  This makes us 18-7, and you know it means a lot by the number of people that were here to see it.  We sold 700 pre-sale tickets for this game.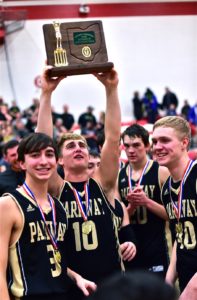 "And we beat them at their own game," added Hughes.  "I told the kids Wednesday…how important it is to get the first rebound and the first loose ball every possession.  When they hit you you have to react the right way.  You can't back down or lose your composure because Marion thrives on that.  That was very important in our game plan and tonight we were the aggressor and kept them from instilling their will and their strength on us.  You've got to get the 50-50 balls if you're going to beat them, and tonight we were able to do that."
The next, bigger question…can they maintain the emotion and physical discipline for the regional round of the tournament?  Is there enough gas left in the tank?
"We talk about not being satisfied," said Hughes.  "We just want to keep this thing going, and remember how we're doing it.  You have to understand what it takes to win a championship, and it's focus, and not just on the night you play.  Your preparation has to be good, you have to have great focus, and our JV and freshman kids have given us a great job in preparing for these games."
Gas in the tank?
"I hope enough for four more games,"  said Hughes, looking to, and hoping…for one more, better sequel.