When she died on this date 53 years ago, Patsy Cline was at the height of her career with no end in sight. Many remember her remarkable voice, and impact…still!
If you're a music fan, and one with a memory, it's been a tough week.  What was it Shakespeare once wrote?  "Beware the Ides of March!"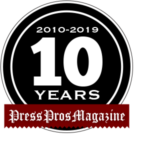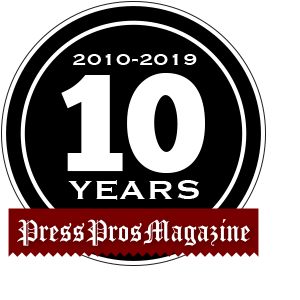 This past Monday was the anniversary of the passing of British pop legend Dusty Springfield – the likes of which will never be heard again.
And for all who have attempted to pay tribute to Patsy Cline in the past fifty years, no one has ever really duplicated the talent, the delivery, and the musical personality of her legend either – what most now concede…'is' the greatest voice in the history of country music.
Tragically, she died on this date, March 5, 1963, while returning home to Nashville in a private airplane after playing a benefit concert in Kansas City, Missouri. On that same plane were fellow country stars Hawkshaw Hawkins and Cowboy Copas.  News of their deaths stunned the country music world.
On the early morning of March 6, while darkness still shrouded the hillsides outside Camden, Tennessee, rescue crews searched the woods for the grim remains of the passengers and plane piloted by Cline's manager, Randy Hughes. The news reached Nashville radio quickly, and as people tuned in that morning they were greeted with Cline's yet-to-be-released recording of 'Sweet Dreams'.
It was a song penned and recorded by songwriter Don Gibson in 1955, and later by Faron Young. But neither had the pipes – the voice – to carry it off.  Producer Owen Bradley urged Cline, who was seeking yet another hit single in a string of recent successes, to cover the lyrics backed by a full orchestral accompaniment (click to listen)…what was later recognized as one of the most lushly orchestrated pop-country hits of all-time.
Cline resisted, believing that all those violins would detract from her country image and sound too 'pop'. Bradley won out, and she did the recording in two takes on the afternoon of February 5, 1963.
After hearing the playbacks later that evening Cline agreed to its release…and performed it on the night of March 4, at the Kansas City benefit, as an encore. On the morning of March 6, as the world learned of her passing, it was the song Nashville radio chose as a background to the sad and unthinkable news.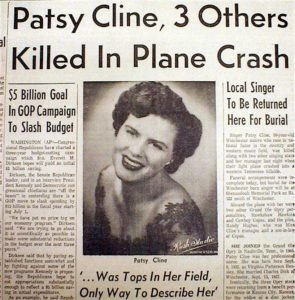 Partly because of the moment, and largely because of Cline's voice and interpretation, Sweet Dreams rocketed to popularity later that summer as a single, and then as part of a double album released later by Decca Records. To this day, while modern artists like LeAnn Rimes sing it in tribute, none can match the original.
You probably wouldn't call it the greatest of her hits because there were too many. And her recording of Crazy is generally acknowledged as the best of all the Patsy Cline songs.
But for those who were around on March 6, 1963, they remember Sweet Dreams as the lasting tribute to the purest, and greatest, voice in the history of country music – arguably her greatest vocal achievement.  There's no forgetting Patsy Cline.