They continue to play, and play better…Anna atoned for a regular season loss to Versailles by knocking the Tigers out of the D-III regional tournament, and made them see 'green'.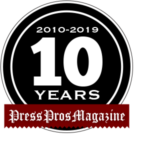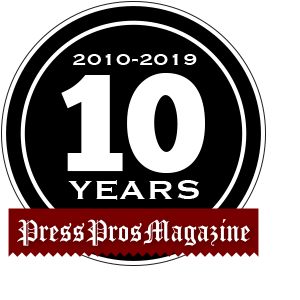 Springfield, OH – Versailles coach Tracy White must have remembered some things from the Tigers' regular season 43-39 win over Anna in December – things that made a strong impression on her.  And like all coaches, she filed it away.
But whatever she saw came back to haunt her Wednesday night as the Rockets (21-6) atoned for that earlier loss with a win of their own – a bigger win, 45-35 over Versailles (18-9) – and one that punched their ticket for Saturday's regional final game and a chance to play in next week's state championship Final Four.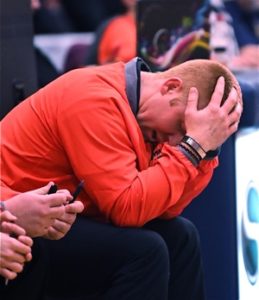 It was the next step for a team on a seeming mission – a team we wrote about a week ago from the Covington district round, calling the Rockets the best 19-6 team (at the time) that nearly everyone has overlooked.  Now, they're 21-6, and likely still overlooked by some.  But Wednesday night they took it upon themselves to make people notice with a masterful exhibition against the former two-time state champions from the MAC.
What White likely recalled from that December meeting was the play of Anna point guard Ella Doseck, a 5'6″ whirling dirvish who came back to jog her memory on Wednesday, scoring a game-high 20 points by attacking the Tigers superior size in the post…then distributing the ball to four teammates – Michaela Ambos (8 pts), Lenna Rowland (10 pts.), Breanna Reamon (4 pts), and Lauren Barhorst (3 pts) – to keep the Versailles defense honest, and lost, at times.
But if Doseck was good Wednesday, the Rockets' defense was even better, shutting down Versailles' considerable size advantage in the post – 6'2″ Lindsey Winner and 6'3″ Brooke Stonebraker – holding the pair to just 13 points between them.  And then, they limited Abby Stammen to just a single point, and Danielle Kunk to 2.  The rest of the load fell upon diminutive point guard Caitlin McEldowney, who more than did her best to make up the difference.
Anna jumped out early, scoring the game's first 7 points and held Versailles scoreless until the 3:37 mark of the first quarter, when McEldowney took offensive matters into her own hands.  She hit the first of three consecutive three-pointers to pull the Tigers to within three points, 12-9, after eight minutes of play.
And while Doseck was doing her thing on the other end of the court, McEldowney would hit another three and finish the first half with 14 of Versailles' 18 points for the half, trailing at the break, 20-18.
Versailles came out in the third to go on a 6-2 run, and for a moment take the lead.  But Doseck would catch fire as the lead shifted back and forth, hitting five of eight shots in the second half, and driving the Rockets to a 29-29 tie at the end of three.
One of the things White remembered was Doseck's ability to drive and attack the rim, so in the fourth quarter the Tigers resorted to playing zone to try and slow her down.  But Versailles rarely plays zone, and in this instance it came back to hurt them.  Doseck would still get 10 of her 20 points for the game in the quarter…but Breanna Reamon was left alone in the corner a couple of times and she canned those short jumpers, wide-open, frustrating the Tigers' as time clicked away on the clock.
At the same time Anna's defense got more intense, limiting Versailles to just a lone field goal by McEldowney in the fourth, and just six points total.  Forced to foul, Versailles sent Anna to the line twelve times in the final minutes, where the Rockets hit six of those shots to salt the game away.
Doseck was the difference…the best player on the floor this night, scoring, distributing, frustrating, and leading her team with an unstoppable will to win.
"A bunch of girls stepped up for us,"  said Anna coach Jeff Maurer, afterwards.  "But Ella had a different look in her eyes tonight.  It was like, 'Give me the ball, and let's do this.'"
"Coach had told us all week to attack them,"  said the Rockets' junior, whose brother Griffin is a freshman forward for Capital University.  "Go to the hoop, and go up strong,  They're either going to foul you or you'll finish.  That's what he told us all week, and I owed my mindset to him tonight.  That, and we focused all week on taking away their 'bigs'.  We worked on it all week.  That was our focus."
What they couldn't take away, however, was Caitlin McEldowney, who would hit four of six from three-point range – and six of ten from the field for the night, finishing the game and her career with 19 points.  McEldowney was heroic in her effort to pick up the scoring slack, putting her team on her back and almost delivering them in the manner that another McEldowney, her sister Kami, had done previously, leading the Tigers to a state title in 2015.
"She was awesome,"  said White.  "She kept us in the game.  She was feeling it.  She was determined and she wanted to win.  And what she did tonight was heroic."
But in her wildest nightmare, Tracy White would not have imagined her size advantage inside being nullified in the manner in which Anna did it, holding Stonebraker and Winner to 13 points, while stealing pass after pass as the Tigers attempted to feed the two post players.
"I didn't think they would shut us down that way, but we didn't finish as well as we normally do, either," added White.  "They played great defense.  They're a great team.  They were physical, they moved well, and we just couldn't get it to fall tonight.  That's basketball."
The surprising Rockets are really no surprise at all now, and will take on Purcell Marian, who eliminated Summit Country Day, 46-44.  That game is scheduled for 3 pm on Saturday afternoon, again at Springfield High School.  Purcell Marian squandered a big first half lead Wednesday, then hung on to win for the right to play Anna.
"They're a good team," said Ella Doseck.  "It'll be another hard game, but we're going to come out fightin'."
Nobody's doubting.  Not now.  Not after 21 wins.  Suddenly, the Rockets are the best team a lot of people are wishing they'd noticed.