It took two overtimes to do it, and junior Alex Eyink's running layup at the buzzer.  Marion Local outlasted New Bremen in the Div. IV district semis…and Parkway clipped Minster in the nightcap of Tuesday's district semi-final at Wapakoneta.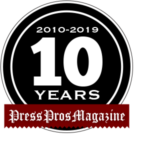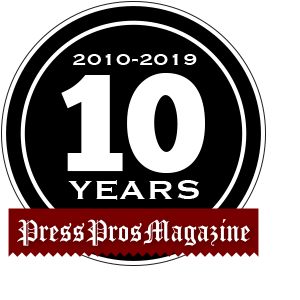 Wapakoneta, OH – Marion Local coach Kurt Goettemoeller leaned against the wall outside his locker room Tuesday night with his head back, eyes closed, and took a deep breath.  Collecting his thoughts, he finally said, "That was a helluva' basketball game."
An understatement, of course, as his Marion Local Flyers had just moments before improved their season's record to 13-12…had done it in a slugfest with MAC rival New Bremen…and took double overtime to finally outlast the Cardinals, 45-43.
'Helluva' game?  New Bremen (14-11) trailed throughout, finally tying the game in regulation at 37-37 with under a minute to play…and never led until the first basket in the first overtime.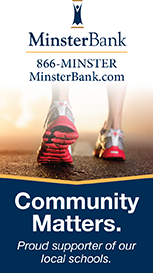 And to say something for the sake of atmosphere, the Wapakoneta venue is fast becoming noted alongside Piqua as Division IV's other best tournament environment – packed to the rafters, loud, proud, and no one sat for the final eight minutes Tuesday.  Well done!
That was hardly enough, however, because the night's second game, pitting another pair of MAC teams, Minster and Parkway, went down to the wire, as well, before Parkway finally pulled away at the end to win by five points…48-43.
But first, a story about the remarkable and enduring fight of a Marion Local team that was at one time 2-9 on the season…and simply kept playing – working, believing, and having faith in each other.  They work warmup T-shirts Tuesday that read, 'Faith Over Fear'.  How apropos.
They've rarely scored 50 points this year – just eight times in their previous twenty four games.  Marion wins by tough, physical defense, and New Bremen coach Cory Stephens had prepared accordingly.  Give as good as you get, and that's how the game was played.  Three veteran officials worked the game – Scott Nourse, Mark Stechschulte, and Barry Maag – and they let 'em play.
It was 9-5, Marion,  at the end of the first period – and 20-14, Mari0n, at the end of the half.  Shots were close-in, worked for, and contested on both sides.  The one notable exception for Marion was a three-pointer in the opening minutes by 5′ 8″ sophomore Brady Ronnebaum, an omen of things to come.
The second half started out in identical fashion, Marion cashing in on a three-point play to start the third quarter by Charlie Huelsman.  The Flyers pushed the lead out to as many as 9 points, but Bremen, behind the shooting of Dan Homan, Patrick Wells, Dave Homan, and Logan Suchland, would not let the game slip away.  It was 27-23, Marion Local, at the end of the three.
New Bremen amped things up defensively, and there was as sense of fatigue on the Marion bench for the fact of playing with just five players.  Sophomore Peyton Otte, a key figure through the first half of the season, had missed the past month with a hip injury and was sitting out – on crutches.  Bremen kept its foot on the gas.
Both teams traded baskets to start the fourth, but suddenly shots were falling for the Cardinals that didn't fall in the first half.  They eventually closed the margin to 2 points, only to have Marion extend it back to 5 at the two-minute mark of the quarter.  But some missed free throws by Marion left the door open, and trailing 37-34, Minster Patrick Wells launched a long three-pointer with under a minute left to finally tie the score.  The Bremen crowd – and student section – sensing the comeback erupted in a deafening roar as both teams played out the final 30 seconds without scoring – Charlie Huelsman's wing jumper clanking off the iron for Marion as time ran out.
Bremen's Dave Homan quickly scored the first bucket of the overtime period against what was now a noticeably tired Marion defense.  But Marion came back as the two teams traded baskets, Bremen holding a three-point lead, 43-40, as the clock ran down and Marion with a final possession with ten seconds remaining.
The New Bremen stands could taste it – one of the most satisfying comeback wins in recent Cardinal basketball history.  But no one told Brady Ronnebaum.  And with time ticking away on their season Marion point guard Alex Eyink drove the lane and immediately attracted collapsing help defense, leaving Ronnebaum alone in the far corner of the court.  Eyink saw him, whipped him the ball, and with just a second remaining he launched a three-point attempt that touched nothing but net, tying the score at 43-43.
Teammates mobbed Ronnebaum as he made his way to the bench, a veritable '5-Hour Energy' in sneakers, and just the lift the Flyers needed for a second overtime.
They controlled the tip and immediately spread the court and held the basketball – for two full minutes before ever probing the lane or even the wings of the court.
"We really didn't intend to hold the ball the whole time,"  said Kurt Goettemoeller afterwards. "That's our third double-overtime game of the year and we'd won the previous two.  And credit the Bremen kids because they stepped up and made some plays that we didn't expect.  Wells made that big three to tie it, so give him credit.  Those were the guys we wanted to make beat us and they made the shots.
"But they came out in a zone in the second overtime and we were tired because we hadn't played many kids.  We decided to milk some clock."
Actually, they milked 3:30 seconds of clock before they began to move against the Bremen defense.
"It just worked out that way that we would have the ball for the entire four minutes,"  added Goettemoeller.  "And the play…Alex just decided to make a play.  In situations like that you don't think of plays, you think of players.  It wasn't something we drew up.  He just made a play."
At the five-second mark on the clock Eyink put the ball on the floor and headed for the rim, splitting Cardinal defenders Logan Suchland and Dan Homan.  With clear sailing when he got there his layup nestled softly in the cylinder and down through the net.
The court erupted as time ran out, Marion' players mobbing Eyink at midcourt, then carrying all the way to the foul lane, and out of bounds as they piled up – about 13 of them – to celebrate the stunning conclusion.

"We had talked about a play, but it didn't work out,"  said Eyink.  "So I saw an opportunity to get to the rim, I split the two defenders, and thankfully I made it.  Whenever a play doesn't work you just have to do what you can do.  I made a play and it went in.
"We weren't planning on holding the ball like that in the overtime, and in that time we had to stay focused so we didn't turn the ball over.  A lot of credit to my teammates because they were great.  They stayed in that zone and we exploited it."
"Who cares?"  said Goettemoeller with a smile when someone asked him if he'd copied Russia coach Dave Borcher's tactic of holding the ball against Jackson Center in last weekend's Piqua sectional.  "It's just ironic.  I suppose this will be all over Twitter, but who cares.  I thought Dave was stone-cold right to do what he did, and you can write that…I don't care what people say.  If you say there should be a shot clock…I can get into that argument, too.  But you do what you do to try to win a basketball game for your team."
Goettemoeller is a math teacher, and admitted, too, that the theory of probabilities entered into his thinking during the game's final five minutes.
"It's just a possession thing,"  he laughed.  "These tournament games become possession by possession, and we were ahead the whole time in regulation.  And even when they tied it we at least had the last chance.  And in overtime we were dead in the water until Brady hit that shot.  He got us to double overtime."
Eyink led Marion in scoring with 13, while teammate Bryce Moeller joined him in double figures with 11.
For New Bremen, Dave Homan and Nolan Bornhorst led the Cardinals with 10 points each.
In the night's second game, Parkway and Minster played it close to the vest, as well, with Parkway holding a 19-13 lead at the halftime break, almost the identical score as Marion-New Bremen at the 16-minutes mark.
But in a hotly contested second half the Panthers (17-7) outlasted Minster (15-9) to push through to Friday's district final, where they'll play Marion for the district title.
"I'm elated for our guys,"  Goettemoeller said, wrapping things up before watching the Parkway-Minster game.  "You know, we were 2-9 and 5-12 at one time.  And this group never quit, they kept working, and now we've made it to a district championship game.  So I'm just thrilled."