Cinderella's Castle was packed to the max with die-hard UD fans (13,407), NBA scouts, local and nation-wide news media, including ESPN & Dick Vitale to witness the 'Real Deal' UD Flyers play their game.  And indeed, did they play it well.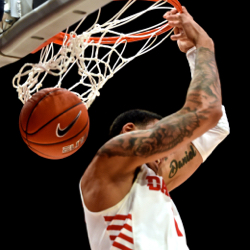 DAYTON — With ESPN and Dick Vitale in the packed house, the University of Dayton Flyers slipped on their Cinderella sneakers and showed the sporting world how basketball is played in UD Arena.
It is played with a plethora of talent, it is played with unselfishness to a fault, it is played with heart and soul, and it is played with defensive dedication.
"These guys are for real," said Vitale after witnessing a total and complete beatdown — Dayton 82, Davidson 67.
UD fans have known since December that not only are the Flyers for real, they are unreal.
How unreal is it for a team to make 27 of its 28 two-point shots? That's what the Flyers did Friday night.
"That is unheard of," said UD coach Anthony Grant. "That show we did a good job of taking quality shots and sharing the ball. We had one of those nights where we played well on both ends of the court."
Mix in 7 of 19 from three-point territory and the Flyers shot like William Tell — 34 of 47 for 72.3 percent.
What it all added up to was the clenching of the Atlantic 10 championship outright with a 16-0 record. The fourth-ranked Flyers won their 18th straight and are 27-and-2 overall.
Grant refused to let his team cut down the nets in celebration because there is more to be done. The Flyers have two games left and would like to finish 18-and-0 in the A-10. And then there is the Atlantic 10 tournament. And there is a the NCAA tournament.
Much more on the table to seek.
The game was not much more than a fun time for 13,407 fans and, as always, Obi Toppin furnished the most fun stuff.
The Flyers led, 19-13, with 10 1/2 minutes left in the first half. Rodney Chatman scored seven points in a three-minute span and Ibi Watson scored six in two minutes.
A 23-11 run in the final 10 1/2 minutes gave the Flyers a 42-24 halftime lead and Davidson wasted 20 minutes of the second half trying to catch up and never did.
So how did the Flyers impress Vitale and ESPN?
With 14:25 left, Chatman was wide open on a breakaway about 10 feet from the basket. Instead of taking the shot, he saw Obi Toppin blasting toward the basket. Chatman tossed Toppin the ball and he slam-dunked it.
Less than 15 seconds later, Ryan Mikesell blocked a shot and Chatman picked it up. Toppin was again sprinting toward the hoop an he tossed it to him again.
Ka-boom! Toppin unleashed a thunder slam that shook the massive scoreboard above center court and evoked a roar from the crowd that could be heard in Carillon Park.
So why did Chatman throw Toppin that first pass when he was open for an easy shot himself?
"I'm just a team player and I like to get everybody involved," said Chatman.
And?
"I understand the fans want to see Obi Toppin dunk the basketball and I didn't want to get booed."
On the second pass that led to the rafter-rattling dunk, Chatman said, "Obi runs the floor tremendously, which makes everybody better. We trust and believe that if we throw it, he is gonna get it. He's like a track star."
There would be no booing Chatman on this night. Although he is a defensive specialist, a real shutdown artist, he was on the offensive Friday. He made 5 of his 6 shots, 2 of 3 on three-pointers, and scored 14 points.
Toppin scored 21 on 10 of 11 shots. And they weren't all dunks. He was 3 for 4 on three-pointers. And he finished with a double-double with 12 rebounds.
He finished the evening with four dunks and now owns the all-time UD slam-and-jam record with 179, passing Chris Wright's record of 177.
Watson furnished 13 off the bench while Trey Landers flipped in 11, including two dunks, the Jalen Crutcher added 10.
The night, though, belonged to Chatman, a player who idolizes Kobe Bryant, the former Los Angeles Lakers super nova who died recently in a helicopter crash.
Chatman wears a plasticized face mask to protect his face after he shattered orbital bones into tiny pieces in the off-season and had a steel plate inserted into his face.
Kobe Bryant was known as The Black Mamba and somebody suggested that Chatman might be The Masked Mamba.

"Hey, I like that nickname. I like it a lot," he said. "I grew up Idolizing Kobe Bryant. I model my game after him, the grittiness I have, the toughness I have. I have to sacrifice sometimes and it is working."
The sacrifice he talked about was taking lumps and bruises and not scoring a lot of points.
"It's not my job to score," he said. "We got Jalen and Obi to score. I just play my role, do the defensive side and provide a little physicality, add some toughness to the team. I'm just a winner and do what it takes to win."
At one point, Chatman had his mask knocked off and he spent more time on the floor than the mop they use to dry the floor when a player hits the deck.
Of Toppin, Chatman said, "We like to see everybody shine. Obi understands that attention he gets, but he is humble. That's why we respect him a lot and we love him. It is not about him, it is about us. He preaches that to us every day."
Coach Anthony Grant appreciates what Chatman brings to the floor night after night after night.
"The play Chatman made? It's a play any guy on our team would make for another guy," he said. "It is the nature of these guys. They enjoy playing with each other. They have fun seeing each other have success.
"The beauty of our team is that we have a lot of guys, different guys on different nights that can step up," Grant added. "I never value Rodney's value by the numbers he puts up on the stat sheet for what he means to this team. He has been unbelievable for us all year in terms of what we asked him to do defensively and offensively.
"Each one of our guys has to sacrifice a little bit," said Grant. "They have to play a role so that the whole can be greater than the individual parts. And Chatman has done a great job — as Ryan Mikesell has and has Trey Landers has and Jalen Crutcher has and Obi Toppin has."
And Vitale left the Arena thoroughly aghast as only Vitale an be aghast.
"They share the ball well, they shoot the ball well, Obi Toppin is a star, their guards are exceptional — Crutcher and Chatman. They are legitimate, really legitimate."
And as a bonus, ESPN's GameDay will be live from the University of Dayton next Saturday.