Anna women's basketball pulled off a 17-point comeback in the final 11:30 of action Saturday to capture a district title against Arcanum.
By Andy Anders for Press Pros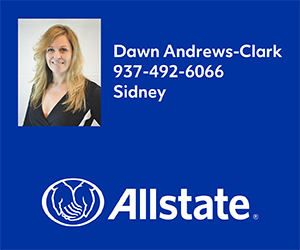 Springfield, Ohio – It was a miracle Anna was within striking distance, forget having a chance to win.
The No. 1 seed in the Springfield region of the OHSAA D-III state women's basketball tournament was down 17 to fourth-seeded Arcanum with less than 12 minutes to play in the Springfield 4 district title game.
The Rockets couldn't hit a shot, with just 12 points in over 20 minutes of basketball. No one could stop Arcanum sophomore guard Hailey Unger, who piled up a game-high 22 points Saturday.
Somehow, Anna was inbounding the ball in a tie game with 20 seconds to play.
Senior guard Kiplyn Rowland received a pass at the top of the key as the clock wound down, shot faked, and dished it to senior forward Lauren Barhorst who converted a game-winning basket at the rim through contact with five seconds to play.
"I didn't realize after I shot that there was only a couple seconds left on the clock. In my mind, I was just like, 'One shot at a time, I need to make this basket." Barhorst said. "Afterwards, my legs almost gave out. It was like, 'This is it, we came back from that.'"
Anna overcame its incredible deficit to win the district title over Arcanum, 42-40. Junior guard Ella Doseck fueled her squad's victory with a 14-point effort, with Barhorst and sophomore guard Kayli Brewer adding 10 each.
"The girls just kept battling, for one thing, and they just never quit," Anna head coach Jeff Maurer said. "I knew they wouldn't. We went to full court press, and that really changed the momentum of the game."
Its lead cut down to 30-26 with seconds left in the third quarter, Arcanum strung together lay-ins from Unger and senior forward Kayla O'Daniel to extend its advantage once again at 34-26 with seven minutes remaining in the fourth..
Rowland and Brewer responded with back-to-back 3s, putting Anna within one possession for the first time since the first quarter.
Unger dribbled around three defenders, stepped back and knocked down a triple.
"Give credit to Arcanum," Maurer said. "I'll tell you what, that was a heck of game. And that's a great team, and they played hard. I feel bad for their girls, because they deserved that as much as we did."
Back-and-forth the teams traded scores as time ticked away. Barhorst hit a layup to cut the lead back to three, Arcanum sophomore forward Taylor Gray banked one of her own home. Brewer hit a pull-up midrange jumper to set it back at three again.
It was Doseck who broke the cycle, stealing a pass for a breakaway layup, and Anna trailed just 39-38 with 1:05 remaining.
Then Doseck stole the ball again as the Lady Trojans crossed halfcourt.
She was fouled instantaneously, sending her to the line for a 1-and-1 with 54 seconds remaining.
Both shots hit nothing but net. Doseck granted Anna its first lead of the game with 54 seconds remaining.
"We've been working all year for [this]," Doseck said. "That drive pushed us all to work harder, and it made me want to win even more for my teammates and for our seniors."
O'Daniel hit one free throw for Arcanum in response, tying the game before Barhorst's clinching score.
With both teams struggling from the field early, Arcanum found its shooting touch late in the first quarter. The Lady Trojans went on a 7-0 run to close the quarter, with five points from Unger to take a 9-2 lead into the second.
She came back out and hit her second 3-pointer to open the period, capping her team's 10-0 run to go up 12-2.
It wasn't the quality of Anna's shots stifling its offense, either. The zone defense of Arcanum forced some turnovers, but the Rockets missed a number of looks from inside five feet.
"I think the girls were nervous," Maurer said. "They knew what was on the line, and they knew how bad they wanted it, and I think we had some turnovers early on and missed some shots early on that I think was a product of the nerves a little bit."
On paper, Anna senior forward Lauren Barhorst seemed like she could be a consistent source of post offense, as she was taller than any player for the Lady Trojans.
But she was stymied in the first half by the defense and box outs of Gray, scoring just two points with limited impact on the boards.
Barhorst said both she and her team kicked in gear when the consequences of a loss became apparent.
"[It was] the realization that this is gonna be it if we don't come together," Barhorst said. "None of us wanted to lose by 20 in the district finals. It finally clicked. We need to get a fire under us and get this thing going, otherwise we're gonna go home and it's gonna be over."
A 3-pointer by Rowland kept Anna afloat, but Unger finished at the rim again to secure an 18-11 halftime edge for Arcanum.
Unger hit a step-back 3 to spark an 11-1 Lady Trojans tear, putting them up 29-12 with 3:30 remaining in the third quarter. Anna missed two open jumpers and an uncontested layup during the stretch.
Barhorst said her team kept believing, but even the most optimistic of onlookers didn't like the Rockets chances.
But after two and a half quarters of frustration, a Doseck floater finally broke Anna's offense open.
Sophomore guard Kayli Brewer splashed a triple, Barhorst finally got going with four straight points and Doseck stole a ball for an and-one layup that brought the crowd to its feet and cut the lead to 30-24 with 39 seconds to play in the third quarter.
After another Arcanum turnover, Anna capped its run at 14-1 with two made Doseck free throws to set the stage for the fourth quarter.
With the win, Anna moves on to the regional semifinals, where it will meet third-seeded Versailles at 8 p.m. Thursday.
Maurer said he thinks the experience will make his team start stronger than it did Saturday.
"Hopefully now that we've been here, we've got that type of game out of our system," Maurer said. "Versailles is gonna be a tough opponent."