They took different paths to get there, but Jackson Center and Troy Christian both won their sectional tournament games to set up a district semifinal showdown on Saturday.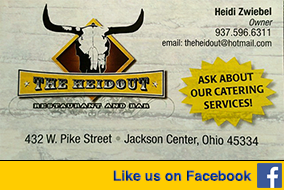 Piqua, OH – The objective this time of the season is survive and advance. Jackson Center and Troy Christian both accomplished that Thursday night in the Division IV sectional tournament … in vastly different ways.
In the first game at Piqua High School, Brady Clawson's lay-in with 1.1 seconds left provided the winning points in Troy Christian's 51-49 victory over upset-minded Covington. In the second game, Jackson Center outlasted Russia – following a second quarter that featured just one shot attempt – 24-12. Yes, 24-12.
Jackson Center junior Aidan Reichert entered Thursday's game nine points shy of 1,000 career points. And in the second quarter there was serious doubt whether he … or any player for that matter … would have a shot at double digits.
Russia had 12 days off between its last regular-season game and its first tournament game. Jackson Center coach Scott Elchert said he had a feeling Russia coach Dave Borchers and his staff might have something planned to combat the Tigers' height advantage and defensive pressure. But not even Borchers saw this coming.

Jackson Center led 6-2 with 3:58 left in the first quarter. Starting at the 3:20 mark Russia's Mason Dapore held the ball near the corner of the half-court line and the baseline. The plan was to draw Jackson Center's defense to Dapore and spread the Tigers out. Instead, the Tigers stood their ground, too.
With 13 seconds left Dapore started to run a play … that ended with a turnover.
Russia got the ball to start the second quarter and tried the same tactic. Russia held the ball until 10 seconds remained in the quarter. Spectators on both sides looked around both amused and confused. Dapore hit a jumper with three seconds left to pull the Raiders within 6-4. It was the only shot of the quarter.
"We weren't so much looking to stall," Borchers said. "We wanted them to come out and guard us. They are very good at guarding inside the arc. We felt like if we could spread them out we might have some lanes open to us. When they did not come out and guard us, it turned into a delay game. That was not the intent."
"Honestly, we knew something was coming," Elchert said. "They jumped on us (in the bracket) with the bye. They had 10-12 days since their last game and all they had to do was prepare for us. We talked about how important it was going to be to get the lead from the get go. I said there's a very good chance they may spread this floor and make us chase them around."
The chasing came in the second half. Both teams ramped up the intensity with aggressive, in-your-face defense. Jackson Center led by as many as four points in the third quarter … and in an amusing moment held the ball the final 40 seconds for the final shot. That prompted the Russia student section to chant, "Boring! Boring!" which drew laughs from both sides of the court.
In the end, Jackson Center's height won out with the 6-5 Reichert and the ability of 6-2 Camdyn Reese to drive inside. Reichert finished with 11 points (giving him 1,002 in his career) and Reese scored a pair of early fourth-quarter baskets and finished with seven.

"Aiden Reichert is a handful," Borchers said. "He does a tremendous job in there. We tried to key on him and he still got points tonight."
Reichert was sporting ice on an injured wrist after getting fouled on a fast break with 2:01 left in the fourth. He went to the floor hard and Russia was called for a flagrant foul. He made one of two free throws for the 20-10 lead, which seemed nearly insurmountable in a game like this.
"We knew they were going to try something but we didn't know what it was. Obviously you want to play, but you do what you can," Reichert said.
And the wrist?
"Oh yeah," Reichert said with a grin. "It'll be ready by Saturday."
Top-seeded Jackson Center (19-5) takes on No. 5 Troy Christian (19-5) in a district semifinal game 7 p.m. Saturday at Piqua. The winner advances to the district championship on March 6.
Troy Christian held off No. 10 Covington, which was going for its second major upset. Covington knocked off No. 4 Fairlawn 67-59 on Feb. 22.
Troy Christian never trailed in the second half, but Covington did tie the game 49-49 with 24 seconds left on Jake Hamilton's jumper. That completely erased Troy Christian's 49-43 lead with 2:07 left in the fourth.
The Eagles called timeout with 6.8 seconds to play to set up their final shot. Connor Peters had three options on the play.
"I'm like the last option," Crawford said. "Connor made a great pass and I ended up getting the bucket."
Covington's half-court heave at the buzzer bounced off the glass to the right of the rim.
"We put the ball in our senior's hands," Troy Christian coach Ray Zawadzki said. "We told him to go make the right decision. … You can't say enough about Connor Peters. That's an unselfish play. Not many kids with time running down would give up the rock. He said, 'Hey, it's we over me.'"
Clawson finished with 14 points and Isaac Gray 13 for Troy Christian. Kleyton Maschino and Hamilton both scored 13 for Covington.
Jackson Center and Troy Christian have a little more than one day to prepare for each other.
"I think it's very horrible," Zawadzki said. "Being the No. 5 seed I didn't have a lot of options. To prepare for a Jackson Center in one day? (Thursday night) I'm going to be up until 2 a.m. watching film. By 2:30 p.m. I have to have a game plan for my kids. Just as I've been telling the kids all year, you have to respond. I don't know if we can but we're going to try.
"We have no chance … unless Russia wins," Zawadzki added, perhaps playing a little mental game hoping Jackson Center reads that, too. "But we're alive. As I told the kids, there are 204 Division IV teams and now there are about 100 at home. They get to go home and we get to go to work. We'll put in the time and effort and see what we can come up with."
As for Russia, the No. 9 Raiders finish their season 7-16. They lost all three games against Jackson Center this season 55-30 and 47-29. They got closer on Thursday, but that's little consolation when the season has become one-and-done.
"I'm so proud of my seniors and my whole team," Borchers said. "We're not very tall and we're not as talented as some other teams are. The fight my guys showed me in practice, and in the game tonight, hats off to my players too. Jackson Center played a very nice game, too. I like the fight in my guys. I'll take them any day of the week.
"How hard (the seniors, especially those who played reserve roles) worked to make everyone better. They busted their butt in practice and my hat's off to them. … There were no heads down or talking (about playing time), it was everything for the team. What a credit to them. That's going to take them far in life."
The goal there is the same as the postseason tournament … survive.