On the back of senior Michael Schoenherr and a breakout performance from Trent Berkenstock, Coldwater captured its fourth state bowling title Friday.
By Andy Anders for Press Pros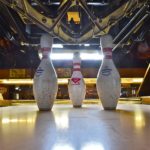 Columbus, Ohio – In Friday's quarterfinals of the single-elimination phase of the OHSAA D-II state bowling tournament, Coldwater fell behind 2-1 and required two late-game runs to win on its final bowl and advance with a 3-2 win over Urbana.
In the semifinals, Coldwater fell behind 2-1 and required two late-game runs to win on its final bowl and advance with a 3-2 win Galion.
So, it was only fitting that after more emotional highs and lows than even Hollywood could dream of, the Cavaliers captured their fourth state bowling title in school history by beating Fairport Harding in straight sets.
"I didn't really think we could do it, to tell you the truth," Coldwater head coach Rick Hartings said, eyes welling up with joyous tears. "Very young — so proud of these guys."
Michael Schoenherr, the lone senior for Coldwater, was the team's anchor and star during its title run Friday. His 668 individual score in preliminary play pushed the team into the state championship round and earned him second-team All-Ohio honors with a No. 10 individual finish.
His stellar performance required a lot of deep breaths, proper angles to generate more colliding pins, resulting in higher strike rates, and a bit of luck, Schoenherr said.
"Pin carry, for one," Schoenherr said after the preliminary round. "The lines that I've been able to play and repeat, and pins have been falling our way."
There are two types of team bowling games, both played with teams of five players: standard games that combine the score of a ten-frame game for all bowlers, and "baker" games where the five rotate through frame-by-frame, resulting in a ten-frame combined team game where each bowler has bowled two frames.
The OHSAA state tournament occurs in two rounds. First, all 16 qualified teams bowl against a variety of opponents on assigned lanes, completing three regular games and three baker games. The eight schools with the highest combined pin count across all six games advance into the single-elimination championship round bracker.
Championship round matches are best-of-five baker games.
Not only did Coldwater trail Galion 2-1 in the semifinals — after six consecutive strikes by the Tigers, it appeared game four would seal the Cavaliers' fate.
But the Cavaliers hung in blow-for-blow, even as they trailed by double digits.
Coldwater sophomore Trent Berkenstock, who came to the tournament as a backup but proved one of the team's most reliable bowlers after swapping in during the preliminary rounds, hit a strike to keep the team alive in frame seven.
Under perhaps even more pressure than his more experienced teammates, Berkenstock pointed to them as his point of poise.
"My team. They helped me stay together," Berkenstock said.
Junior Matt Meinerding and freshman Keaton Bruns followed suit, but with Galion staying hot, an open frame in the 10th was required from the Tigers' anchor to keep Coldwater alive.
It happened, and Schoenherr capitalized with a strike, forcing game five 227-220.
"I told him down there, I said, 'Man, you've got ice in your veins,'" Hartings said. "I don't know if I could do that, I've bowled for 40 years. We were down so many games, and he went up and threw a double in a lot of games to win them."
If the odds of coming back in game four seemed unlikely for Coldwater, they were impossible in game five.
Rare slips by Bruns and Schoenherr left frames four and five open, and with Galion peppering through strikes and spares, all hope again seemed lost.
But the same quartet of Berkenstock, Meinerding, Bruns and Schoenherr recorded four straight strikes to bring the Cavaliers back in. Still, Schoenherr needed another strike in frame 10 to make victory possible, his team down by just over 10 pins.
With steel nerves, Schoenherr tucked his throw neatly into the 1-3 pocket to secure another game winner.
Schoenherr said his first thought was only three words after the clutch shot: "We did it."
Prior to the semis, another comeback captured game four in the quarterfinals for Coldwater against Urbana 197-177. Sophomore Caleb Sutherin, the fifth piece in the Cavaliers' lineup, picked up a key two-pin spare to set the stage for a turkey from Berkenstock, Meinerding and Bruns.
Three consecutive open frames in game five was another situation that put Coldwater in dire straits. The story for the cardiac Cavaliers is obvious at this point — Berkenstock, Meinerding and Bruns turkeyed up once again, and Urbana's anchor followed his strike with a nine, and although he picked up the spare, left the window cracked for Schoenherr.
Schoenherr, having already bowled a strike on his first bowl of the final frame, struck again to deliver his team to the semis.
Schoenherr said he is sure to take his time when the moments are big.
"A lot of deep breaths," Schoenherr. "I look back throughout the season at how hard we've worked, and I know I can make good shots. It's getting to the point where I can make it, and I think I did it."
Schoenherr secured another game-winning strike in game one of the state finals, which almost goes without saying at this point.
Games two and three against Fairpoint Harding didn't require his clutch expertise, both comfortable victories of over 20 pins.
Elsewhere in the Midwest Athletic Conference, New Bremen senior Spencer Alig broke his own school record to finish No. 8 in the state with a 683, collecting second-team All-Ohio honors alongside Schoenherr.
Alig was the model of consistency in his three-game individual run, with scores of 234, 225 and 224.
He was too zeroed in to be anxious about state championship pressures.
"I thought I was gonna be a lot more nervous coming into today than I was," Alig said. "Once I got started, I got a good rhythm going and turned out to have a pretty good series."
Coldwater qualified for the championship round as the No. 4 seed, with a total score of 3,589 pins. Its opening standard game, a combined score of 1,050 that stood 110 pins above the average standard game average for the tournament, was the biggest reason why. Although it didn't appear that way at first.
Two of the first six individual frames were left open by the Cavaliers, and they were performing significantly worse than Mississinawa Valley, the team they were alternating lanes with.
Four-strike frames in the fifth and seventh put Coldwater on the track it needed. After a perfect, five-strike eighth, the team was truly rolling.
Schoenherr epitomized the team's early struggles and late successes, starting with three spares and an open frame before closing with eight consecutive strikes to bowl a team high for the tournament at 243.
The opening slot of the five-man team looked troublesome in the first game, resulting in a mid-game switch to Brandon Hammons.
Berkenstock turned out to be the answer for Coldwater. Hartings said he took a chance on him, thinking his two-handed style was better suited for the condition of the lanes.
"He was a huge spark plug," Hartings said. "Very accurate. Threw the ball clean, missed a couple spares, but really stayed clean. It was just a gut feeling, I guess."
Berkenstock burst onto the scene with a 224 while seeing his first bit of tournament action in the second standard game, and followed it up with a 203 in game three after a three-strike 10th.
Coldwater entered baker sets with a 2,984-pin total, good for No. 4 in the tournament. It had a 143-pin cushion to make the championship round.
Before changing lanes, Hartings huddled with his squad, pushing his players to lock down their standing in the three baker sets.
"Our goal was to get 600 [total], kind of stay where we were at," Hartings said. "We were top four, so that's a good number to shoot for those three baker games."
The speech worked. Coldwater bowled a 234 in its first baker game with each player striking at least once and a three-strike 10th from Schoenherr. It carried the momentum to a 204 in game two, allowing the team to relax and give some of its backups experience in the final baker set.
Friday's title run, the fourth in school history, may start an era for Coldwater. It loses only Schoenherr heading into next season, and Meinerding will be the only senior on the upcoming team.