A sluggish night in scoring signified Tuesday action in the Piqua Division IV sectional.  But struggle as they might, Loramie and Botkins made it through to play in Friday's final.
Piqua, OH – At the opening of every session of the Piqua Division IV sectional the public address announcer welcomes the audience with the words, "Welcome to Garby Gym, home of the state's premier Division IV sectional tournament."  And it has been for a quarter century or more.
But even the best of events have off nights – hiccups – and Tuesday's D-IV sectional semi-final featuring Fort Loramie and Mississinawa Valley…and Botkins versus Riverside…may not be remembered among the marquee examples of basketball in the lustrous history of the Piqua sectional.  In irrefutable terms, it was hard to score.  In Biblical terms…like putting a camel through the eye of a needle.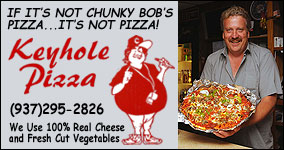 In the opening game #3 seed Loramie survived a sluggish start to beat #7 seed Mississinawa, 39-25.
And in the nightcap, a highly-favored Botkins team (18-6) overcame what coach Sean Powell would later describe as "ugly basketball" to pull away in the fourth quarter and beat Riverside (6-17), 58-33.
Loramie coach Corey Britton said simply, "A win is a win.  We'll be practicing tomorrow."  But at the outset it was questionable.
And thank God for Nate Meyer, who's seven first quarter points negated a spirited challenge by Mississinawa.  The quarter ended tied 9-9, and Loramie, thanks to a pair of three-pointers by Devin Rattermann and Damon Mescher in the second quarter, led 18-12 at halftime, but only by 6 points.
Mississinawa is coached by Tim Barga, the old Versailles girls coach, and he had an excellent plan of attack.  Challenge Loramie physically, and get the best shot possible.  It almost worked…except that in the second half those shots just didn't fall;  and the Blackhawks turned the ball over too many times.
"It's been that way all year,"  said Barga afterwards.  "We've average 44 points a game, and we're giving up about 44 points a game."
A 50-50 proposition, but by the mid-point of the third quarter some of those 50-50 balls were going Mississinawa's way.  They outscored Loramie 7-6 for the quarter, and trailed by just 24-19 entering the fourth.
But Loramie was bigger, more physical, and more experienced in matters of win, or go home.  Games against Anna, Jackson Center, Marion Local and Minster had prepared them for the pressure of having their season on the line.  And as the game wore on fouls and turnovers began to mount up in Loramie's favor.  Shooting the double bonus for the final four minutes of the game, the Redskins went to the line 14 times and made 9 of those attempts – along with just three field goals.
Mississinawa had its chances, but the turnovers in the second half hurt their chances – killed them, actually.  Plus, the rim shrunk, as the Blackhawks would hit just two of eight field goal attempts in the final quarter, and 1 of 4 tries from the line.
"We gave them a lot,"  added Barga.  "Like 9 or 10 points there at the end with foul shots.  I felt pretty good about our defense, but our offense…we've struggled all year."
Britton wasn't as forth-coming, but he had to feel as if he'd been dealt a mulligan.
"We'll take it," he began.  "We had the week layoff, and maybe it showed tonight.  We took the bye to try to get healthy, but I don't know if it worked or not.  We had played three games in four days and I didn't know if turning around and playing again was a good idea.
"But they do a nice job," he said of Mississinawa.  "They were physical, Tim does a great job with preparing, and they took a lot of things away from us.  We wanted to throw the first punch in a tournament game, but they threw the first punch and kinda' staggered us.  They were aggressive and we didn't respond very well.  But we get to practice tomorrow, and we'll work on it."
Loramie spread their 39 points around among the seven that actually did score, but junior Nate Meyer clearly saved their bacon, scoring a game-high 11 points…and every one of them came tough.
"Nate's Mr. Consistency,"  said Britton.  "He's played well like that all year.  He's had big nights, and on other nights he still shows up with everything else.  He's a tough kid and he does a lot of things that don't stand out.  He did a nice job tonight and we needed him, because we left a ton of points on the floor.  We missed too many layups and cheap ones.  But we get to practice tomorrow."
At the outset of the second game Sean Powell must have felt like he was wearing Corey Britton's pants.  Against a team that had only won six times all year, Riverside came out shooting like Trae Young, hitting four of six three-point attempts in the first quarter to tie Botkins 13-13 at the end of eight minutes.
But the Trojans, whom some believe to be the real dark horse of this Piqua sectional, turned up the pressure on defense in the second quarter to outscore the outmanned Pirates 18-5 over the next eight minutes, and led 31-18 at the break.  The two main pistons in the Trojans' attack, Jacob Pleiman and Jayden Priddy-Powell, ignited that spurt, scoring 10 of their 31 points, and Riverside was never the same team after the break.
"Teams like that can come out and shoot, and stay with another team for a quarter,"  said Powell after the game.  "But eventually our pressure and the pace of the game caught up with them."
And it showed in the second half.  The Pirates would score the first two points in the third quarter, but not score again for almost five minutes.  They would also make just 4 of 18 field goal attempts for the half, while turning the ball over 13 times in the final two quarters.  They scored just 4 points in the final eight minutes.
Botkins was anything but crisp, but their superior athleticism showed.  They hadn't won 17 games for nothing, and outscored the Pirates 27 to 11 in one eight minute run to easily pull away.
"Games like that are tough ones to play,"  said Powell, when asked.  "We saw them back at the start of December, but I knew they had gotten better since then.  Tonight was difficult for our guys.  It was ugly.  We're a repetition team, and tonight we had to do something new.  I knew it was going to be sloppy.
"At the start…we'd seen teams get hot at the beginning before.  Teams like that can play with you for a quarter because the conditioning factor doesn't catch up with them yet.  But the pressure of us being in their face took its toll after they made those threes in the first quarter.  The second quarter was different, and then you have to come out of the locker room and start over in the third quarter – they had to pick it back up.  And that's when we took our advantage tonight."
Jayden Priddy-Powell led all scorers with 14 points, while Jacob Pleiman finished the night with 13 for the Trojans.
And for Riverside John Zumberger and Wade Auflick led with 9 points each.
It sets up a rematch between Loramie and Botkins in Friday's sectional final, with Loramie seeking its fourth consecutive trip to the district final round.  The two teams met twice previously during the regular season and split those game – Botkins won the first in double overtime (55-47), and Loramie taking the second, 52-34.  The winner advances to the district tournament at Butler High School.
Still to be determined…Covington and Troy Christian will meet on Thursday in the sectional semi-final of the other Piqua bracket, while Jackson Center plays Russia.  The winners of those two games will play in Saturday's final to determine who goes to the district round.