Versailles struggled early to find its shot. But once the Tigers did … there was no stopping them as Tracy White's team cruised to a seventh straight district final appearance with a 62-39 win over Middletown Madison.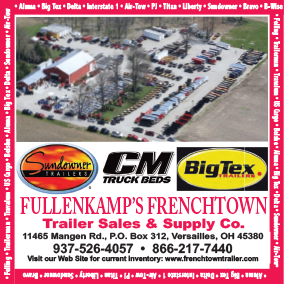 Covington, OH – When it comes to the Division III high school girls basketball tournament, few names are as intimidating as 'Versailles.'
The Tigers' program has qualified for seven straight district finals. The latest came with a 62-39 district semifinal victory (until recently called a sectional final by the OHSAA) over Middletown Madison on Monday night. To get there, the Tigers turned to a pair of appropriate names for the occasion – Stonebraker and Winner.
Falling behind 11-2 deep into the first quarter, the Tigers showed their grit and toughness behind senior Brooke Stonebraker. And, showing their ability to overcome adversity and shoot themselves out of a funk, the Tigers found senior Lindsey Winner.
The inside presence of Stonebraker and Winner accounted for 15 of the Tigers' 27 points in the second quarter. Their dominance inside, in turn, opened up the outside where the Tigers struggled mightily in the first quarter. Senior Danielle Kunk took advantage with three of her five 3-pointers overall.
It took Versailles 9:43 to reach double digits offensively against Madison. Once the Tigers got their inside-out game going they blitzed the Mohawks with a 25-6 run to end the second quarter and take a 33-20 lead into halftime.
"Sometimes I feel like the hype of the game – sometimes the emotion of it – get the best of us," Versailles coach Tracy White said. "That's what I'm going to say happened in the first quarter. Once we got our composure and doing what we did all week the girls started working together and got it together."
Unofficially, the Tigers (17-8) made 1-of-19 shots in the first quarter. The Mohawks (13-11) failed to take advantage with seven turnovers and managed 10 shots of their own, hitting four of them.
"We started off down and we tried to keep our composure," said Stonebraker, who finished with a game-high 18 points. "We've been down in these types of games before."
The Tigers played without Winner for all but about two minutes of the first quarter. She drew two quick fouls and sat on the bench for six minutes. She went back in to start the second quarter and the Tigers trailing 11-6. Winner responded with no fouls the next three quarters. She also scored 16 points.
"We're always against each other in practice," Stonebraker said of Winner. "It goes back and forth. It makes us both better."
Monday night it made the Tigers unbeatable. Madison, whose tallest player is 6-0 senior Carley McMonigle, had no answer for 6-3 Stonebraker and 6-2 Winner. Versailles also used that height advantage to out rebound Madison 27-19, scoring 11 points off second chances.

Kunk finished with 15 points and senior Caitlin McEldowney added six, junior Kate Griesdorn four, sophomore Kaylee Braun two and junior Emma George one. Griesdorn's basket with 2:48 left in the first quarter provided the Tigers' first points of the game and ended the Mohawks' 7-0 run.
"It gave us a spark that we might have missed a little bit with Hannah (Barga) being out," White said. "Hannah is kind of that role player as well. Kate was calm, got (the shot) inside-out and it kind of broke the ice."
And Madison played the role of the Titanic. The Mohawks, who finished third in the Southwestern Buckeye League's Buckeye Division, battled to keep their heads above water with the Tigers' inside-out attack. Madison worked the deficit under double digits, 27-18 with one minute left before halftime, but got no closer as McEldowney and Kunk both knocked down 3-pointers in the final 35 seconds.
Ally King led Madison with 15 points. McGonigle and Kenzie Saunders both added 10. Saunders entered the game averaging 19 points. Versailles junior Abby Stammen shadowed Saunders and helped hold Saunders to her second-lowest scoring output this season (7).
"We worked all week just taking away (Saunders' ability to) drive," White said. "When she did drive against Greenon she was able to capitalize on some and-1s. We really worked on not fouling. Force her to make a contested shot and I felt like our girls did a really good job with that."
Versailles, seeded No. 3 in the Covington sectional, advances to play Bethel Tate for a D-III district title. Bethel Tate, No. 4 in the Fairfield sectional, beat No. 12 Clark Montessori 53-15 on Monday. Versailles and Bethel Tate play 11 a.m. Saturday at Springfield High School.
Versailles has won six straight district titles. The last time the Tigers did not make it out of the sectional tournament was 2013.
"It's always tough when you have a historically good team. You have expectations to meet," White said. "The girls are doing really well working together. They're ready to get better every day and it's been a fun ride so far.
"You always hope we can do the same thing (the program) has done in the past. You work every single day, you come out and play and enjoy it. The rest falls into place."