#19 Georgia Tech can hit and they jumped on Garrett Burhenn, but the pre-season question about the bullpen took another step in making a case for itself.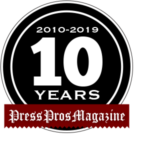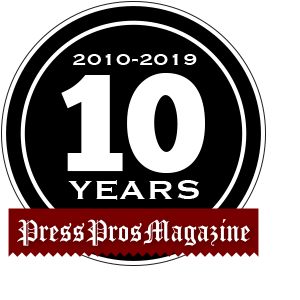 Atlanta, GA – The Ohio State Buckeyes got bogged down in Atlanta in the series opener with Georgia Tech, something like trying to drive here on the freeway.  You just can't get anywhere for all the cars, and starting pitcher Garrett Burhenn must have felt a little bit the same.  He faced a lot of traffic swinging bats Friday night.
The Georgia Tech Yellow Jackets are a good baseball team – have been for a long time.  Danny Hall, the former coach at Kent State, has been here for 27 years now, has taken Tech to the College World Series three times, won multiple ACC titles, and sent mega-stars like Nomar Garciaparra to the big leagues.  So when you come here…you'd better better ready to play.  The Buckeyes came up short in that regard Friday.
Garrett Burhenn is a sinker-ball pitcher who throws 92-93 miles per hour.  But sinker-ballers have to hit their spots – keep the ball down in the zone – and against a lineup loaded with left-handed hitters. Friday, Burhenn struggled to locate for the second time in as many starts.  Tech took advantage, hammering out 11 runs on 14 hits against the Indianapolis righthander, who didn't walk anyone and struck out two.
But when you do make mistakes teams like Tech they lap it up like cats and warm milk.  They struck for five consecutive hits to start the game, scored three times in the bottom of the first…added five more in the third and a pair of back-to-back homers in the fourth…before Burhenn left the game having thrown 69 pitches.
"Well, you have to execute against a good team like that,"  said Buckeyes coach Greg Beals afterwards.  "And Garrett made some mistakes, but we have to a better job behind him, too.  And as coaches we're going to look at what we're doing with pitch selection with Garrett.  We'll look at some things and see what we can do to help him before next week."
The horse was out of the barn by the fourth inning, the lone Buckeye highlight coming in the third inning with shortstop Noah West shot a fastball over the right field wall for his first home run of the season.  And when Burheen gave up back-to-back homers to start the fourth Beals went to the bullpen for sophomore Will Pfennig to make his first appearance of the year.
Pfennig's performance was a bright spot in an otherwise cold, gloomy evening.  He pitched two innings, gave up a run on three hits, but struck out five without a walk.  Coming back from off-season knee surgery, his outing was a lift, and an answer to the question of dependability out of the bullpen.
"It felt good to get out there and pitch,"  said Pfennig, from Mason High School, who might be 5'10″… and might weigh 170 pounds.  He admits to having spent much of the off-season trying to actually gain weight.  "I didn't pitch last weekend because I think the coaches wanted to give me an extra week with the knee.  Some days it's sore, and some days it's fine.
"I don't know how my 'velo' was tonight, but the ball felt good coming out of my hand and my curveball had real good depth.  I made some good pitches – how I executed some pitches.  I was happy with how it went."
Pfenning pitched through the fifth before surrendering the mound to senior Jake Vance, another question who's fought through three years of ups and downs and arm misery.  But during the off-season it was suggested that he change arm angles – drop down to sidearm to get more movement – and see if it didn't help him find success.  He made an appearance last weekend against St. Joseph and got tagged for two runs.
But following Pfennig on Friday night, the arm angle and a sense of renewed confidence paid dividends.  Vance pitched well, going three innings, giving up no runs on one hits, striking out 4 and walking 3.  He smiled at the irony of his success.
"I feel good – my arm feels good,"  he said.  "It hurt half of last year and now it feels fine.  We changed some things with my delivery to see it would give me some added movement, and it's felt good.  I felt like I was making some good pitches tonight.  We'll see how things feel tomorrow.  I probably won't throw tomorrow because I went three innings tonight (64 pitches), but it was good to pitch.  I want to help this team win."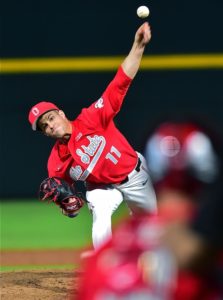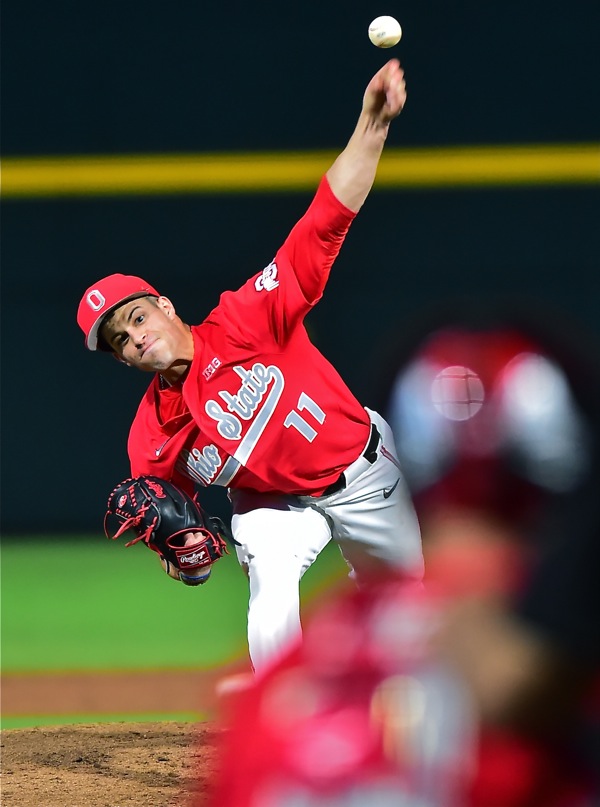 There wasn't much to report on, offensively.  The Buckeyes had just four hits against four different Georgia Tech hitters, and struck out 11 times – the fourth time in as many starts where they've hit double figures in that ignominious category.
West's home run came off Tech starter Jonathan Hughes, who went 5.2 innings, and gave up four runs on four hits.  "We actually won the back end of the game," said Beals.  "Our bullpen did a good job.  But you can't give up three runs in the first inning to a quality starter and put yourself in that kind of a hole.  It just makes it easier for their guy to pitch."
Redshirt sophomore Seth Lonsway will get the ball for Saturday's start, coming off last Saturday's six inning, 1-hit performance against Pitt.   The Buckeyes need a quality start and Lonsway, at this point, is a good bet against Tech's heavy lefthanded lineup.
Hopefully, the weather will improve for Saturday's 2 pm start. Gametime temperature for Friday's game was 51 degrees, but the minute the sun went down it dropped about ten.  Forecast for game two is 54 degrees…at 2 pm.
Georgia Tech's Chandler Stadium is a beautiful sight, having been named college baseball's best playing surface last year (and in previous years).  It's a natural grass bluegrass field that's as good as any big league field I've ever seen. It's so good that college baseball players replace the divots – well-trained in etiquette…other than baseball.