The Anna Rockets cruised into the Division III district semifinal … setting up another meeting with Miami East … with a stout defense effort that put a deep freeze on the Northridge Polar Bears on Thursday night.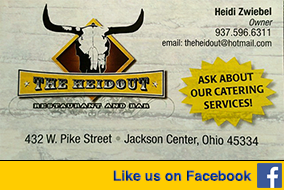 Covington, OH – All things being equal, the Anna High School girls basketball team could have gone scoreless the final 6:45 of the second quarter and all of the second half and still won its Division III sectional tournament game Thursday night at Covington High School.
That's the advantage of having a great regular season … it results in an easier draw to the district semifinals. The Rockets accomplished both, the latter coming with a 64-17 victory against an under-manned Northridge team that dressed just six players. It's not a knock on the Polar Bears, but they could have had all six on the floor at the same time and it wouldn't have resulted in a different outcome.
That's how determined Anna was to return to the district semis. It's the same spot the Rockets' season came to an abrupt end last season with a 48-26 loss to  Versailles.
"We've been working hard all season because we lost in this next game. We all really want it, especially our seniors," said Anna junior Ella Doseck. "They work so hard for us. This is their last year and they're putting it all out there. That just makes everyone else work even harder."
The final score didn't indicate it, but Thursday's game had its struggles for the Rockets. They scored the game's first 10 points and led 15-2 at the end of the first quarter. Northridge had more turnovers in the first quarter (11) than shots (3) against the Rockets' defense.
With the game in hand so soon, the Rockets battled their own intensity at times. They boxed out on rebounds but often stood flat footed as the pesky Polar Bears beat them to the ball. The Rockets had decent looks at shots, but one or two more passes would have set the offense up for a better one.
Anna coach Jeff Maurer challenged his team to do better in the second half. His team responded.
"I told the girls at halftime that's just 'want to' (attitude)," Maurer said of the desire to chase down rebounds. "That's not technique. That's just go and get it. I felt the girls did respond after halftime. I did get into them a little bit. In the first half I felt like we weren't executing the offense. We were getting a lot of our points off steals and layups in transition."
Ten different players scored for Anna. Doseck led the way with 13, sophomore Hope Bixler added 11 and senior Lauren Barhorst 10.
Unofficially, Anna forced Northridge into 30 turnovers and out-rebounded the Polar Bears 28-22. The final 5:33 was played with a running clock with Anna holding a 35-point lead.
Anna led by as many as 24 points in the first half (32-8 and 34-10 at halftime). The Rockets led 48-17 at the end of the third quarter and, aided by that running clock, held Northridge scoreless in the fourth quarter. Doseck's basket and free throw with 5:33 left gave Anna a 54-17 lead and kicked in the running clock.
Anna, which finished second in the Shelby County Athletic League with its lone two SCAL losses to Fort Loramie, improved to 18-6. Northridge, which competes in the Southwestern Buckeye League and had wins against Tri-County North, Twin Valley South and Stebbins, ended the season at 3-20.
"It's hard (playing a game like this). We work hard in practice and we come into every game the same," senior Kiplyn Rowland said. "We look at every team the same. Every team we play is the best team out there. To come in and see they have six girls and we have 15. I play hard but … "
But that was the dilemma facing Anna for a second straight game. Anna beat Meadowdale 67-10 in the sectional opener last Saturday. The Rockets want to play hard and work on the things that will earn them a shot a district title … but at the same time they don't want to disrespect an opponent.
"The last two games we played … both of those teams, all of their players had very good sportsmanship," Rowland said. "I will compliment them on that. I don't know if I would be able to be that nice when the game was that lopsided."
She certainly doesn't want to find out in the district semifinal. No. 1-seeded Anna plays No. 10 Miami East in the district semis 6 p.m. Monday at Covington High School. The two teams met on Jan. 4 at Miami East with Anna winning 38-27.
Miami East beat National Trail 41-25 on Thursday, also at Covington.
"It's tournament time. It's win or go home," Maurer said. "You have to show up from the get go. From this point forward every team we're going to face is a tough opponent.
"We just have to execute. When you get to tournament there are no surprises anymore. Teams have scouted us. We've scouted them. It's more who executes the things they've been doing all year the best. Hopefully we're that team."
Anna's last district title came in 2015. The Rocket also reached the district final in 2018 before falling to Williamsburg 48-40. That loss has stuck with Rowland, who was a sophomore on that team.
"We let it slip through our fingers. (Winning district) is something we all want to do as a team," Rowland said.
What'll be the difference this time around? Teamwork. Togetherness. And Tik Tok.
Tik Tok, a social media app for sharing videos, is popular for dance and lip-sync videos. Barhorst said Doseck and junior Mary Landis provide plenty of Tik Tok material on bus rides to and from games.
"We're always laughing and joking around," Barhorst said. "They always try to teach us dances and things like that. They're always playing dumb music or telling dumb jokes. … Yeah, lots of Tik Tok dances."
That camaraderie might be what gets the Rockets past the district semifinal barrier this time. Doseck praised her team for the friendships they share. Rowland credited team chemistry with their success. Maurer acknowledged his teams' grit.
They're all right.
"We want the best for each other," Doseck said. "At practice we push each other. We want each other to be better, so overall that makes us a better team."
Added Rowland: "We work together really well. It's not like we all have our own separate friends off the court. We're really close friends in basketball and outside of basketball. I think we communicate well. We know we have each other's backs."
And now they're back in the district semis.  A win there would send Anna to the district final Feb. 29 at Springfield High School against the winner of Carlisle and Arcanum, who play their district semifinal on Monday, too.
"Our goal this year is to get to district and win that district title," Barhorst said. "We weren't really happy with the way things turned out last year. Versailles is a really good team, of course. We're definitely looking to get that district title this year. Being senior year that would be an awesome memory. … Anything can happen in tournament. We have to come out ready to play."