Readers of Press Pros Magazine might do a double take seeing a wrestling story. Though there are no plans to add extensive wrestling coverage into the fold at this time … there are stories worth sharing. The very first Miami East Vikings all-girls high school wrestling team … and the first girls state championship tournament in Ohio … is one of them.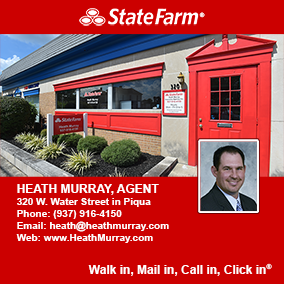 St. Paris, OH – Two cement lions stand guard atop a pair of pillars at the entrance of the Shore Wrestling Club on the edge of St. Paris.
The lions have been there as long as Olivia Shore can remember … and well before the weathered and worn garage was transformed from her uncle's chrome shop into the home of the wrestling club. That the lions remain on watch is more appropriate than ever. Lions represent courage, strength and pride … some of the same characteristics wrestling coach George Shore preaches.
And just like the grapplers inside the garage – including members of the first-ever girls wrestling team for Miami East High School – those lions can take some tough shots and get back up again.
"Our 160 pounder hit one (with her car) and knocked it down, picked it back up and put it back up there," Shore said, smiling while taking a break from the grind of a recent practice.
The Vikings can relate. This weekend they'll take the best shot from Ohio's top wrestlers and teams. When it's over Miami East plans to be sitting atop the pillar of Ohio high school girls wrestling.
About 250 wrestlers from 97 schools make history at the first-ever high school state championships for girls. The event, hosted by the Ohio High School Wrestling Coaches Association, goes to the mat Saturday and Sunday at Hilliard Davidson High School.
Miami East, Columbus Olentangy Orange and Marysville are considered the team title favorites.
Among individuals, the Vikings have 11 girls seeded in their weight classes — freshman Bella Lewis (No. 7 at 101 pounds), junior Olivia Shore (No. 1 at 111), sophomore Sarah Root (No. 10 at 116), freshman Ella Demmitt (No. 8 at 121), junior Natalie Bair (No. 9 at 126), senior Josie DeSautels (No. 6 at 131), sophomore Korrah Patton (No. 5 at 143), senior Camryn Miller (No. 5 at 160), junior Erin Hamby (No. 3 at 170), freshman Shelby Preston (No. 9 at 189) and junior Sydney Preston (No. 3 at 235).
Sophomore Lily Bruggeman (106), senior Kirsten Overholser (116), senior Emily Adkins (121), junior Morgan Nosker (137), freshman Alivia Wade (150) and Kelly Buck (189) are also competing.
"It's definitely a lot of pressure but it's super cool we get (a state tournament)," Root said. "We just have to go out, shake the nerves and get that win."
The Shore Wrestling Club started about 13 years ago in George Shore's basement when he started training his own kids and their friends. The club – much like Ohio's girls wrestling boom – expanded well beyond the basement walls of that one-mat room.
They now train in a garage that houses four mats. Olivia was the lone girl when the club started. At a recent practice on a bitterly cold Tuesday night in January, there were as many as six elementary aged girls grappling on the mats … as well as half of the Vikings' high school team. And more are on the way.
"Olivia went through the halls at Miami East and rounded me up 18 really solid girls … athletes, basketball players, soccer stars," said George Shore, who coaches both the Miami East girls and the Ohio national girls team. "The community has absolutely jumped on board. The school has been good. The coaching staff has been awesome. I'm blessed to have these kind of girls to work with."
The Vikings' official practices are held in the old high school. The girls share wrestling room time with the junior high and club teams. There's a good-natured joke going around that the girls should kick the high school boys out of their wrestling room in Viking Hall – a weight room and wrestling room located next to the football field – if they win the state championship.
"We should," said senior Emily Adkins, laughing at the notion. "I hope so because those junior high mats are a little hard."
Adkins was one of those recruited by Olivia Shore. The multi-sport athlete figured why not give wrestling a try? She ended up loving it.
"(My friends) kind of laughed and were like oh gosh," Adkins said. "It's so exciting. It's crazy. I can look back and say we helped start (the first high school team) and that was our team."
And this is their time. Ohio High School Athletic Association Commissioner Jerry Snodgrass said participation in Ohio high school girls wrestling doubled in one year to the nearly 500 girls currently competing. The numbers are as impressive as the talent.
The National Wrestling Coaches Association (NWCA) reports 20 states now hold sanctioned high school girls state championships. From 1994 to 2019, the number of females wrestling in high school has grown from 804 to 21,124. More than 70 colleges sponsor a women's varsity program. And on March 6-7, the first national collegiate women's wrestling NCAA championships will be hosted by Michigan's Adrian College.
But there's still work to be done. Last March, Olivia Shore became the second female wrestler to qualify for the OHSAA individual state championships. Once there she quickly made history as the first female to win a championship-round match. The majority of the 10,803 in attendance were vocally in Shore's corner. And when she demonstrated her power and quickness with a hard takedown in the narrow 8-6 first-round victory the crowd roared.
After the match her physically and emotionally drained opponent reportedly told his coaches he was done. He wanted to go home … and understandably so. The crowd wasn't cheering against him but it had to feel that way. They just wanted to see history.
"I feel like a female taking over a man's sports isn't ideal. … No offense, but if I lost to a girl at state I'd definitely be mad," Olivia Shore said. "But at the same time, if I'm going to toe the line with them they have to be able to wrestle me like they wrestle the guys. Obviously he did.
"We're definitely getting respect but we're not done yet. We're putting our heads down because we want to keep going."
And growing. As practice ended at the Shore Wrestling Club on that Tuesday in January, 9-year-old McKenna Gordon headed to her mom's car with her hair matted to her forehead by sweat and a smile on her face.
"It's really cool. I feel like more girls need to wrestle," she said. "I like how anyone can do it."
McKenna was seven when she told her mom out of the blue she wanted to wrestle.
"It was hard but I was glad I at least did it," McKenna said of her first experience on the mat.
At the SWC practices getting to work with Miami East's wrestlers is one of the highlights for the youth members … even if the action turns into a Battle Royal of sorts.
"It's fun. I like wrestling with them especially when I need to get a sweat. They're jumping on you," Olivia Shore said. "They look up to us and that's something I like to know. I just like inspiring kids, especially little girls because they're so cute out there."
Toward the end of practice, McKenna and her SWC teammates worked on their final individual drills and conditioning. The room goes totally Viking blue with the glow of LED lights and "Sirius" – the instrumental song by the Alan Parsons Project made more famous by the Chicago Bulls as their pre-game introduction music – blared. Coach Shore offered inspiration to go along with the wrestlers' perspiration in the sweltering room.
"Finish strong. We don't quit after going this far," he said. "We may lose but we don't quit."
"Prove to you who you are," Shore challenged them. "Your friends are at home playing video games."
The room is more than a wrestling room to coach Shore. It's a place boys and girls can come to learn "courage, enthusiasm, self-awareness and self-defense."
"Over the years we kind of became the hub where a girl could go with no huff," coach Shore said. "Just trying to be buff, conditioned and healthy no matter what your size or weight.
"(Girls are) very emotional, but they're also very driven. They focus better. They follow directions and they listen. I think they sense how much it helps their self-defense. They sense how much their confidence gains every time they get more powerful. I think they're way more hungry. Very few girls are pushed by their parents to get into girls wrestling compared to boys."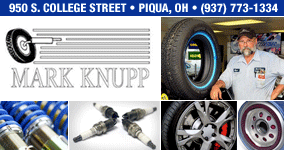 Root wasn't one of them.
"I've always been aggressive," Root said. "My mom always told me she thought I'd be good at wrestling. My friends encouraged me to try it and from the first day I liked it. … I just like hitting and impacting people.
"My dad loves it. My mom gets scared to watch because people are coming at you."
Root, like Adkins and many of their teammates, wish they'd started they sport at an earlier age. They marvel at the elementary school girls, some Root said "are eight or nine and they know just as much as I do. … Yeah, sometimes they can help me out."
Miami East's boys team, coached by Mark Rose, has also been a resource for the girls. They sometimes spar at practice but most of the Vikings' girls have never taken on a boy in competition.
"The boys, we practice with them some days and it's so much help. They definitely bring competitiveness. It pushes us more," Adkins said.
"Everyone just wanted to try it out because of Olivia. We all think she's such an awesome person because she wrestles with the boys. She's definitely a role model to look up to. Her dad is a great coach. Miami East is a great community and has great support."
If there were reservations about how high school girls wrestling would be received … well, those doubts were answered with a mighty takedown on Dec. 18 at Miami East High School. East hosted Olentangy Orange for the first scored girls high school dual meet in Ohio history. Only two others had been held nationwide.
The OHSAA noticed. Sanctioning as an official sport is coming, it's only a matter of time when. It's not a quick implementation with finding more officials, adjusting finances, adding catastrophic insurance and making sure coaches are properly instructed and licensed to coach, among other issues.
"It's not only a sport but it helps with life, too," Olivia Shore said. "If you get on your back you have to get up. Same thing with life. If something bad happens you have to keep working. I've made so many lifetime friends in this sport."
And more are on the way.