The Versailles girls played like they owned the place, and improved to 16-8 with a 37-point win over Dayton Christian in the Covington Div. III sectionals…and move on to meet Middletown Madison.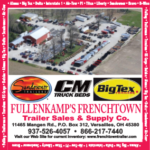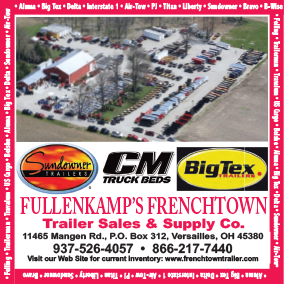 Covington, OH –  The Versailles Tigers (16-8) moved on to next week's Division III district semi-finals Tuesday night (thanks to Dayton Christian) with a head of steam and as much confidence as they've had all season, blasting past the outmanned Warriors, 61-24, in a game that featured a running clock for most of the fourth quarter.
Coming off their 78-21 opening round win over Miami Valley over the weekend, the Tigers showed no letdown and no mercy, climbing out to a quick 22-6 first quarter lead, and extending that lead to 40-11 by halftime.
They were quicker than Dayton Christian (12-8) – more athletic.
They were bigger than Dayton Christian, featuring 6'1″ Lindsey Winner and 6'3″ Brooke Stonebraker in the post.
Their interior passing between Winner and Stonebraker was terrific, relegating Dayton Christian a state of helplessness to defend.

They killed DC on the boards, and scored half of their first half points in transition.  The Warriors simply couldn't keep up with them in the open court.
Defensively, they overwhelmed Dayton Christian, pressuring all over the court and doubling the basketball at every opportunity.  Literally, DC had more turnovers than shots in the first half.
Versailles' depth was evident, as Versailles coach Tracy White substituted freely and felt no letdown.  The Tigers just kept running, and running, and running.  To put it bluntly…they ran Dayton Christian out of the gym in the first half.  By halftime the Warriors were gasping for air.
"We started out really strong,"  White would say afterwards, an understatement.
"I felt we played really hard, with intensity, for the first two quarters…and after halftime we relaxed a bit and substituted more.  We weren't as sharp in the second half, but we kept playing hard even though we lost some focus.  It's easy to do in a game like tonight's.  But in the fourth quarter we got our bench in, the intensity was still high, and we finished strong.  We could have moved the ball better offensively in the second half, but it was a good win."
They did lose SOME focus in the third quarter, as DC cut that 30-point halftime lead to 20 points at one point on the strength of some three-point shooting by guard Bailey Peterson…but it was way too little, and way too late.  By a minute into the fourth the lead was back up to 35 points and the clock ran non-stop for the remaining 6:30 of the game.
Peterson, a hard-nosed youngster who played with a lot of determination the entire game, despite her team being down by 30, lead Dayton Christian in scoring with 10 points.  Four other teammates combined to chip in the other 14 points…and no one scored off the Warriors' bench.
For Versailles, nine different players scored, led by Abby Stammen's 11 points.  Caitlin McEldowney had 10, Lindsey Winner had 9, and Brooke Stonebraker cleaned up inside off the offensive boards to score 8.  Danielle Kunk had 7, and Emma George and Katie Griesdorn each had 5 to highlight the Tigers' scoring.
Following a weekend of blowout games and embarrassing scores, the question loomed as to the competitive balance between Versailles and Dayton Christian – and as to whether some of these first-round tournament games should be played at all.  As it was, Versailles could have scored 80 or more had they kept their first stringers in longer and not relaxed the pressure defense.  DC simply didn't the size and the ball skills to compete;  nor did they have the experience against teams like Coldwater, Anna, Marion Local, Minster, and Fort Recovery.
Frankly, like Tri-Village vs. Jefferson over the weekend (a 95-10 Tri-Village win), or Franklin-Monroe over Tri-County North (49-8)…too many of these games are played for the sake of ticket sales.
But Tracy White left the gym upbeat Tuesday, despite not being challenged in either of her team's opening games.  As healthy as they've been all year, her team is simply playing well –  as they've played all year.  And with the experience in their pockets of having played against the likes of the MAC and the Shelby County League, one word summed up her optimism – confidence!
"We're a super confident basketball team right now,"  she said.  "Our passing for the past couple of games has been great – our staple – and it doesn't matter who scores.  The girls are as interested in building their assist totals as they are their point totals.  We can still build off this, despite not being challenged like you would be against a better team.  You can work on things in game conditions to simulate what you do in practice.  You get to some things that you might not against a better team.
"As a coaching staff and team we're ready to go, ready for the tournament, and there's no other team I'd want to be coaching.  Confidence goes a long way in tournament basketball, and with the girls we have, and the schedule we have behind us, it all helps.  Basketball is a confidence thing – shooting, getting rebounds, feeling like you can just go play without thinking or second-guessing yourself."
For their hard work and confidence…they now get Middletown Madison next round, who beat Greenon 65-51 prior to the Versailles-Dayton Christian game on Tuesday, and a team that looked and played a lot like the Tigers.
"Madison works really hard, they do the little things well, and they're a good team.  They've got inside play and guards who can play,"  said White.  "They shoot it well, they're structured, and I think it's going to be a good game.  They look a lot like us and they've played similar competition to what we've played."
16 and 8 for this point in the year, and for what they've come through to get here, is a nice record for White and her Tigers.  And the brackets – if they keep playing with that confidence – line up well for them.  And the best, as they say, could be yet to come.
"I completely agree,"  smiled Tracy White as she left for the bus Tuesday.  She sounded like…she meant it!