The former Tipp City standout in football and baseball is a redshirt sophomore now with the Buckeyes, and finally realizing his dream come true…playing college baseball at the highest level.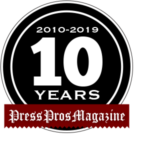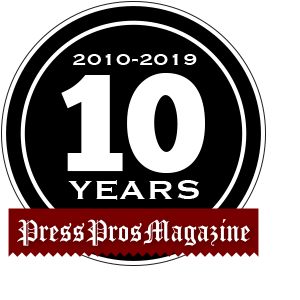 Port Charlotte, FLA –  I've known Aaron Hughes for what seems like a long time – since his days of playing quarterback at Tipp City for coach Joel Derge, and as a pitcher for coach Bruce Cahill and the baseball Red Devils.
He was talented, and always dependable.  If Derge needed a first down he called Hughes' number.
If Cahill needed a win, he gave the ball to Hughes.
The Buckeye sophomore has seen the gamut of sports, of course, from the highs of winning to the lowest lows of rehabilitating a serious shoulder injury…a result of playing quarterback.  And through it all he maintained a dream of playing college baseball at its highest level.  When he got to Ohio State in the fall of 2018 it was one of his highest priorities.
A mechanical engineering major, Hughes came to fall practice that year hoping to make an impression on Beals and the coaching staff as an infielder, a position he played in high school when he wasn't pitching.  He called it his dream come true.  He wasn't the biggest, or the most talented.  But he might have been the most persistent, and he did, in fact, make an impression.
"The thing about Aaron Hughes when he got here was that there so much more there than the baseball player," said Beals during that 2018 fall practice. "It's the WHOLE thing when you consider Aaron. He's a great kid that's fun to coach because he has such a high baseball aptitude."
That was two years ago…and what Beals could have mentioned was his patience, because he sat out his freshman year as a redshirt.  And a year ago this weekend Aaron Hughes was back in Columbus. Not until later in the year he did appear in four games, mostly as a pinch-runner, and he did have one at bat.  He struck out.
But Thursday evening, on the eve of the Buckeyes' opener with St. Joseph,  he was bouncing around the field like he was on cloud nine – that 'pinch me' moment when you realize you're on a team, when you've proven yourself, and know you're going to be trusted to contribute.
"It kinda is [a pinch me moment],"  he said, flashing that same familiar smile.  "This is definitely awesome for me.  You come in, you try to make the team, you finally get there, and now you're here traveling with them.  There's potential to play, so yeah, this is awesome."
His ability as an athlete has elevated his status, and that potential.  With the exception of catching, he can pretty much play anywhere on the field.
"It's been fun to watch Aaron's development,"  says Beals now.  "We knew what kind of athlete he was during the recruiting process.  Then there was the matter of figuring out what kind of baseball player he was going to become.  And now his athleticism we saw initially has really played out for him.  Because he came in as an infielder, but now we have him in the outfield where his speed can play out.  That's key, but the biggest key is the person inside of Aaron.  That's what kept him grinding – kept him working hard. He's had to fight to get here and compete at this level.  He's really worked for this."
And happy to play wherever he's asked.
"I'm definitely a team guy,"  he assures.  "You know, the whole conversion from infield to outfield was fine because we lost a lot of outfielders last year.  So if I can find a spot to play I'll do anything to try and help this team."
A contact hitter in high school, the added pop in his bat is apparent.  He's put on weight and muscle, and laughs about the old days and that windy ballpark (Clawson Field) on Cowlesville Road, in Tipp City.  Balls flew out of there with the help of Mother Nature.  He doesn't need the help anymore.  Now he drives the ball.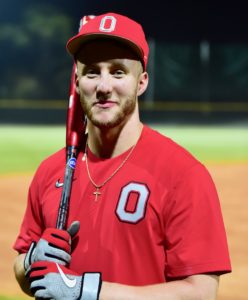 "When I came here I weighed about 160,"  he says.  "Now I'm up to about 190 from eating right, working out with the strength coaches, trying to get stronger.  I've worked on my swing, using my legs more…everything is different now."
Everything he talks about relative to his first opening day is about how he can contribute.  And Beals is confident that he can – as a back-up infielder, outfielder, pinch-runner, pinch-hitter, and spot starter when someone in the regular lineup needs a rest.
"There's some 'dude' there now with Aaron,"  adds Beals with a smile.  "You can add character, too, but the word we use is culture…he fits the culture of our baseball team.  He upholds the standard of being a student-athlete at Ohio State.  He takes care of business in the classroom, and he takes care of business on the field.  He busts his tail.  He's really good for our locker room and our program."
It's been a good year for Hughes.  He's here this weekend, and for the 2020 season, to help the Buckeyes fulfill the expectation of competing for a Big Ten title and a return to the NCAA tournament.
And he was recently accepted into the engineering program at Ohio State.  That like baseball, has been a lot of work. Aaron Hughes doesn't mind…potential rewarded.  He has biggest smile of any Buckeye in Port Charlotte this weekend.
The optimism with this team is readily noticeable, and expectation amongst the players is high.
"I can't wait,"  senior catcher/designated hitter Brent Todys said Thursday, playing off the team's #24 pre-season ranking of all Division I schools. The opening day opponent…is St. Joseph, out of the Atlantic 10 Conference, a team that was 21-28 last year.  The Hawks hit .270 as a team, while opponents hit .286 against them.
And if you're interested in how they've fared in past opening weekends, the Buckeyes are 17-5-1 over the past six seasons – 27-10 all-time in the Snowbird Classic being played here this weekend in Port Charlotte.  They've been undefeated here three times…in 2015, 2017, and 2019.  For added optimism, they've won their last six opening day games.
Sophomore righthander Garrett Burhenn gets the opening day start on the mound.  The Indianapolis native was 6-4 with a 3.96 ERA in 2019, logging 91 innings, and opponents hit .275 against him.  And a year ago, pitching on opening day, he threw a one-hit shutout over eight innings at Seton Hall to earn his first collegiate victory.
"Garrett has proven his dependability,"  says Beals.  "There's a sense with him that you know what you're going to get.  He was outstanding on opening day last year, and we know he's going to go out and throw a bunch of strikes.  He's going to keep the ball down, induce some ground balls, and pitch to one of the strengths of our team, and that's our infield defense.  We're going to put that on the line Friday."
There's also a lot of new faces on this baseball team (freshmen and transfers) – a team rated in the top three of all Big Ten teams, pre-season, and in the nation's Top 25 for the first time since 1996.  But youth doesn't deter Beals' optimism, who in his tenth season concedes that this might be the most athletic of any of those teams.
"We're in a good spot from a talent standpoint,"  he adds.  "And we're in a good spot from the standpoint of experience.  We've got some prototype athletes here now – bookends at both first and third base (Conner Pohl and Zach Dezenzo), our middle infielders (Noah West and Matt Carpenter) are both seniors who've proven they can play and handle the defense up the middle, and our catcher (Dillon Dingler) is a top-shelf guy.  There's just a lot to like about our ballclub."
Big Ten rival Iowa is also here this weekend, but will not play Ohio State.  However, their coach, Rick Heller, had this to say about the prospects of the 2020 Buckeyes.   "Anyone would love to have their three starting pitchers.  They're good, and it's rare to have all three back for a second year."