Kaleb Wesson and Chris Holtmann are upbeat despite near collapse as the Bucukeyes win for the fourth time in the last five games.
Columbus – The line of questioning from reporters was what you'd expect after Ohio State took a 20-point lead over Rutgers, squandered it as if it were Monopoly money and had to scramble to avoid overtime or even worse.
What in the name of Fred Taylor happened out there?
But players Kaleb and Andre Wesson and coach Chris Holtmann weren't about to return a 72-66 victory on Wednesday night at The Schott as if it was a pair of shoes that didn't fit quite right.
"Shoot, a win is a win in The Ten,'' Kaleb Wesson said. "They are not going to look pretty in The Ten.''
Andre Wesson wasn't about to trash his team's effort, either.
"Obviously, it didn't go the way we wanted it to giving up the big lead, but in the Big Ten wins are hard to come by and you've got to take it,'' he said.
Holtmann said it was not a time to wear a Nick Saban scowl or frown because, well, it was a win.
His first comment was that he'd buy every fan showing him a ticket to the game a beverage – not a beer – for attending in snow and slush.
The crowd was announced at 15,552, but there were no more than 10,000 in the building.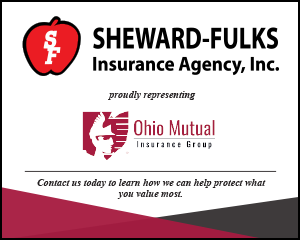 "I'm a Midwesterner and I've seen snow, but those were some rough conditions, almost blizzard like,'' Holtmann said.
It was the fourth victory in five games for the Buckeyes (16-8, 6-7) and inched them ever closer to a third straight spot in the NCAA tournament as an at-large team.
They did catch a Rutgers (17-8, 8-6) bunch that is on shaky ground in losing for the third time in four games after getting ranked in the Associated Press poll for the first time since 1978-79.
Kaleb Wesson totaled 16 points and five rebounds and Andre Wesson 13 points and 10 rebounds. Guards Luther Muhammad and Duane Washington each scored 10 points.
In the beginning, it looked so easy.
Ohio State led 55-35 with 13 minutes, 6 seconds remaining on a lay-up by freshman forward EJ Liddell off a controlled fast break.
The lead was 67-56 after two free throws by forward Kyle Young with 2:49 remaining, and that's when the situation got really hairy.
The Knights benefited on three straight empty possessions by the Buckeyes, a turnover by CJ Walker, missed driving lay-up by Washington and missed baseline jump shot by Washington, to get within 67-63 when guard Jacob Young made two of three free throws after being fouled by Kaleb Wesson.
With 27.1 seconds left, Geo Baker swished a trey from the baseline to make it a one-possession game at 69-66.
Rutgers threw on a full-court press and Andre Wesson had to call timeout when no one shook free for the inbounds pass.
On the second attempt, Washington found space for a pass, but was hemmed in immediately in a corner by Ron Harper Jr. and Baker.
He threw a jump pass to Andre Wesson standing underneath the basket. Wesson was fouled and made one of two free throws to seal it with 21.2 seconds left.
Baker missed a three-pointer with 13.2 seconds left and Walker rebounded, fouled and made both free throws for the final margin.
How did Ohio State withstand the pressure?
"I feel like our older guys, including me and (Andre), kind of calmed our group down,'' Kaleb Wesson said. "Don't flinch and win the next possession.''
Holtmann told the players in the locker room at halftime that Rutgers would come out a much different team.
The Knights are 1-6 away from The RAC, with the lone win coming at Nebraska. They got a big boost from the bench from guards Jacob Young (17 points), Geo Baker (13) and Paul Mulcahy (12).
The starters shot 6-for-23 and scored 24 points.
"Credit to Rutgers,'' Holtmann said. "They do not ever quit, and that's a credit to Steve (Pikiell). They fight. They compete. We kept saying that to our guys, that, hey, the second half is going to be a different half, and it certainly was that. We survived against a really good team.''
Holtmann was upbeat and wasn't going to let the media spoil his night.
"You think I'm going to come in here with a sour, oh, man, Nick Saban-like (expression)?'' he said. "We've got to do some things better, no question. I did not like our defensive approach in the second half. I just didn't. I think we were sloppy with the ball a few times late and I didn't love our defensive (connectivity). I didn't think we finished enough plays in the second half. But you have to survive games like these and you've got to make just enough plays.''
The Big Ten has been a monster this winter with every team but Maryland experiencing the turmoil of a blowout loss or a string of losses.
Michigan State appeared to be able to gain some separation from the rest, but stands 8-5. Illinois has fizzled against the elite of the Big Ten.
"It's obviously the best conference in the country right now,'' Kaleb Wesson said. "You can just see between the three spot and 10 spot is separated by three games. You don't see that a lot around the country.''
Rutgers has been unable to win on the road, but there have been close losses to St. Bonaventure and Michigan (six points), Iowa and Maryland (five) and Illinois (three).
Pikiell said the poor start and the Buckeyes muscle doomed his team.
"I thought they were a more physical basketball team,'' he said. "You can't spot a team that's well coached and has good players 15 points at halftime. Give them a lot of credit.''
Sophomore wing Justin Ahrens played a little more than 12 ½ minutes and made the most of the time by hitting 3 of 4 shots. He threw a knee-buckler at the Knights with a three from the baseline just before the halftime buzzer to make it 45-30.
Pikiell said the shot "kind of broke our backs.''
The reason Ahrens didn't get much playing time in the second half was poor defense.
"I thought he was great in the first half,'' Holtmann said. "Guys found him for open looks. His late three was critical. He's shooting the ball with such great confidence. I love the way he is shooting the ball regardless of if it goes in or not, and guys are looking for him.''