There are still a couple of league titles up for grabs…one area team has its sights set on ending a long, long post-season losing streak…and the top ranked small school girls team in the state will have a busy week before starting tournament play.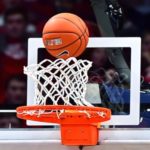 People ask this question all the time…in fact, I asked it of Sonny Fulks last week. Don't remember which team we were talking about…but the question was 'Are they as good as they were last year'? Don't remember his answer either, but I thought later that it was a stupid question.
Are they as good as they were last year? It simply doesn't matter.
Last year means nothing to this year's teams as far as what they can accomplish. Things change every year…players, coaches, circumstances…and what happened last year doesn't impact that at all. I promise you they don't sit around at Anna (or anywhere else) and wonder 'Are we as good as last year'?
There are a lot of good teams around the area THIS YEAR, and that's all that matters.
It matters more this week as tournament time approaches. The girls' tournament tips off Wednesday and hits high gear Saturday, and the boys tournament draw was Sunday. It's the last week of the regular season for most boys' squads and everyone's focus is to be playing their best basketball when that postseason rolls around.
One team that may be anticipating (or dreading) the post-season more than others is the Piqua Lady Indians. Under coach Greg Justice, the Indians won 14 games last season, their best mark since before 2000. They have done even better this year, going 15-6 heading into the season finale Monday at Fairborn. (That game was suspended in the 2nd quarter last week because of a leaky roof.)
Senior Tylah Yeomans leads the Indians and the entire Miami Valley League in scoring at 19.7 points a game, while sophomore Aubree Schrubb leads the league in blocked shots and rebounding. Before last season, Piqua averaged 4.7 wins over 19 seasons, so the turnaround has been remarkable.
This group of Indians has another issue they would like to take care of…a tournament losing streak that stands at 19 games. Piqua has not tasted post-season success since February 20, 2001… a 61-25 win over West Carrollton at Hobart Arena in Troy. Last season ended in disappointment with a loss to Springfield, and this year's chance to end the streak is Saturday at Vandalia against 10-12 Miamisburg.
While most teams are prepping for tournament, the top ranked, unbeaten Fort Loramie Lady Redskins still have regular season work to do. A lot of it, as a matter of fact. Thursday's weather postponement left the Redskins with three tournament tuneups this week. First, state-ranked Marion Local comes to town Tuesday night, then the makeup up game with Botkins is Thursday, and another state ranked foe, division three Liberty-Benton, invades for the season finale on Saturday.
Marion is 17-3, ranked 8th in Division Four, but is just 4-3 after a 13-0 start. Botkins is 15-5 but lost the first meeting with Loramie 76-18, and Liberty-Benton, out of Findlay, was ranked 10th in last week's rankings.
Marion, Fort Recovery and Minster all enter the week with a shot at a share of the MAC Championship. The Flyers and Indians are 7-1 in league play, a game ahead of the Wildcats. Everything will be decided Thursday, when Marion plays at 8-12 Coldwater, Fort Recovery, 15-5 on the season, hosts 12-8 New Bremen, and 16-4 Minster, which lost to both Marion and Recovery, is home to 12-9 St Henry.
The Tippecanoe Lady Red Devils finished off a perfect first season in the Miami Valley League with wins over Sidney and Vandalia Butler. The 18-4 Red Devils, who dropped the first two games of the season, are a remarkable 62-1 in conference play the past four seasons. You can, as they say, look it up. The Red Devils, who have had as much post-season success as anyone over the past several years, play Northwestern Saturday in a first round game at Tecumseh.
Tri-Village is once again champions of the Cross County Conference. The 21-1 Patriots are ranked 6th in Division Four, have won 28 CCC games in a row, and have won 5 of the last 6 conference titles. They have been regular participants in the regional tournament, and many fans are already anticipating a collision down the road with top-ranked Fort Loramie.
On the boys side…Versailles and Anna continued outstanding seasons by winning the MAC and Shelby County League titles, respectively. The 19-1 Tigers host Delphos St John's Friday and Greenville Saturday to wrap the regular season. A month ago, the Delphos game looked like the game of the year, but the Blue Jays have lost 6 of their last 8 after a 10-0 start.
Anna got off to a 1-2 start, remember? A late start because of the football state championship, then losses to New Bremen and Fort Loramie. Since then, 15-1, including a season sweep of Jackson Center, a win in the rematch with Fort Loramie, and handing then top-ranked Versailles it's only loss of the season. I have no idea if they are as good as last year, but I bet no one is chomping at the bit to play the Rockets in the tournament.
Both Miami Valley League titles are still undecided..sort of. Tippecanoe has clinched a tie for the Miami division title, leading Troy and Butler by 2 games with 2 remaining. The 12-8 Red Devils travel to Sidney Tuesday and host Butler Friday, Troy is at Stebbins before hosting Piqua, and Butler is at Xenia Tuesday.
The Valley title is still very much undecided. Sidney suddenly looks vulnerable—the 17-3 Jackets scored just 27 points against St Marys, then gave up 82 to West Carrollton, but still leads the Pirates by a game with 2 to play. The Jackets will host Tipp Tuesday, then wrap the season Friday at home against Greenville. The 14-5 Pirates, who won just 7 games the last two seasons COMBINED,  are at Greenville Tuesday and on the road at Stebbins Friday.
National Trail clinched the Cross County Conference title Friday by beating Mississinawa Valley. The Blazers are 18-3 and have been the class of the conference all season. No other team in the league has fewer than 7 losses, and four teams have lost at least 14 games.
It is the most exciting time of the year…everyone gets a fresh start in the tournament, and who knows what happens over the next month? I can guarantee you two things…you can find every tournament score you need every night on the Moeller Beer Barn Scoreboard, and read about all the biggest games, with great photography, right here on staging.pressprosmagazine.com. Have a great week!