The Trojans used a pair of defensive stops late, then hit a clutch free throw with 52 seconds left to avenge an earlier loss to the Red Devils in a key Miami Valley League game Friday night.
Tipp City, OH – Fifty-two seconds remained. Miami County rivals Troy and Tippecanoe were deadlocked at 45-45. Troy sophomore Landyn Henry toed the free-throw line.
Henry was facing the biggest free throws of his high school basketball career … and also Tipp's rambunctious student section that did everything it could to distract Henry with taunts, screams and arms waving in every direction.
Henry, staring down the Red Devils Den, kept the faith on Friday night.
"Really I was just thinking in my head, 'I know God is going to let me make this free throw,'" Henry said. "I was getting kind of scared, man. I knew He was going to guide it and it went in."
As if the moment needed more drama, Henry obliged by missing the first free throw. "He did kind of tease me a little bit," Henry said good naturedly. "Everything's good."
Especially after Henry knocked down the game-winning free throw, giving Troy a 46-45 victory over Tipp in a physical and emotional Miami Valley League clash. Troy (11-8 overall; 9-7 MVL) kept its slim MVL Miami Division title hopes alive. Tipp (12-8 overall; 11-5 MVL) – which clinched at least a share of the title — holds a two-game lead with two remaining.
This meeting – unlike Tipp's 67-56 victory on Jan. 21 – was pretty much Troy's game to lose. And they nearly did before securing the win with a couple defensive stops.
"I feel like this was the key win," Henry said, "that will boost us forward into a winning streak or something even better."
The Trojans roared to a 20-10 lead in the first quarter behind Tre Archie's 11 points, nine coming on three-pointers. They led 27-13 late in the second quarter as bench players Andrew Holley, Elijah Reynolds and Henry scored all seven of the team's points. They led 30-15, Troy's largest lead of the game, when Jaden Owens hit a three-pointer from the top of the key to start the third quarter.
Just when it appeared as if Troy was going to run Tipp off its own court, the Red Devils dug in. Tipp's Gavin Garlitz knocked down a three-pointer. Zach Frederick scored the game's next seven points on a drive in the lane, a three-pointer and a spin move in the lane to cut the deficit to 30-25 with 3:27 left.
Troy restored the lead to 40-32 on Shaeden Olden's basket with 5:33 left in the fourth. But Frederick answered with another three-pointer (40-35). After Henry hit a jumper, making it 42-35 with 4:12 left, Tipp's Nolan Mader hit a three-pointer and was fouled. The ensuing free throw pulled the Red Devils to 32-39. Nick Robbins tied the game 42-42 with a three-pointer with 3:22 remaining.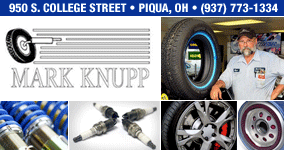 Troy regained the lead when Reynolds – whose only other three-pointer this season came in the first meeting with Tipp – drained a three when left alone in the corner to put the Trojans back up 45-42. A Garlitz baseline floater and Mader free throw forged the game's final tie 45-45 with 1:36 remaining.
Then, 44 seconds later, Henry hit his clutch free throw for the final score. Not that both team's didn't have chances.
Tipp missed a shot in the lane with 33 seconds left. Henry had a fast-break layup attempt, but Robbins trailed the play and blocked the shot from behind with 30 seconds to go. Troy missed a bonus free throw with 26 seconds on the clock. With 15 seconds to go, Troy's Austin Stanaford grabbed a defensive rebound but got tangled up with a pair of Red Devils and was called for traveling.
And finally, with 9.8 seconds left, Tipp ran an inbounds play that found Garlitz in the corner. His three-point attempt went off the rim to the far side and Robbins' last-gasp tip attempt from a couple feet away never reached the rim.
"I'm proud of the effort," Tipp coach Adam Toohey said. "It sucks to lose like that, but we had three different chances at it. … We were right there at the end. That's all you want."
The Red Devils were playing without leading scorer Ben Knostman. The senior 15.3 points, 7.8 rebounds and 6.2 assists was benched by the flu. The guard's absence was perhaps most noticeable in the second quarter when the Red Devils went 5:02 without scoring.
"We said if we can get shots instead of turnovers we'll have a chance," Toohey said of his halftime speech. "(Troy) brings some physical pressure. Without Knostman … the first half we were like, 'Hey, you know what would be good to have right now? Our 6-4 point guard.' It was a battle."
Troy, meanwhile, failed to take advantage of Tipp's scoring drought and managed just seven points of their own in the second quarter. Troy couldn't miss in the first quarter, highlighted by Archie. He knocked down a trio of NBA-range three-pointers … including one that bounced off the rim, then the backboard and rattled in. That changed in the second quarter.
"I really thought we had some chances to extend the lead. It's something we have to continue to work on," Hess said. "It feels like it's there. We need to get over the hump for one more big jump. We're waiting for that big jump."
Instead of that big hop on offense, the Trojans win this one with a couple big stops on defense down the stretch. That's key as the Division I tournament approaches.
"I think it shows the long way we've come. I don't know if we — early on in the year — would have gotten two consecutive defensive stops down the stretch to win a game," Hess said. "We stayed composed. We stayed together and got two good stops. That's encouraging for us moving forward.
"I know they'd rather score 80 points and win. I'd rather get stops down the stretch."
Archie led Troy with 11 points and Henry added nine. Olden scored eight and Stanaford and Owens each added six. Frederick led all scorers with 16 and Mader had 15 for Tipp. Garlitz chipped in eight and Robbins six.
The teams entered Friday night trending in different directions. Troy had lost two straight and four of its last five. Tipp had won two straight and five of its last six. Now they both look to end the regular season with two-game MVL winning streaks.
Troy (which plays a non-league game at Celina on Saturday) is at Stebbins on Tuesday and hosts Piqua on Feb. 14.
"For us, I just wanted us to get right," Hess said. "I wanted us to play hard. I wanted us to get back to playing with the confidence we had earlier in the year. We're starting to think tournament and playing our best basketball. We challenged them this week to hold themselves more accountable and prep.
"That's what a team win is about. Tippecanoe obviously made it a point to take Shaeden away, and we had some guys really step up in their roles. I thought Austin made some nice plays in the third quarter, Landyn made some plays late, and Elijah hit a big three late. It's good for them to be in those big moments and grow."
Tipp is at Sidney on Tuesday and hosts Butler on Feb. 14.
"We told them in the locker room these are tournament games," Toohey said. "We have Troy, Sidney and Butler. The environment will be exactly like this at Sidney. Then Butler on Senior Night. It'll be exactly like this again. This is a great dry run to say, hey, when it gets tight you have to still play basketball. People are yelling at you and it's loud but you still have to be able to play. It's a great learning experience. I'm super proud of us. We were right there."