While they bowl for their school's place in the final standings this weekend, bowling has taken on a far more significant meaning to girls who are using the sport and its competitive opportunity to look beyond high school and into the future.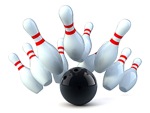 New Bremen – It was the girls' turn this weekend – Saturday – at the MAC bowling tournament at Speedway Lanes in New Bremen, as girls from Midwest Athletic Conference schools showed up to compete for the unofficial 'official' title of champion for 2020.
Bowling, of course, is not recognized as an 'official' conference sport until next season.  But beyond the semantics Saturday's action represented a championship opportunity of a different kind – for girls who are using the sport of bowling at their schools to develop competitive instincts, recognition, confidence and accomplishment that coaches and kids alike recognize and embrace.
"There are some really good stories here about girls who started at the bottom and have worked their way up," Coldwater coach Rick Hartings said Saturday.
Two of those girls bowl for Hartings – Rachel Miller and Emily Sudhoff.
"I challenged both of them a couple of years ago to come out for bowling," says Hartings.  "I told them it was something good to do – fun, exercise, being part of a team – and if they got good at it they might be on a state championship team some day (Coldwater has won multiple state titles in bowling).  I said, 'Just try it' to Rachel Miller and Emily Sudhoff.  I think Rachel bowled a 78 in her first game and Emily had a 107.  Now, a couple of years later they were first and second in the league this year for average.  Emily averaged 196 and Rachel had a 189…and they're best of friends."
That story resonates throughout this weekend's tournament, where at New Bremen senior Ashton Ritter has an average of 185 and topped individual scores with a 221 on Saturday morning…and has the respect of her bowling peers on the boys team at New Bremen.
"She's really good,"  says friend and fellow bowler Ian Frey.  "She's a leader on their team.  She's confident, she's competitive, and I admire her for her ability."
And that ability comes from a solid foundation of family activity together…at the bowling alley.
"She started when she was in kindergarten,"  says Ashton's dad, Tony.  "We've bowled together as a family on Sunday afternoons for as long as I can remember."
"I started competitive bowling in junior high,"  says Ashton, who'll graduate in the spring and attend the Ohio State branch in Lima for two years, then transfer to the main campus in Columbus where she plans to study agri-business and agriculture communications.
"I tried bowling and it's been a great pathway for me into my senior year.  It makes me more confident in other sports.  I swim, I'm in marching band with the color guard, and what I've accomplished in bowling has helped me with each of those activities.  My leadership skills have improved because of my teammates – they have my back and I have theirs.  I can't say enough good things about my friends and teammates in bowling."
At Versailles, coach Tyler Phlipot points to senior Jada Barlage, who like Ritter, was looking for something that could help boost her through her senior year and on to the future.  Bowling was her ticket.
"My sister bowled before me,"  says Barlage, who was upset with her performance Saturday.  Yes, it is competitive.
"She bowled in junior high and high school and my dad suggested that I try it this year.  I like it a lot and it's helped me because I'm better than I thought I'd be.  It's really nice to be good at something and not be in someone else's shadow.  Confidence-wise, it's helped me in school because people actually talk to you more when you're involved with a sport."
She plans on going to school next fall (she doesn't know where), and Jada wants to study Math…which comes a lot easier to those with the advantage of confidence.
In Fort Recovery the bowling center there is aptly named (Miracle Lanes)…because in zip code 45846 bowling has long been a community focal point, and youth bowling is providing a different competitive outlet for sophomore MaKena Ellenberger.
"She has natural ability,"  says Indians coach Allison Rosegrant.  "MaKena came in last year as a freshman, she picked it up right away, she practiced and got used to the game.  And this year it's been exciting to see her come up to varsity and compete."
Ellenberger is a natural, with flexibility and a fluid delivery.  She throws a 13-pound bowling ball like she's done it for years.  Scores universally were not that high on Saturday morning, but her 136 and 144 were right in the middle of the pack of more accomplished and experienced bowlers…her self-confidence impressive for a sport she's just started.
"It's competitive and it gives me something to do during the winter season,"  she says.  Ellenberger also runs track in the spring for Recovery.
"Plus it helps me get some anger out,"  she adds with a chuckle.  "I just throw the ball harder and it's stress relieving.  Bowling keeps me determined.  It gives me confidence and an attitude of not giving up.  And you need that because some days this is hard."
But the best success story of all in this weekend's tourney is probably that of Emily Sudhoff, who has the bearing of someone far more serious than a high school bowler.  Tall and athletic, she looks and speaks like she could edit the New York Times.
"It's been a passion for me,"  she says of bowling.  "I've always had a couple of girls on the team that I've been close friends with, and they've pushed me.  Rick (Hartings) has pushed me, and I've enjoyed this…being part of a team and working together."
From her humble start of bowling 107, she's progressed rapidly. Her best individual score on Saturday was a 202.
"Last year I had a 175 average, and this year I'm at 190,"  she smiles, admitting that having the league's top average has come with positive advantages.  "It's been awesome.  Success, and just having my teammates by my side.  I know now, from this experience, that I can do anything I put my mind to."
She has no aspirations of bowling professionally, but what she's learned from bowling has helped create her path to Rhodes College, in Lima, where she'll study to be come a professional in occupational therapy.
Being a 16, 17, or 18-year-old girl can be tough – issues of finding your way, of fitting in socially, academically, and what path for the future.  But Jada Barlage, Ashton Ritter, Rachel Miller, MaKena Ellenberger, and Emily Sudhoff will be just fine…and go on to have a positive impact on their community someday, in part because of the competitive experience they're living now.
In part, for the time they've spent…in a bowling alley.