You'll not only know this song, you'll play the embedded recording here over and over. Sadly, it's the ONLY song that Carl Carlton ever recorded that you, or anyone, ever remembered.
When singer and blues, soul, and funk singer-songwriter Carl Carlton recorded Everlasting Love in 1974 he believed in his version of the song so much that he thought there'd be an endless string of other Carl Carlton hits to come for years to come.
He couldn't have been more wrong.
Twenty two years old at the time, he had recorded previously, but they were bad tunes, and using the name Little Carl Carlton, leaning on the promotion genius of a misguided record producer that said the name and his vocal similarities would attract the same audience as Little Stevie Wonder, who was finding a huge audience at that time.
The problem was…Stevie Wonder had hit songs. Carlton did not. Born in Detroit on May 21, 1953, he grew up as the example of a talent that everyone said was destined for greatness, only greatness never looked his way. He grew up bouncing around between record labels and cities…and ironically did some work that became popular in Europe.  But his music couldn't get a sniff on stateside radio.
Then, in the fall of 1973, Carlton settled on a version of a Robert Knight tune entitled 'Everlasting Love', which he recognized as having many of the attributes contained in a popular and growing genre called 'disco'. But again, no one else seemed to believe in his confidence, leaving Carlton to record the song himself in a rented studio in Nashville, Tennessee.
The tune was originally written by Buzz Cason and Mac Gayden, and recorded in 1967 by Knight, but without the driving beat that Carlton envisioned for his version. And one other thing…Carlton believed that overlying harmonies missing from the Knight version would create an intoxicating sound that listeners would recognize and come back to over and over – like the taste of chocolate. He nailed it.
Released on ABC Records in the fall of '73 as the B-side of a single entitled I Wanna Be Your Main Squeeze, it was lost on listeners. But in July of the following summer, Carlton re-corded the song as an A-side single with disco style remix. It found instant popularity and steadily rose up the Billboard Hot 100 chart, peaking at #6. Carlton rose with it, appearing on the television dance shows to promote the record.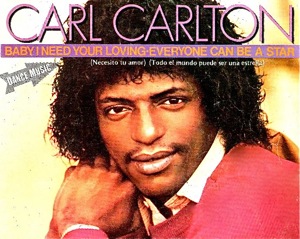 He thought his name and music was destined for greatness, along with Stevie Wonder and The Jackson Five. Hardly!  He recorded a number of albums, but just one other single, She's A Bad Mama Jama, in 1981, that was curiously nominated for a grammy but had no lasting appeal.
From that point on he faded into obscurity – and today the subject of one of music's best trivia questions. Ask…who recorded Everlasting Love, or what popular song did Carl Carlton record? You get a lot of shrugs and blank stares. No one knows.
They just love the song when they hear it…over and over and over!