Junior center Kaleb Wesson may have played his best game as a Buckeye…scored 23 points, grabbed 12 rebounds, and led OSU to a win over Michigan for the team's second Big Ten win on the road.
Ann Arbor, Mich. – The University of Michigan draped maize and blue t-shirts on each of the 12,707 seats in Crisler Arena before Tuesday night's game against Ohio State in an effort to put even more oomph into the fan base.
On the fronts of the freebies were the words "This is Our House.''
The names and faces of the players on both sides have changed in the six-plus decades since the place was opened, but the arena mostly has been a house of pain for the Buckeyes.
It seemed unlikely that this Ohio State team that has been struck by injuries, turmoil and the loss of freshman point guard DJ Carton to mental health issues could reverse a trend of four losses in five games here.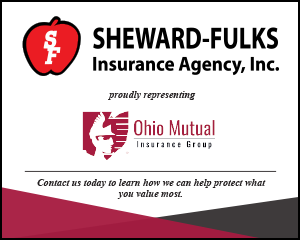 But center Kaleb Wesson totaled 23 points, 12 rebounds, three assists and two steals as the fulcrum and the Buckeyes did a lot of little things well in coming away with a 61-58 victory before a sellout crowd.
Sophomore guard Duane Washington might have had his best college game with 17 points, three rebounds and two assists. Junior forward Kyle Young totaled 12 points, five rebounds and two blocked shots.
"I think it says something about the character of this group,'' coach Chris Holtmann said of the team hanging together. "I think it says something about their resolve. It says something about the leadership we have in there from a couple of the older guys.''
It was a bump-and-grind type game in an old-fashioned way because officials Terry Wymer, DJ Carstensen and Paul Szelc let the players go at it.
Asked how physical things got, Wesson laughed. He had a 6-inch scratch on the left side of his neck and Young had his jersey ripped in the final minute on a play that helped decide the outcome.
"I need words?'' Wesson said pointing to his wound. "He got his jersey ripped off and I got scratched by a sabertooth.''
The only voices that could be heard afterward were Ohio State players and a smattering of their fans celebrating on the floor. Indeed, it was their house in an Air B&B kind of way at least for one night.
This might have been the Buckeyes most impressive road victory since Holtmann's first season three years ago at Purdue.
"In Big Ten play, you know games are going to come down to little things,'' Young said. "It could be a loose ball, a 50-50 ball, whatever it might be, those things add up at the end of the game. If we're winning those plays, we know we're competing and doing the right things. We had to keep our intensity the whole 40 minutes.''
This makes it three straight victories for Ohio State (15-7, 5-6) and a second straight on the road in the Big Ten.
The game wasn't sealed until Michigan guard Eli Brooks missed a wide open three-pointer from the baseline with approximately two seconds remaining.
Holtmann has been talking about his players needing to be more precise with their decisions and doing the small things, and they came through in committing eight turnovers and making four free throws in the final 23.7 seconds.
The building got rock show loud when Wolverines senior guard Zavier Simpson clearly was fouled by Young on a drive to the basket with 33.3 seconds left.
But after a lengthy video review, it was determined that Simpson was guilty of a Flagrant 1 foul for grabbing and tearing Young's jersey trying to brace his fall out of bounds.
Simpson swished both free throws, but so did Young to give the Buckeyes a 59-58 lead.
Because Young's jersey No. 25 was ripped, he put on No. 50 before stepping to the line.
"That was crazy,'' he said. "I've never had my jersey ripped before. I practice free throws every day and try to stay as calm as possible. That probably was the loudest that place has ever got.''
The Flagrant 1 also awarded possession to the Buckeyes. After a timeout, Michigan double-teamed guard CJ Walker in the backcourt after he caught the inbound pass. He beat the pressure by dribbling up the sideline in front of the scorer's table and was fouled near mid-court with 17.9 seconds to play.
At that point, he was 0-for-6 shooting and hadn't scored a single point. With the crowd on its feet and screaming, he made both throws for the winning margin.
"A great sign for him. He really competed,'' Holtmann said. "He competed at both ends. He had a couple of shots that went in and out. I was really proud of him. He's a gutsy kid.''
There were 19 lead changes and the score was tied nine times, but Ohio State led for almost 23 minutes.
But it appeared that its failure to close out Big Ten games, whether home or away, would bite again beginning with a shot clock violation with 3:54 to play. At the two-minute mark, Washington was called for traveling and 16 seconds later Kaleb Wesson missed the front end of a one-and-one.
Michigan led by two points after a trey by Brooks, and the situation looked worse when Wesson was walled up defensively in the middle of the lane with the shot clock close to expiring.
Wesson calmly turned to his right and spotted Washington alone at the top of the three-point arc. He nailed the shot to provide a one-point lead with 54.1 seconds to play.
There's no question Wesson had one of those career-type games, but the Buckeyes also wouldn't have won without Washington sharing the point with Walker.
At times, Washington was downright dynamic. A handful of his baskets came on fearless drives to the hoop.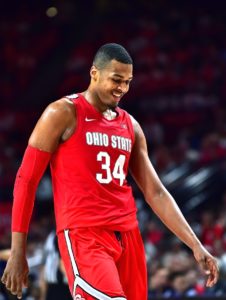 "Just being aggressive,'' Washington said. "That's something I've been working on the whole year. I feel like I should have finished a little bit better around the rim. Coach has been on me for not settling for jump shots.''
As for the big man, Wesson was modest to the point where his comments didn't add much to the mix.
This, though, was a put up or shut up game in that he grew up playing against 7-foot-1 Michigan center Jon Teske of Medina, Ohio. Those two beat and banged on one another last season to the point where one expected them to brawl.
Last night, Teske was 1-for-7 from the floor and got only six rebounds in 34 minutes, 50 seconds.
"They were finding me in the right spots and my coaches put me in the right spots to succeed and my teammates found me,'' Wesson said. "It's preparation.''
Holtmann pretty much served as a spokesman for the big man.
"Players win games, and I thought Kaleb was fantastic tonight in leading the way,'' he said. "I just thought he imposed himself in a lot of ways.''