It's a year before bowling becomes an official MAC sport, but the boys tournament Thursday was every bit as competitive, regardless of issues of recognition.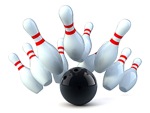 New Bremen – They have this little get together during the first week of February called the MAC bowling tournament. It's mostly for fun (for now), but there's a of pride involved, as well, as schools bowl for official, 'unofficial' standing for recognition after three months of league bowling.
After all, it's rare to find a participant on any of the eight teams that actually play football and basketball, the more publicized MAC sports, but like the other MAC sports, the kids that do take it just as seriously.
Eight MAC schools had teams this year – New Bremen, Coldwater, Fort Recovery, St. Henry, Versailles, Marion Local, Parkway, and Minster – all vying for competitive bragging rights in Tuesday's head-to-head matches.
Coldwater's Michael Schoenherr, who topped the WOHSBC website statistics for high individual average for the season, approached Thursday afternoon's bowl-off at New Bremen's Speedway Lanes with the same anticipation as the Cavaliers' football team does on the eve of the football playoffs.
"It's exciting, because you want to do as well as you can," said Schoenherr, who will bowl at University of Northern Ohio next fall. "And this is good practice for the sectional and district tournament that's coming up. As a team we'd like to get to state."
And does the fact of being 'unofficial' detract from any of it?
"Not really, except if this was next year there would be an all-league team to shoot for, and all-league academic honors…things like that. That would be cool."
Schoenherr topped the Western Ohio High School Bowling Conference stats this winter with a 215 average, just four pins ahead of New Bremen's Spencer Alig (211), and Alig's younger brother, Nick (204), who recently bowled a 290, his all-time individual high.
But in the 'unofficial' MAC standings, New Bremen, as a team, finished the regular season undefeated, and two games ahead of second place Coldwater.
"It's nice to bowl well individually," said Spencer Alig, Tuesday. "But I'm more concerned about how we do as a team. I'm happier we finished first in the league."
Speedway Lanes were angry on Tuesday, like an old man trying to send back a bowl of soup in a deli…quoting George Costanza (Seinfeld). Scoring came tough.  Bowling is not without its surprises, and as it turned out neither Schoenherr (398 series) or Alig (342) had their best day on Tuesday.  That distinction landed on Versailles sophomore Jay Mumaw, who rolled games of 228 and 253 (481) in the individual rounds, sparking the Tigers to a semi-final round of match play against New Bremen.
Then Versailles surprised New Bremen, winning 3-2 in the five-game roll-off, qualifying to bowl against favored Coldwater, who had eliminated Parkway in the same round, 3 games to none.
Mumaw is no stranger to pressure and performance, having rolled 17 consecutive strikes in his freshman season (289);  and bowling, like other sports, is a momentum sport.  He and his Tiger teammates – Sam Bensman, Derek Morris, Justin Heitkamp, Jordan Cordonnier, Landon Henry, Tyler Gehret, and Matt Henry – carried their momentum into the finals of 'Baker' play against Coldwater, dropping their first game to the favored Cavaliers by 44 pins (210-166).  Then, they swept the next three in a best-of-five to win tournament honors, 3 games to 1.
Speedway Lanes were packed to the rafters to watch it, and the excitement of Versailles' comeback was no less than what you'd witness in Canton (for football) or Columbus (for basketball).  And Jay Mumaw…just flashed a sheepish smile over his strong bowling, like Schoenherr and Alig, was more pleased with the accomplishment of his team than anything he did personally.
More MAC tourney bowling follows this weekend as the girls tee it up on Saturday, again at Speedway Lanes.  Qualifying begins @ 10 am, with match play starting around 1 pm in the afternoon.  The bowling's good, and there's no better food around.  We suggest one of the 'burgers' from the snack bar.  You won't go home hungry!